NEW FOCUS AUTO gets boost from revved-up exports

New Focus Auto Tech Holdings Ltd (HK: 360; TWSE 9106) said its interim top line edged down 1% year-on-year to 655.6 million yuan.

The company swung to a first half o
perating loss of 65.0 million yuan versus an operating profit of 7.5 million a year ago.

The interim net loss widened to 82.3 million yuan compared to a loss of 19.2 million in the first half of 2012.

The deterioration in profit was mainly attributable to the increase in distribution costs and administrative expenses of approximately 65.0 million yuan and the impairment of approximately 14.0 million on goodwill and intangible assets allocated to Shenzhen Yonglonghang Auto Service Ltd.

However, the auto chain service network operator was cheered by the improved performance of its car parts and accessories sales overseas.

January-June turnover of the manufacturing business rose 11.1% year-on-year to 169.6 million yuan, accounting for nearly 26% of New Focus Auto's total revenue.



The increase was mainly due to stronger order growth from global OEM customers and expansion into new markets.

However, revenue from New Focus Auto's services business in the first half fell 4.2% to 486.0 million yuan, accounting for 74.1% of the Group's consolidated turnover.

The decrease was mainly attributable to the slowing demand by car owners due to the sluggish economy in the PRC.

"In the first half we took measures to improve the operational performance of the retail service business over the long term, enhanced the product structure of our B2B Mega Store system and won OEM orders from world-class clients.

"New Focus Auto has entered a recovery stage and it is expected it will get back on track in the second half of 2013," said New Focus Auto Chairman Mr. Wang Zhenyu.

On August 28 of this year, Mr. Wang was appointed Chairman of the Board and a non-executive director, and former Chairman Mr. Hung Wei-Pi was re-designated as an executive director and Vice Chairman of the Board.


New Focus Auto focuses on the operation of auto service networks in the Greater China region.

With around 90 stores under its direct ownership, NFA Group currently controls the largest independent after-market auto services network in the Greater China region.

In addition, NFA Group develops, manufactures and distributes a wide range of auto accessory products both overseas and in the PRC market.


"After the implementation of new operational modes in East China, South China and Taiwan in 2012, due to huge expense from redesigns, operations in these three regions failed to make a contribution to our first half net profit even though there was an increase in the gross margin.

"New Focus Auto plans to streamline its organization in the second half of 2013 in order to reduce the cost of headquarters for the three regions," Mr. Wang added.

On August 21 of this year, New Focus Auto announced it would place 1.009 billion new shares via Morgan Stanley, at 0.3 hkd per share or a 53.1% discount to that day's closing price of 0.64 hkd, in order to obtain capital of over 300 million hkd.

A week later, on August 28, New Focus Auto obtained a capital injection of around 600 million yuan from PRC-based CDH Investment.


Despite the disappointing first half performance, Chairman Wang was upbeat looking forward.


"With the rapid growth of China's automotive market and the gradual average age of its vehicles, the frequency and demand for automotive repair and maintenance will keep increasing.

"Chain stores that provide high quality and cost-effective automotive after-sales services will serve as the mainstream for the future automotive after-sales market."


---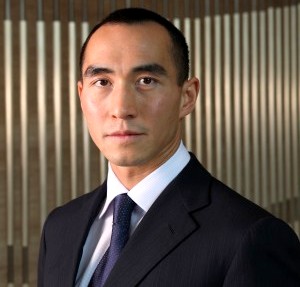 Casino tycoon and Summit Ascent Chairman Mr. Lawrence Ho. Photo: macaubusinessSUMMIT ASCENT looks to Russia

Summit Ascent Holdings Ltd (HK: 102), a building tiles and engineering equipment play, saw its interim revenue fall 78.6% year-on-year to 1.5 million hkd, contributing to a net loss deterioration to 4.0 million hkd versus a loss of 2.9 million in the year-earlier period.

"The performance reflects the difficulties of operating in Hong Kong due to the various measures introduced by the government to curb property price speculation.

"Hong Kong property developers have become more cautious in new project development and this has been exacerbated by stringent tender requirements and threats of low end products from Mainland China," said Summit Ascent Chairman and Non-executive Director Mr. Lawrence Ho.

Due to the difficult operating environment, Summit Ascent was looking to expand its business scope, and was very bullish on a recent major deal to develop a casino complex in Russia's Far East.

On August 23, 2013, Summit Ascent entered into an investment and shareholders agreement (subject to conditions) to invest in a gaming and resort development project in Russia through an investment in 46% of the issued share capital of Oriental Regent Ltd.

Upon completion of the proposed transaction, Oriental Regent will own 100% of First Gambling Co of the Far East (FGCE).

FGCE holds a gaming license awarded by the Administration of the Primorye Region in the Russian Federation to conduct gaming activities in the Integrated Entertainment Zone of the Primorye Region, Russia.


Summit Ascent was looking to expand its business scope, and was very bullish on a recent major deal to develop a casino complex in Russia's Far East city of Vladivostok (above). Photo: rienThe Primorye Region included the port city of Vladivostok, and FGCE has been granted a gaming license for an indefinite period since April of last year.

FGCE plans to develop a casino resort complex with 119 hotel rooms, 800 slot machines, 25 VIP gaming tables and 40 mass market gaming tables, with the superstructure of the main casino and hotel already constructed.

Total investment of the project is expected to be around 130 million usd, of which 46% (around 59.8 million usd) will be funded by Summit Ascent.

"Our acquisition of a 46% interest in the Russian project would enable us to invest into a new business with potentially very attractive returns.

"The proposed casino resort has the advantage of being geographically close to the target feeder markets, i.e. the three Chinese provinces in Northeastern China, namely, Heilongjiang, Jilin and Liaoning." Mr. Ho said.

He added that Russia currently offers a very favorable tax environment for gaming businesses compared to other regions.

"It is also expected that the proposed investment will give us a first mover advantage as the proposed casino resort will most likely be the first legal casino to start operating in the Far Eastern Region of Russia since the ban of gambling in the country in 2009.

"It is anticipated that Summit Ascent will be able to secure a good rate of return for its investment."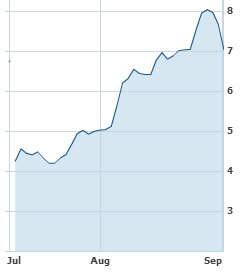 Following a trading hiatus, Summit Ascent's Hong Kong shares have recently surged, partly due to a major casino deal in Russia. Source: Yahoo FinanceSummit Ascent's principal business of tiles trading and engineering operations will remain as its main activity.

The investment in Russia will not be consolidated as a subsidiary but will be accounted for as a jointly controlled entity and its results will be accounted for in financial statements.

"The investment in Russia may result in large orders from us for quality building materials such as tiles and marble as all such products have to be imported in Russia.

"Therefore, we consider that the investment will not introduce a fundamental change of our business but can be viewed as a supplement to our existing principal activities and will create attractive returns for us and our shareholders over the long run," Mr. Ho said.

Summit Ascent's Board does not recommend the payment of an interim dividend for the six months ended 30 June 2013 (2012: Nil).


---
See also:

NEW FOCUS AUTO Gets Huge Boost

SUMMIT ASCENT Wagering On Russia's Wild East