KINGWELL: China Gas executive now substantial shareholder

Kingwell Group Ltd (HK: 1195) said that China Gas (HK: 384) Executive Chairman Mr. Liu Minghui bought five million Kingwell shares on Monday at an average price of 0.71 hkd per share (Friday's closing price: 0.73).

This makes Mr. Liu a "substantial shareholder" in Kingwell.



Mr. Liu now

holds 91,828,000 shares of Kingwell Group, accounting for 5.14% of the issued shares on the open market of Kingwell.

Kingwell Group has transformed itself into a gold mining company last year, from an original focus on printed circuit boards, and is now mainly engaged in gold resources project investments and gold supply chain development. Kingwell recently bought a 51% stake in Commerce Prosper, which owns a gold mine in the Russian Amur area, with expected gold reserves of 35 tons.
Total consideration amounted to 13 million usd and Kingwell can increase the holding to 65%. Kingwell has also acquired 70% equity interests in two PRC firms -- Jinxin Co and Jinhui Co -- for a consideration of 370 million yuan.
---

JP Morgan hikes JU TENG target

JP Morgan said it is raising its target price on Ju Teng International (HK: 3336) to 6.3 hkd from 6.0, while reiterating its "Overweight" recommendation on the world's top computer casings play.

The new target price represents a 2014 PE of 8.0 times.

"We think Ju Teng's migration into the handset space is a very good move. Now we will focus on the feedback on this new composite casing as it could determine the addressable market scale for Ju Teng in the next two to three years," JP Morgan said.

Ju Teng will begin to supply black/white casings for a US smartphone vendor this quarter.

The casing is a new composite material made by mixing PET and PVC.

"With better hardness than traditional plastic, it does not need other metal parts and thus could reduce weight. In addition, it is also cheaper and more flexible than metal for industrial design (e.g., curved back plate)," JP Morgan said.

The research house said it views this as a very good move as it implies a new growth area when notebook computers slow down.

"Ju Teng's interim results were slightly better than our expectation. Better metal casing contribution helps the margins but the incremental parts were partially attributed to minority interest.

"We accordingly slightly raise our 2013/2014 forecasts by 3%/5%."


---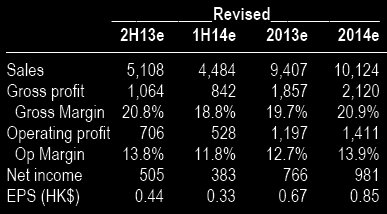 Source: HSBCHSBC keeps 'Overweight' call on JU TENG

HSBC Global Research said it is maintaining its "Overweight" call on Ju Teng International (HK: 3336) and hiking the target on the computer casings giant to 7.0 hkd from 6.5 (recent share price 4.73).

"We raise our earnings forecast by 5%/11% for FY13/14e, respectively, mainly to reflect stronger margins and increasing in-house metal/composite material casing manufacturing.

"We expect the favorable product design trend, rising mix of non-plastic casings, and new business opportunities in the smartphone arena to continue to drive margin expansion," HSBC said.

The research house added that Ju Teng's strong interim margin performance and consensus earnings upgrade should catalyze the share price.


---

See also:

Gold Rush: KINGWELL A 'Buy'

JU TENG Kept 'Buy'