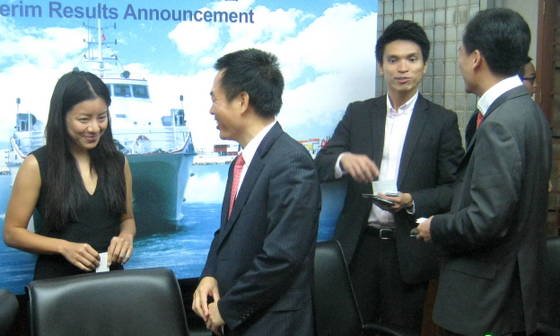 Ship Shape:  CKS Enterprises (Group) Vice GM Mr. Huang Shuping (second from left) replies to an investor query, while Chu Kong Passenger Transport Director and GM Mr. Luo Jian (far right) chats with another investor.     Photo: Andrew Vanburen

CHU KONG SHIPPING Enterprises (Group) Co Ltd (HK: 560), one of South China's top passenger and cargo services providers, saw its interim net profit surge 43% to over 100 million hkd while its stock price has gained more than 100% in the past three months.

Chu Kong Shipping (CKS) boosted its first-half revenue by 11.0% year-on-year to 761 million hkd, while gross profit jumped 21.1% to just under 200 million hkd.

Company executives told investors in a conference room high above Hong Kong's Victoria Harbor that the robust bottom line performance was due to a substantial increase in earnings contribution from the firm's passenger and cargo businesses, which rose by 78.2% and 11.6%, respectively.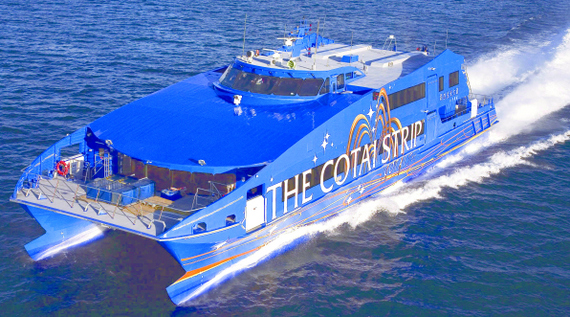 A Good Bet: Chu Kong High-Speed Ferry tied up with Cotai Ferry in 2012 to shuttle passengers to and from gambling mecca Macau.     Photo: Chu Kong Shipping

"CKS overcame the challenges originating from the global economic downturn.

"Through a business strategy emphasizing operating efficiency, CKS achieved a substantial jump in profit in its interim results, of which the passenger business has generated key earnings contribution by effectively consolidating its business structure," said CKS Managing Director Mr. Xiong Gebing.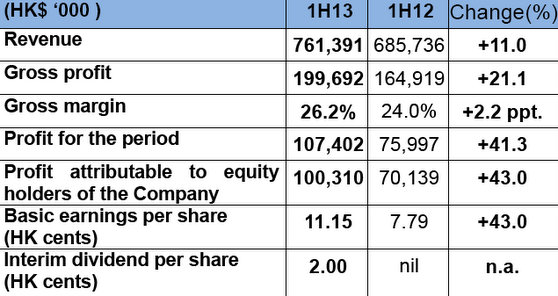 First half earnings per share stood at 11.15 HK cents (1H2012: 7.79 HK cents), and the board has proposed an interim dividend per share 2.0 HK cents for 1H2013 (1H2012: nil).

"Looking ahead, CKS will continue to pursue its 'Specialized Operation and Core Business Transformation and Upgrade' strategy for its passenger and cargo businesses.

"In addition, CKS will proactively fight for asset injection opportunities from our parent company," Mr. Xiong added.

CKS has three main businesses: port-based navigation logistics, cargo transport and high-speed waterborne passenger transportation.

Cargo transport operations enjoy the largest revenue contribution, which at 501 million hkd for the first half represents nearly two-thirds of the total top line.

However, margins for this sector are a different story as net profit contribution for cargo transport in the January-June period stood at around 4.4 million or around just 4% of the total bottom line.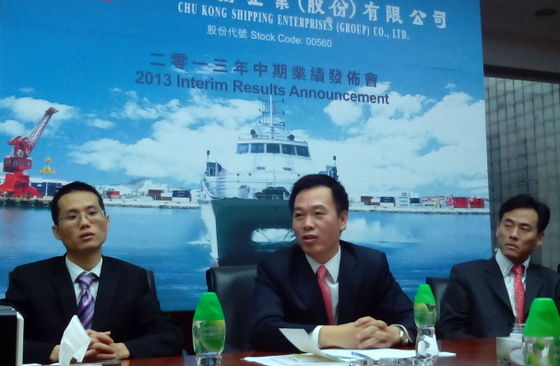 CKS management meets with investors in Hong Kong. From left: CKS Capital Markets General Manager Mr. Shen Zhijun, CKS Enterprises (Group) Vice General Manager Mr. Huang Shuping and Chu Kong Passenger Transport Director and General Manager Mr. Luo Jian.
Photo: Benny Yu, Aries Consulting

Meanwhile, the firm's passenger transportation business saw its contribution to total revenue of around just 12% but this segment made up well over half of the interim net profit.

CKS Enterprises (Group) Vice General Manager Mr. Huang Shuping said that it helped matters greatly that the firm did enjoy what approached a monopoly-like situation for certain passenger routes.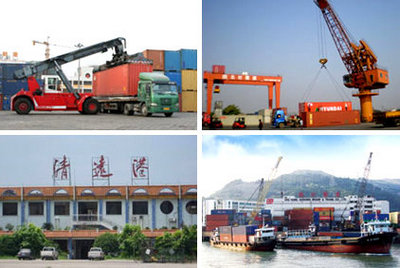 CKS has a dominant position in South China.   Photo: CompanyThis was especially the case on routes to and from the busy self-named Chu Kong Passenger Terminal -- located far below the conference room – which ferried countless passengers between the Special Administrative Region, the gaming mecca of Macau and several other ports of call in neighboring Guangdong Province each year.

"It's much easier to near a monopoly market position for the passenger services sector, but for our other two businesses – cargo and port logistics – it's a much more difficult task," Mr. Huang said.

And given the rapid growth of passenger services, it was only natural that Chu Kong would look to expand beyond its leading position in the Pearl River Delta.

"We have been looking to extend our passenger and tourist services reach to (the two offshore Taiwan islands of) Kinmen and Matsu, with the possibility that gaming might soon be allowed there. We see both islands as having good development potential.

"However, we will just have to wait and see the results of a Taiwan legislative session to be held on the issue later this year," he added.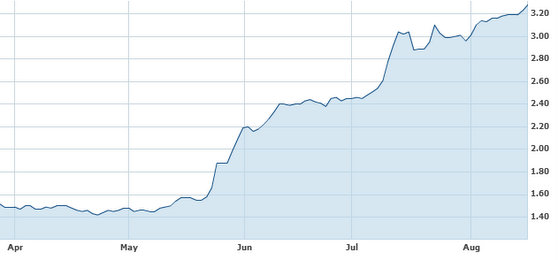 Chu Kong Shipping's Hong Kong shares have enjoyed a spectacular summer, rising over 100% in the past three months.     Source: Yahoo Finance

CKS, along with its rivals, has benefited over the years from government subsidies in support of the sector.

However, public handouts for the industry were expected to decrease going forward, the company said.

"That's fine with us as we prefer true completion over subsidies," Mr. Huang said.

Despite the rapid growth of passenger ferry services and the plans to potential expand across the Taiwan Strait, the Hong Kong-listed firm eventually expected to get more equitable revenue and profit contribution from its three business segments.

"I predict our other two segments will contribute a higher percentage to the bottom line.

"Overall, we expect a more balanced contribution from the three businesses going forward," said Chu Kong Passenger Transport Director and General Manager Mr. Luo Jian.

The company noted that it has benefited of late from sustained passenger traffic growth and the addition of a new management contract to manage the "CotaiJet" ferry fleet its Cotai Ferry Co Ltd.

Chu Kong's passenger business contributed profit of 57.52 million hkd in the first six months, with patronage of Guangdong-Hong Kong routes up 6.8% at 3.18 million.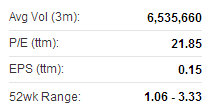 CKS recently 3.28 hkdThe number of passengers serviced in Chu Kong's passenger port terminals in the January-June period rose 11.6% to 3.61 million, with the firm saying it successfully optimized its customer structure, and achieved growth in both sales revenue and passenger traffic over the six-month stretch.

In the first half, CKS's passenger transport business registered a substantial increase in profit contribution as apart from raising ferry ticket fares which resulted in positive contribution to the financial results, the firm also put more effort into fostering integration of tourism and high-speed passenger transportation.

"CKS made a breakthrough in its business integration with the tourism industry by providing agency services in hotels plus transport package booking as well as launching a passenger-based advertising business (with One Media Ltd).

"Looking forward, the passenger transportation business will focus on sustainable development and we will continually analyze new routes beyond the Pearl River Delta Region," Mr. Xiong said.

Chu Kong Shipping Enterprises (Group) Co Ltd. (HK: 560) is held by Chu Kong Shipping Enterprises (Holdings) Co Ltd with a strategic orientation of being "based in Hong Kong, backed by the mainland and facing the world." CKS is principally engaged in port-based navigation logistics, high-speed waterway passenger transportation and tourist business between Hong Kong, Macau, the Pearl River Delta Region (PRD) and coastal areas. After 15 years of development, CKS owns equity shares of 20 PRD inland barge terminals and operates more than 35 container barge routes, as well as 18 bulk freight routes between Hong Kong and PRD inland terminals. CKS operates a total of 18 passenger routes with 16 passenger destinations in Hong Kong, Macau and Guangdong Province. CKS is a market leader in the PRD waterway logistics and high-speed waterway passenger transport markets.


---
See also:
CHU KONG SHIPPING, ONE MEDIA Launch 20 Mln Hkd Ad Tieup


CHU KONG SHIPPING: HK-Macau Routes Help Boost Revenue 9.4%