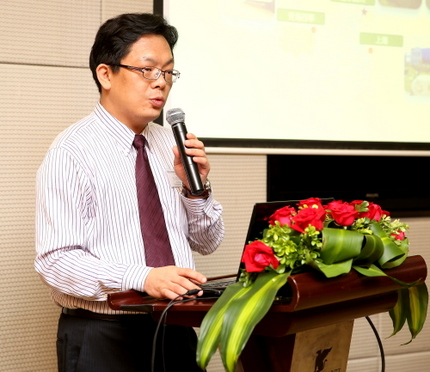 Solargiga CFO Mr. Roger Wang. Photo: Aries ConsultingSOLARGIGA ENERGY Holdings Ltd (HK: 757; TT: 9157), China's top supplier of monocrystalline silicon ingots and wafers for the solar sector, has improved to positive gross margin territory.

"We've seen a positive gross margin since the first quarter of this year with an increasing trend afterwards. Our situation is already getting better," said Solargiga CFO Mr. Roger Wang.

Speaking at the Aries Consulting-organized "Scaling New Heights Investor Conference 2013" in Shenzhen on on July 5, his forecast comes as very good news for investors in the Hong Kong-based firm.

In FY2012, revenue fell 61.3% to 997 million yuan, resulting in a swing to a bottom line loss of 1.3 billion.

The main reason for the poor earnings performance last year was an industry oversupply resulting in a unit price decline and a corresponding drop in operating revenue.

This led to widespread writedowns to cover inventory excesses of silicon.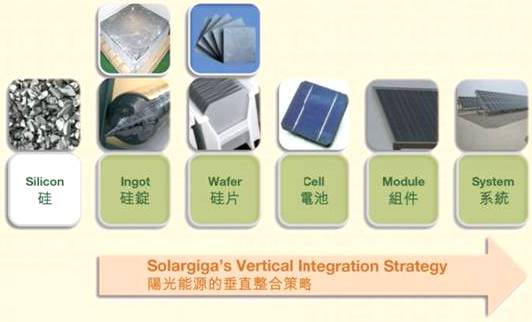 Solargiga is China's only comprehensive "One Stop" solar products play, well established up and down the production chain except for silicon mining. Photo: Solargiga

As at 31 December 2012, Solargiga had cash and bank balances of 154 million yuan, with loans due within a year totaling 1.02 billion.

Inventory turnover days stood at 111 days, with a current ratio of 0.79 times and a year-end net debt-to-equity ratio of under 67%.

For the first half of 2013, the financial structure, such as cash on hand and turnover rate, may be better than at the end of 2012, he added.

Looking ahead to the next reporting period and beyond, Solargiga was sanguine on financial prospects.

"I think we may be getting better for the first half of 2013, with a positive gross margin compared with negative 29.2% in 2012.

"Our cash reserves are sufficient for now and we have no immediate plans to expand into downstream sectors. To meet our clients' orders, we already planned to increase the module capacity from 150MW to 300 MW.

"However, the CAPEX is low and we still have enough working capital due to the improvement of our financial structure," said Mr. Wang.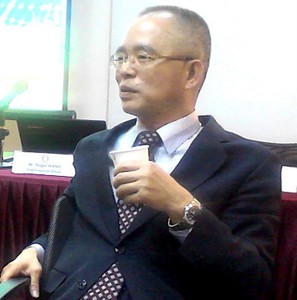 "We believe Solargiga will be able to survive the fierce industry competition to finally enjoy healthy growth in the photovoltaic industry," Solargiga CEO and Executive Director Hsu You Yuan said earlier this year in Hong Kong. NextInsight file photoSolargiga last month newly obtained a 220 million yuan, 14-year long-term loan from China Development Bank.

The new funding source will help Solargiga improve its financial structure, as well as giving it a competitive advantage in the cutthroat solar industry.

Prior to that, Japan's Sharp signed a deal in June to purchase a new type of product from Solargiga -- 370 MW of solar modules – by end-2013.

Solargiga's product portfolio includes ingots, wafers, cells and modules as part of a "one stop" solar power solutions play with additional investments in some power station projects using Solargiga modules.

The Hong Kong-listed firm's main production base is in Jinzhou, Liaoning Province in China's northeast.

In addition, Solargiga has upgraded production facilities at its Shanghai and Jinzhou facilities, and total annual monocrystalline ingot production capacity stands at 1.2 GW while that for wafers is 900 MW.

Photovoltaic battery capacity is currently 300 MW with module capacity at around 150 MW.

"Now our module capacity has already increased to 175 MW, and will be increased to 300 MW by the end of the third quarter this year," Mr. Wang said.

The recent tit-for-tat trade spat with the EU has left Chinese consumers poised to pay more for French and Italian wines, while EU firms are on the verge of shelling out more for solar power products like panels in a dispute over subsidies and product dumping accusations.

However, as Solargiga is China's only comprehensive "One Stop" solar products play, the firm is well established up and down the production chain and can therefore avoid noticeable damage from heightened tariffs on its downstream product sales abroad.

"Most of our revenue is from East Asian customers so we are not directly impacted by the trade dispute between China and the EU.

"That being said, we are hopeful that a deal can be worked out (between Beijing and Brussels)," Mr. Wang said.



Solargiga recently 0.39 hkdHe added that Beijing, with its new national leadership, was very supportive of the country's solar industry.

"We expect that the subsidy situation for our sector will improve."

Solargiga's energy conversion efficiency ratio for its monocrystalline silicon ingots is above the industry average, and in addition to traditional P-type products, the firm also produces N-type products with a conversion efficiency of 22-23%.

Last year, shipments of N-type products totaled 62.5 MW, comprising around 80.5% of the total shipped ingot volume, with N-type clients primarily in Japan.

"Group sales last year were 83% reliant on the more vibrant PRC and Japan solar markets, so we avoided the pitfalls of overexposure to the US and EU.

"Because of Solargiga's strong position in the PRC and Japanese markets, our orderbook for this year is already full, and overall operations are showing a major improvement," he added.

The firm is also making major inroads in the Turkish market, and it also anticipates big breakthroughs in its EU sales down the road.

Solargiga is also looking very closely at the Mideast and African markets.

---

See also:

SOLARGIGA: Latest Happenings...