Main reference: Story in Sinafinance

CHINESE SHARES listed in Shanghai and Shenzhen have now sunk to six-month lows.

However, an even sharper drop is likely looming on the horizon.

First of all, the daily moving average has been painful to monitor these days, and keeps disappointing.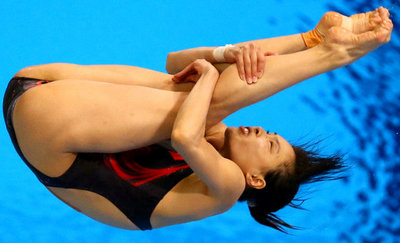 Are China shares poised for a major dive? Photo: china.orgSince the beginning of the year, the benchmark Shanghai Composite Index has lost over 8%, and is down 9% from year-earlier levels.

More strikingly, the index has shrunk by over 14% since the start of the nine-day Chinese New Year market recess in February.

And that the psychologically-significant 2,100 level was so easily broken through in Thursday trading only suggests that the even more critical 2,000 level is the next downside target.

What is most worrying is the gradual nature to the recent decline, with no significant head-turning, one-time major selloffs so far.

The US recently suggested it will pull back from its generous stimulus policy, sending a shockwave through global markets.

And a major hazard lurking on the horizon in the PRC is the banking sector.

Listed lenders, which make up a very large capitalization proportion of Shanghai Composite Index constituent stocks, have been languishing along of late with widely undervalued share prices.

With so much of the index basket of banking shares underperforming on the pricing front, it's no wonder that the broader market hasn't seen a one-off plummet to make heads spin.

However, it's only fair to warn A-share investors that the collection of underperforming share prices for listed lenders is at best just a temporary stopgap keeping the index from suffering a major bought of panic selling.

Other sectors are just as prone to selling sprees, depending on overall economic sentiment and interim results performance.



Recent China shares performance. Source: Yahoo Finance

Furthermore, many listed lenders in the PRC have developed a rather unhealthy addiction to state support and policy propping-up measures, making their true market value and earnings capability difficult to forecast in the open market.

However, once the new Administration begins pulling back outright support and subsidization of financial institutions, those teetering on the edge will not necessarily be pulled back to safety, and the much-dreaded one-off broader market bloodletting could become a reality.

As for the nearly four-year-old ChiNext, there's really not a lot to say, and too much has been said already.

It seems to be impossible to predict, jumping all over the map for much of this year.

Yes, it's made some rich, but disappointed even more, and it's likely still enduring growing pains that must work their course before anyone can really recommend majority portfolio exposure to "China's Nasdaq."

Therefore, the Shenzhen-based capital raising platform for Chinese SMEs is likely to see a big correction as well, even bigger than Thursday's 4% fall.


---