EVERGREEN: China store growth targeting tier I and II cities


Evergreen International (HK: 238) is focusing primarily on first and second tier cities in its store opening campaign in the PRC this year, with the target number for new shops kept unchanged at 50 -- 28 of which are self-operated stores.

Evergreen Chairman Mr. Chan Yuk Ming said after the menswear play's shareholder meeting that same store sales of the company's self-operated stores recorded a single-digit growth year-to-date.

He added that he believes the retail environment in China is performing better than that in the second half of 2012.



Evergreen CFO Dennis To told investors in Hong Kong last month at an Aries Consulting-organized meeting that the recent moves by the new Chinese leadership to limit spending on luxury items were not a concern for the business formal and casual menswear brand retailer.



"Although corporate giving is down somewhat, we are now mainly focused on our high-growth VIP customer base who wear what they buy. Furthermore, as we are considered a local Chinese brand, our products are seen to be growing in popularity, especially among government officials," he said at the time.



Evergreen is

engaged in menswear enterprises and brands operations in the PRC, owning and managing two brands: V.E. DELURE (

迪萊

) and TESTANTIN (

鐵獅丹頓

). As

of end-

2012, the Group had a total of 432 stores in 33 provinces and autonomous regions, covering 197 cities in China. There were 143 self-operated stores of V.E. DELURE in 57 cities

across

China whilst there were 61 self-operated stores of TESTANTIN in 31 cities in

the PRC.




---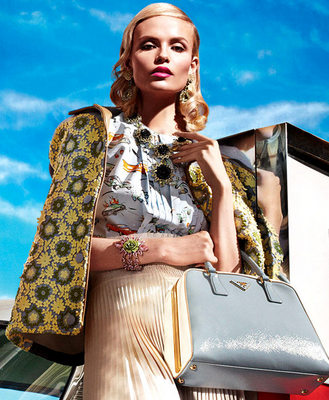 Photo: PradaBocom: PRADA downgraded to 'Neutral'

Bocom International said it is cutting its recommendation on luxury play Prada (HK: 1913) following its recent results.

"We believe the group's high stage of growth has come to an end following the disappointing 1Q14 results (net profit +14%, same store sales +8%).

"While we continue to be impressed by Prada's strong execution ability in delivering top-of-the-sector sales growth and margin improvement, which continued to show in 1Q14, the sharp SSS slowdown to a single-digit growth in its core European market, notwithstanding the favorable Chinese New Year shift to Feb vs. Jan last year, is a key concern," Bocom said.

The research house said this signifies that China tourist support, which has been the group's major growth driver for the past two years, has started to lose steam.

While Prada management maintains its full-year target of a high single-digit SSS growth and 70 new stores, the analyst note said it sees downside pressure for the luxury brand.

Bocom has cut its EPS forecasts for Prada by 7%/11% in FY14/15E due to its lower assumptions on SSS growth (to 7%/7% from 10%/10%) and new store openings (to 60/40 from 70/48).

"With FY14/15E recurring EPS growth of 14%/15%, the valuation is no longer attractive (at 25x FY14E PE vs. the global peer group average of 21.5x).

"We pare our target price from 85 hkd to 63 hkd, based on 21.5x FY14E PE, on par with peers (vs. previously 25% premium) to reflect the group's normalizing growth outlook (recent share price 70.40 hkd)."


---