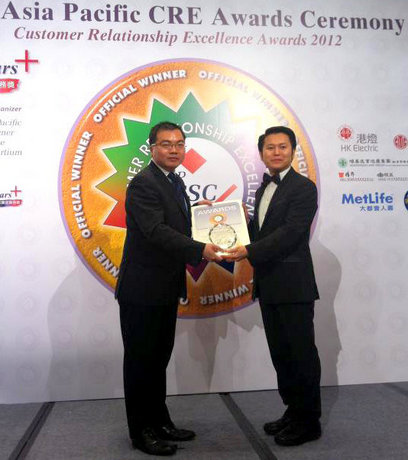 Mr. Mark Lee (left), Executive Director of Aries Consulting receives the 'Asia Pacific CRE Award' in Hong Kong from Mr. Jason Chu, Chairman of Asia Pacific Customer Service Consortium.
Photo: APCSCARIES CONSULTING, a unit of Singapore-based Financial PR, was named a winner in the prestigious Customer Relationship Excellence Awards for the third straight year.

Aries Consulting was presented with the Asia Pacific Customer Relationship Excellence Awards 2012 (CRE Awards) -- Customer Satisfaction Quality System of the Year in the category of Public Relations.

The award was issued by the Asia Pacific Customer Service Consortium -- Asia's sole CRE Awards.

Financial PR along with Aries Consulting have a well-developed Investor Relations and Public Relations regional network from Hong Kong to Singapore, Taipei, Beijing and Shenzhen, and is aiming to become No.1 Asian brand in equity consulting and marketing communications.

This is the third year in which Aries Consulting has been named a winner in the prestigious CRE Awards, and is also the first PR-related winner of the Awards.

The winners for other categories include Hang Lung Properties, The Hong Kong Jockey Club, and DHL Express.

"Being recognized for customer relationship excellence under the Customer Satisfaction Quality System of the Year (Public Relations) category for the third year running is truly an honor for Aries Consulting.

"We take immense pride in ensuring our clients receive excellent service, and believe our ability to craft customized solutions to meet their IR and PR needs have clearly distinguished us from our peers," said Ms. Kathy Zhang, Founder and Group Managing Director of Financial PR Pte Ltd and Aries Consulting Ltd.

Ms. Zhang added that having expanded the Group's reach from Singapore, Hong Kong and Taipei to include Beijing since its previous win, she believes the Group is now better-positioned to provide greater value to its clients given the close synergies of the markets.

"Currently, we have more than 100 listed clients across the four regions. This award is a tribute to the professionalism and capabilities of the entire team at Aries, and we will continue to devote effort and commitment to exceed our customers' expectations."


Ms. Kathy Zhang, Group Managing Director of Financial PR Pte Ltd and Aries Consulting Ltd.  The goal of the CRE Awards is to promote service quality and Customer Relationship Excellence in major cities across the Asia Pacific.

The CRE Awards are selected through a comprehensive balanced scorecard of self-assessment benchmarking, business case presentations, unannounced calls, Customer Service Quality Standard site assessment by the judging panel, online public voting, as well as a final round of judging by a panel of Customer Relationship Excellence experts.

Backed by in-depth knowledge in finance and investing, as well as extensive contacts in the media and investment community, the Financial PR Group helps listed companies to design and execute strategic investor relations programs as well as to communicate with investment communities across Singapore, Hong Kong, Taiwan and the PRC.

By possessing one of the largest networks of more than 2,000 institutional investors and 80 media channels in Asia, the Group also enables its clients to leverage on its network to maximize communication opportunities.

Today, Financial PR is one of the leading investor relations brands in Asia.
 
---
See also:

FINANCIAL PR: Singapore's Top IR Firm Wins Big Again In Hong Kong