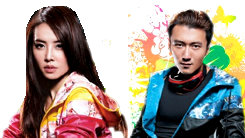 Xtep: China's top fashion sportswear play. Photos: CompanyUBS: XTEP to survive consolidation, still 'Buy'

UBS said it expects fashion sportswear leader Xtep International Holdings (HK 1368) to be among a select few domestic players to survive an ongoing industry consolidation process.

UBS has a "Buy" call and a 4.00 hkd target price on Xtep (recent share price: 3.41)

"We turned bullish on the sportswear sector in September 2012. However, we do not expect all domestic players to survive the consolidation process.

"We believe Xtep, along with Li Ning and Anta Sports, have the best chance of emerging from the process," UBS said.

The Swiss research house said that since September, inventory quality has improved and inventory levels have come down gradually.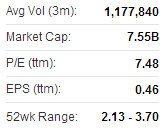 Xtep recently 3.47 hkd"We believe the sector is approaching the last phase of the recovery process and anticipate the sector will resume growth in 2014."

UBS's most recent checks suggest Xtep saw improvement on the operations front, while some other players are under pressure from mounting aging inventories in the channel.

It said it believes current share price levels present an attractive buying opportunity.

"We believe a macro-economic slowdown is the biggest risk for the footwear and sportswear sectors. Household consumption is likely to contract if consumers expect income growth to slow."

---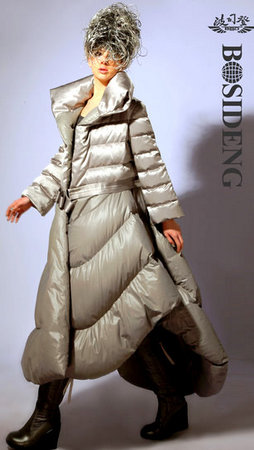 Bosideng specializes in mid- to high-end down apparel. Photo: CompanyBocom: BOSIDENG cut to 'Neutral'

Bocom International said it is downgrading its call on down jacket play Bosideng (HK: 3998) to "Neutral" from "Buy."

Meanwhile, it is lowering its target price 2.14 hkd from 2.4 on a "clouded" earnings outlook in FY2014.

Bosideng is recently trading at 2.04 hkd.

"We also cut our FY14/15E EPS by 11%/4% to factor in lower GM and revenue assumptions," Bocom said.

Bocom's new target price on Bosideng is based on 11X FY14E P/E, continuing to be on par with its historical average.

"The market price of duck down has surged in the past two months because of a supply shortage due to the bird flu.

"Though we believe sufficient duck down has been secured for the production season of OEM orders ending Jun 13, uncertainty comes from duck down supply for the production season of branded down apparel segment (from July 2013 to December 2013)."

Bocom still thinks Bosideng's above-peers dividend yield (7.6% vs. 5.9% in FY13E) should provide share price support.

We estimate FY14E segment GM to drop from 18.3% to 14% on higher cost of duck down.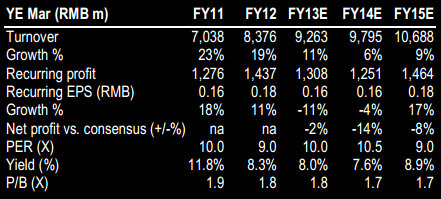 Source: Bocom

However, this will be partly offset by upward adjustments of order prices and purchase price discounts offered by duck down suppliers on Bosideng's long-term supplier relationships and bargaining power," the research house added.


---

See also:

SPORTING CHANCE? Bocom, JP Morgan Assess Sportswear Plays