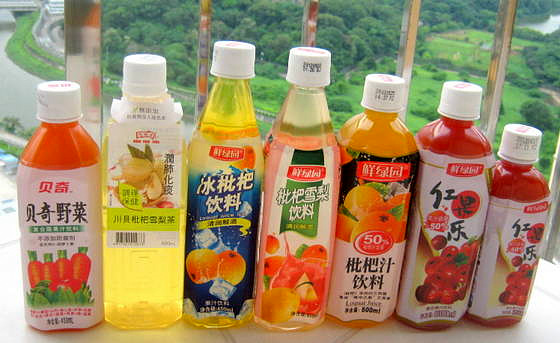 Garden Fresh brand fruit juice products sold in Shenzhen sit on a Shenzhen balcony high above Hong Kong (seen in background across border river). Two rival products are at the left of the lineup: On the extreme left is a bottle of carrot juice while, second from left, is a loquat drink -- the only such found in Hong Kong during a survey. Garden Fresh enjoys very high brand recognition in Shenzhen but is currently unavailable in Hong Kong where it is hoping to list there next year. Photo: Andrew Vanburen

AFTER CHECKING OUT two dozen stores in greater Shenzhen, it's clear to me that the Garden Fresh line of drinks from SGX-listed Sino Grandness enjoys top pickings in the city for at least one fruit juice – loquat.

Garden Fresh also enjoys nearly universal brand recognition in China's most crowded city – a good omen as it gets set for a possible listing in neighboring Hong Kong.

The blistering heat of summer has only just arrived in the bustling industrial city of Shenzhen.



Loquats are yellow-orange, pear-shaped fruits native to Central China, with pale yellow, juicy flesh and a cherry-like flavor best described as both tart and sweet. Photo: Sino Grandness That made it the perfect time to conduct a store-visit survey to see how Sino Grandness fared in the crowded and competitive orchard that is Mainland China's cutthroat fruit juice market, as nothing brings a bigger smile to a beverage retailer's face than hot muggy weather.

Shenzhen, where I live, is a major city in Guangdong Province, the first province where Sino Grandness launched its line of beverages three years ago.

As the company initially focused its distribution efforts in the province where its HQ is based, Guangdong became the largest revenue contributor (25%) to Garden Fresh, the beverage division of Sino Grandness which is expected to seek a Hong Kong listing by October 2014.

Shenzhen has an official population of around 12 million, or nearly twice that of Hong Kong.

But ask any taxi driver in the city and he will say that given the South China city's magnet status for migrant workers, the actual number of people in the sprawling metropolis could be near double the stated total.

So a leading market presence in fruit juices in the high-tech city – home to firms like hybrid automaker BYD Auto and wireless infrastructure giant Huawei – could go a long way toward helping grease the skids for Garden Fresh's hoped-for Hong Kong listing.

Parry Ng, VP for investor relations with Sino Grandness, told shareholders at its recent AGM that it was virtually unrivalled for its core products in most Chinese markets in which it does business.

"When we launched our loquat drink, there was no direct competitor. Even today, if you go to first- and second-tier cities in China, there is no loquat drink except from Garden Fresh," said Mr. Ng.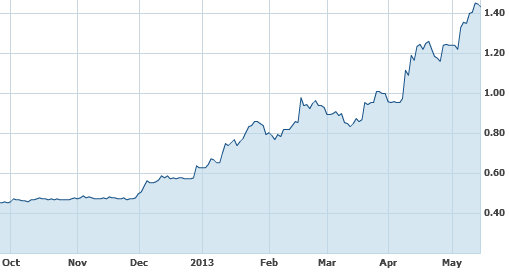 Sino Grandness has seen its shares on a tear of late. Its 1Q2013 revenue grew 32% year-on-year to 376.6 million yuan, while net profit rose nearly 25% to 70.3 million. Chart: Yahoo Finance

After scouring Shenzhen and tallying 20 store visits, I can say with confidence that Mr. Ng was right on the mark.

There are other loquat beverage players quenching the thirst of the giant Mainland China market such as SGX-listed China Minzhong, but apparently not yet in top-tier cities including Shenzhen. (Based on its results announcement, China Minzhong sold less than RMB 44.8m in loquat juice in the six months ended Dec 2012).

Thanks to its market-leading and sometimes monopolistic standing for a relatively lesser-known fruit beverage, Sino Grandness' drink sales last year stood at 873 million yuan.

Of this, three-fifths was contributed by loquat juices, 25% from its Red Fruit Juice which contains six fruits of said color including hawthorns and cherries, with the remaining 15% of revenue contribution coming from mixed fruit/vegetable juices.

The latter's small top line presence was probably responsible for my failing to find any of this product in the market survey for Sino Grandness – at least in Shenzhen.

Garden Fresh's niche loquat offering has allowed it to grace the shelves of Carrefour, Walmart, Tesco, 7-11 and others across several Chinese provinces.

Here's how the brand fares in Shenzhen.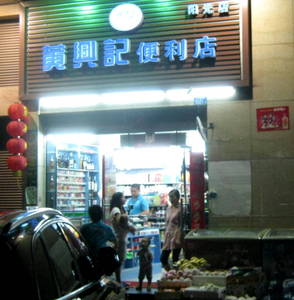 The manager of this mom-and-pop convenience store in Shenzhen said Garden Fresh juices are very hot sellers. Photo: Andrew VanburenAvailability

Following 20 point-of-sale stops in Shenzhen (and four in Hong Kong), I found Garden Fresh beverages in two big-box supermarkets – Carrefour and Walmart – as well as an assortment of convenience stores, both name-brand and mom-and-pop standalone shops.

The most revealing thing about the Shenzhen shop visits was that all the clerks had heard of the Garden Fresh brand, even if they themselves didn't carry it.

Prominence of Display

Visibility varied widely for Garden Fresh products, but this was mainly due to logistical considerations.

If the retail space was sufficient, with proper shelves and wide aisles, then Garden Fresh fared as well as any other product in terms of shelf location.

As for convenience stores, established franchise chains like 7-Eleven and Circle K had Garden Fresh products prominently displayed in sleek coolers.

Meanwhile, at standalone shops – with several clustered around train and subway stops -- clerks had to fish around in coolers for the requested product.

Competing Loquat Juices

Other then Sino Grandness, no other loquat juice products were discovered in Shenzhen.

In Hong Kong, one half-liter bottle of Hung Fook Tung (鸿福堂) loquat juice was available from a bakery, and was marketed as a remedy for nasal congestion and sold for a hefty 22 hkd.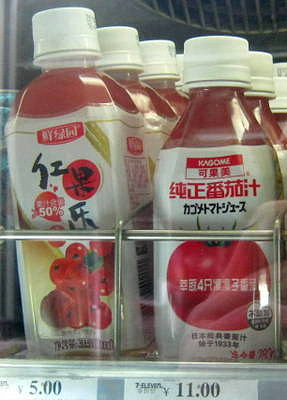 At this Shenzhen 7-Eleven, a 350 ml Red Fruit Juice from Garden Fresh (left) sells for just 5 yuan while a smaller 290 comparable fruit drink from Japanese rival Kagome is 11 yuan.
Photo: Andrew VanburenBuying Activity

For a niche product like loquat juice, there was no visible buying activity.

Therefore, rather than linger at each location for possible loquat juice buyers to surreptitiously snap with my camera, I instead asked the nearest clerk to each Garden Fresh display how popular the product was with consumers.

Three reported that Garden Fresh's loquat juice was normally in stock but not at present, and was a strong seller especially as the thermometer began to rise.

However, one mom-and-pop proprietor in a residential area of Shenzhen said she had heard of Garden Fresh loquat juice, but kept her small streetside cooler stocked with what she called "more popular" products like water, Coca-Cola, Pepsi, Qingdao beer and tea/iced coffee varieties.

Pricing

Sino Grandness offers several juice products, all in plastic twist-cap bottles.

During the Shenzhen store visits, three flagship loquat juice (枇杷汁) products were found for sale.

> Loquat Juice Ice (冰枇杷饮料: 10% juice content) has a 450 ml bottle selling for an average of five yuan, with another half yuan often tacked on at stand-alone non-chain convenience stores.

> Loquat Pear Drink (枇杷雪梨饮料: 10% juice content) comes in a 450 bottle also selling for an average of five yuan.

> Loquat Juice (枇杷汁饮料: 50% juice content) is Garden Fresh's best-selling product, selling for around 7.5 yuan.

Also found in coolers and on shelves were two sizes of Red Fruit Juice, 350 ml and 500 ml, which contain six fruits of said color including hawthorns and cherries.

Both sport 50% pure juice content and sell for five and 7.5 yuan, respectively, on average.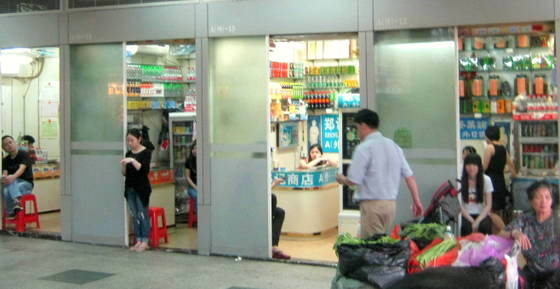 Of these four shops near Shenzhen Station, the second from the right sells Garden Fresh juices. Photo: Andrew Vanburen

Only plastic PET bottles were discovered during the Shenzhen POS tour, with no sign of smaller squeeze packs popular as lunchbox beverages for schoolchildren.

No clerk was aware of ever having seen Garden Fresh beverages offered in such squeeze packs that typically come with straws.

Compared to similar-sized comparable content products from Japanese rival Kagome and domestic competitor Fujian Beiqi, Garden Fresh prices were often considerably lower.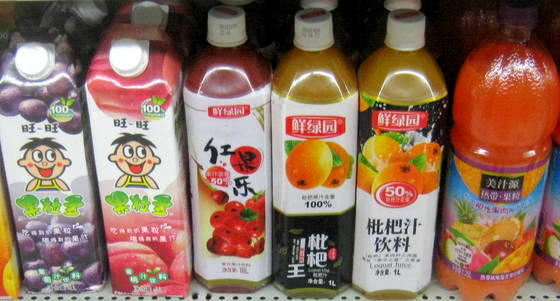 At this Shenzhen Carrefour store, three top-selling Garden Fresh juices are flanked by two Want Want juices at left and a Minute Maid mixed juice on the far right.
Photo: Andrew Vanburen

Promotions

No venue was seen displaying any Sino Grandness (Garden Fresh) advertisements or promotions, and no clerks questioned recalled there ever being a promotion or free onsite taste-testing of SG products.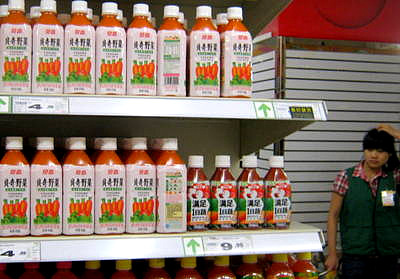 This clerk at a domestic Chinese supermarket chain thought her employer carried Garden Fresh loquat juice, but later said she probably had the idea in her mind from TV commercials promoting the beverage. Photo: Andrew Vanburen One interesting note on advertisements and the power of the Garden Fresh name came up at one of China's largest domestic supermarket chains.

China Resources Vanguard operates supermarket chains, and is the third-largest supermarket chain in Hong Kong, with nearly 500 stores in Hong Kong and several Chinese provinces.

When asked where I might find Garden Fresh juices, a clerk in one of its Shenzhen store's sprawling bottled and canned beverage sections led me to where she believed Sino Grandness' products were displayed.

After taking several turns up and down neighboring aisles, she scratched her head and apologized for mistakenly thinking her employer stocked Garden Fresh products.

"I could have swore we carried them," she explained.

"I must have seen too many of their commercials and thought we had them."



Shenzhen-based Sino Grandness was founded in 1997. It started as the OEM exporting canned asparagus canned long beans, canned mushroom etc to European chains of Lidl, Carrefour, Walmart, Coles etc. In 2009, it added a beverage division and subsequently introduced its mixed-fruit juice and vegetable-juice under the brand name "Garden Fresh" for sale in China. In 2011, it introduced its own canned fruit under the brand name Grandness" for sale in China.
---

See also:

SINO GRANDNESS: Aiming To Stay No.1 In Loquat Juice Market