Credit Suisse: LENOVO Kept 'Outperform'
Credit Suisse said it is maintaining its "Outperform" recommendation on China's top PC play Lenovo Group (HK: 992) with a target price of 10.00 hkd (recent share price 7.09).

"The first quarter was a tough one for Lenovo," Credit Suisse.

Lenovo's shares have fallen 21% from their peak on 1 March.

It said several factors have led to this pullback including: (1) insider selling in Feb; (2) concerns over weak CNY PC sell-through; (3) conflicting views on a RIM (Research in Motion) buyout; and (4) industry PC data points overnight suggesting 1Q13 PC sales downside for Lenovo.
Credit Suisse is reducing its 4Q13 March quarter sales for Lenovo by 2.4% to 7.87 billion usd, accounting for a mild PC shortfall, but raising EPS by 2.8% as it believes Lenovo walked away from the lower margin PC business to protect profit.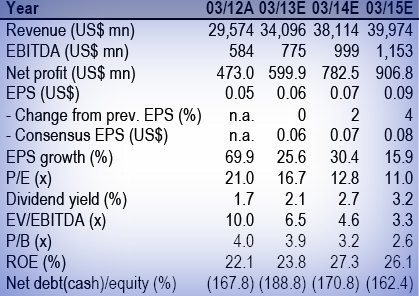 "We believe the MIDH (Mobile Internet & Digital Home) remains at close to break-even levels despite unit decline QoQ as it scales out fixed costs. Our FY14 EPS is largely unchanged and is 6% above consensus.

"We see an attractive entry point at current levels."

Credit Suisse added it expects Lenovo to forgo share gains to protect its profit as PC demand remains soft, and this may lead to upside surprises this year.
---
Yuanta: Maintaining 'Buy' Call on LENOVO

Yuanta Research said it is keeping its "Buy" recommendation on Lenovo Group (HK: 992) with a target price of 8.5 hkd.

"Lenovo's share price corrected by over 5% on April 11, on market concerns of a weak near-term outlook for its PC business. Lenovo also admitted shifting focus from growth to profitability, and we cut our FY2014F earnings by 5.4%," Yuanta said.

The research house said it did not downgrade the stock at its earlier peak, as it sees opportunities for Lenovo to regain its growth momentum m c2H13.

FY4Q13 PC shipments slightly below guidance

Lenovo's PC shipments fell 17% QoQ in FY4Q13, vs. guidance for a 15% QoQ drop.

"We believe the weakness is mainly from the China market, while it gained market share in Europe (consumer market) and the US (small/medium-sized businesses).

"As such, we are lowering our FY4Q13F sales forecast from 8.5 billion usd to 7.9 billion but we expect tight expense controls."

Yuanta said Lenovo will be focusing more on margins instead of sales going forward.

"As the PC market is slowing, Lenovo has refocused from sales growth to profitability, with a product mix shift to more smartphones and tight expense controls.

"We anticipate continued margin expansion, and this is one of the key reasons why we maintain our positive view on the stock."


---
See also:

LENOVO A 'Buy'