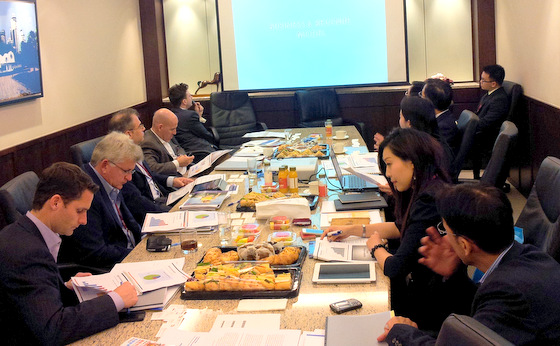 Aries Consulting along with Roth Capital arranged four US funds to meet with six HK-listcos. Photo: Aries Consulting

ARIES CONSULTING, a unit of Singapore's top investor relations firm Financial PR, teamed up with Roth Capital to introduce four US fund managers to six HK-listcos – the first such arrangement by a Hong Kong-based IR firm.

It comes during an interesting time for the Hong Kong stock market.

After a largely forgettable first half last year, Hong Kong shares turned on the gas for a bullish second half.

However, the benchmark Hang Seng Index has recently been struggling somewhat to regain traction and is currently trading just over 2012 year-end levels.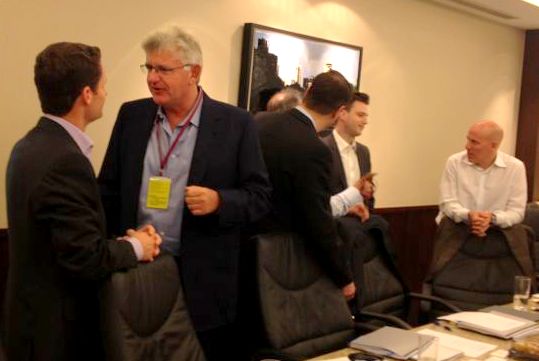 Aries Consulting and Roth Capital invited US-based funds Cranshire Capital, Hudson Bay Capital, Kingsbrook Partners and Iroquois Capital to meet with listed Hong Kong SMEs.   Photo: Aries Consulting

This has caught the attention of offshore investors, especially those hunting for undervalued SME opportunities in Hong Kong.

It also provided the ideal opportunity for Aries Consulting to step in and help facilitate meetings between the four US funds and six carefully selected Hong Kong-listed enterprises.

The participating US-based funds were Cranshire Capital, Hudson Bay Capital, Kingsbrook Partners and Iroquois Capital.

The visiting fund managers were introduced by Aries Consulting and Roth Capital to a half dozen established listcos from diverse industries including resources, consumer, manufacturing, healthcare and the Internet.

Senior management from the six Hong Kong listcos provided their curious visitors from afar with very detailed, sophisticated presentations and responded well to questions posed by the fund managers.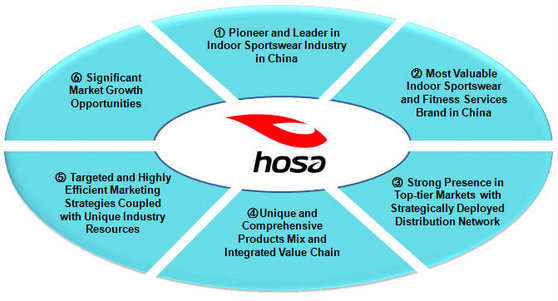 Sportswear play Hosa International is currently trading at an attractively affordable P/E of just 9x, leaving a very positive impression on visiting US fund managers.  Image: Hosa

Of the Hong Kong-listed firms visited, indoor sportswear play Hosa International (HK: 2200) left a very favorable impression, with the US fund managers saying it reminded them of an Asian version of Nasdaq-listed Lululemon Athletica.

Hosa is currently trading at an attractively affordable P/E of just 9x while Luluemon is at 43x.

Hosa's 2012 revenue rose 22% to 848 million yuan leading to a 21.2% increase in net profit to 331 million.

"We are pleased to successfully introduce new US investors to Hong Kong companies.

"A large percentage of US institutional investors have little exposure to the Greater China market. Our company visits enabled the fund managers to deepen their understanding of the markets and companies in this region," said Financial PR Founder and Group Managing Director Ms. Kathy Zhang.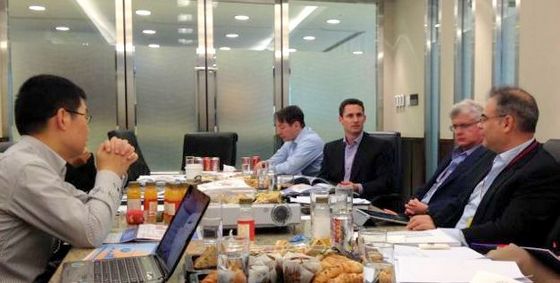 Hong Kong executives make their case to four visiting US-based fund managers
Photo: Aries Consulting

She added in turn that most of the small-mid cap companies in Hong Kong have few opportunities to get to know US funds.

"We provide the platform whereby companies have the opportunity to meet new overseas investors. This is part of the value-added services that we provide to our clients to assist them in institutionalizing and improving their shareholding base."

Earlier in January, Financial PR and Aries Consulting hosted the "Braving the Waves" Investment Conference in Shenzhen at which more than 100 fund managers and investors attended.

"The response then was also fantastic. Over the years, the Group has grown into one of the largest Investor Relations agencies in Asia servicing over 100 listed retainer clients.

"Our clients can look forward to more exciting ideas from us in the coming future," said Ms. Zhang.

Financial PR is an award-winning investor relations specialist with regional presence in Singapore, Hong Kong, Taiwan and the PRC. Aries Consulting is the Hong Kong subsidiary of Financial PR Group. Backed by in-depth knowledge in finance and investing, as well as extensive contacts in the media and investment community, the Group helps listed companies in the region to design and execute strategic investor relations programmes as well as to communicate with investment communities across Singapore, Hong Kong, Taiwan and the PRC.


---