Daiwa: PROSPERITY REIT Kept 'Outperform'

Daiwa Capital Markets said it is maintaining its "Outperform" call on Prosperity REIT (HK: 808) while hiking the target price to 3.00 hkd from 2.20. (recent share price: 2.65)

Prosperity REIT's 2012 final results included a 14.3% y-o-y growth in distributable income to 187 million hkd, in line with Daiwa's forecast.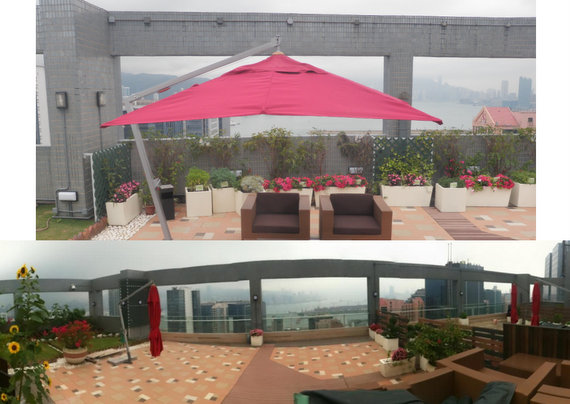 Improving Visibility: A Prosperity REIT harbourside asset before (above) and after renovations Photo: Company

Distribution per unit (DPU) rose 12.6% y-o-y to 0.135 hkd.

"Overall, we think the results confirm that the company is beginning to reap the benefits of asset enhancement initiatives (AEIs) begun several years ago, which should bode well for its DPU in coming years," Daiwa said.

Positive rental reversion gathering momentum

Rental reversion in the group's portfolio in 2012 was 36.1%, up from 33.1% in 1H12, and a notable increase from 14.8% in 2011.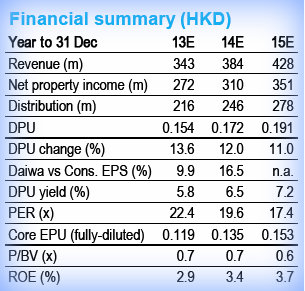 Source: DaiwaAs a result, the portfolio's average achieved unit rent per square foot rose to 16.94 hkd from 15.05 in 2011.

"We think this promising trend has yet to run its course.

"In our opinion, 16.94 hkd/sq ft is still low for buildings that can be upgraded to attract some multinational (MNC) tenants instead of having to lease to only small- and medium-sized enterprises."

Daiwa added that it understands that several of the group's major MNC clients, such as Cannon and NEC, renewed their leases in 2012 in The Metropolis Tower in Hunghom (the group's largest property), and it estimates the achieved rent to be over 30 hkd/sq ft.

In 2012, the passing rent in The Metropolis Tower was 25 hkd/sq ft, and the spot rent in the building has already risen to 32 hkd/sq ft so far in 2013.

"This should bode well for a continued increase in the average achieved rent in the group's portfolio, in our view.

"We continue to believe Prosperity REIT possesses an upgradable portfolio, and we think its latest results indicate that execution is progressing well," Daiwa said.

The research house is upgrading its DPU forecasts for 2013 to 0.154 hkd, 2014: 0.172, and 2015: 0.191.
---
DBS Group: PROSPERITY REIT Target Hiked to 2.86 hkd

DBS Group said it is raising its target price on Prosperity REIT (HK: 808) to 2.86 hkd from 2.63.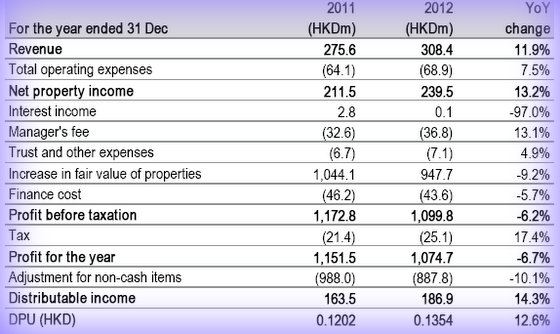 The research house is keeping its "Buy" recommendation on the Hong Kong-listed firm.

"Prosperity REIT showed impressive reversionary growth. Its FY12 distributable income grew 14% to 187 million, mainly led by higher rental revenue," DBS said.

Gearing further improved to 22.4% from 24.2% in June 2012 on higher property valuation.

"After obtaining government approval for conversion of Prosperity Place in Kwun Tong from existing industrial/office use to commercial under the industrial building revitalization scheme, Prosperity REIT plans to bring in higher-paying serviced oriented trades gradually starting from 2H13," DBS added.

DBS has an FY2013 DPU estimate of 0.14 hkd.
---
Macquarie: PROSPERITY REIT Maintained at 'Outperform'

Macquarie Equities Research said it is keeping its "Outperform" call on Prosperity REIT (HK: 808) while hiking the target price to 3.03 hkd from 2.55.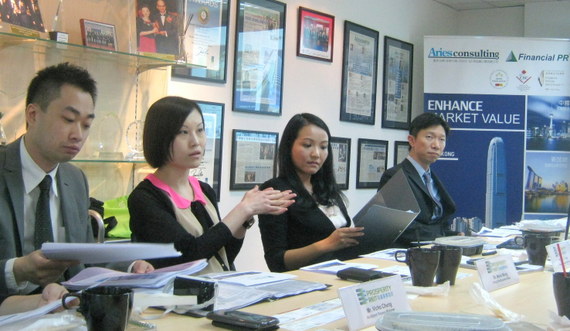 Prosperity REIT Acting CEO Mavis Wong (second from left) responds to investor queries in Hong Kong. Others in photo, from left are Assistant Finance Manager Vicho Chung, IR Manager Carey Kwan and Finance Manager Samuel Cheung. NextInsight file photo

Under the government's industrial buildings revitalization scheme, the wholesale conversion of Prosperity Place from industrial/office to commercial was granted in 4Q12.

"The company has started to introduce commercial elements such as retail, spas, beauty centres, restaurants and education centres into the building, hence wider tenant base with higher rental affordability, which has led to 29.3% increase in valuation to 1.30 billion hkd," Macquarie said.

The research house said the current share price of around 2.65 hkd implies a price to book-value ratio of just 0.63x or a fall in investment property values of ~27% and a net property income yield of ~3.94%, a ~206bps spread over US 10-year government bonds.

Furthermore, Prosperity REIT is offering a 12-month forward DPU yield of ~5.6% with a FY13-15 DPU CAGR of 6.5%.

---
Nomura: PROSPERITY REIT Target Hiked to 2.65 hkd

Nomura Equity Research said it is raising its target price on Prosperity REIT (HK: 808) to 2.65 hkd from 2.56.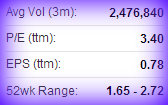 Recent price 2.65 hkdThe call on the Hong Kong-listed firm remains "Neutral."

Prosperity REIT's FY12 results were largely "in-line," said Nomura.

Growth was attributable to the strong rental reversion (which jumped to 36.1% y-y in 2012 from 14.8% in 2011).

The approval of Prosperity Place's industrial revitalization was granted in 4Q12.

With some additions and alterations work in progress, the whole project is expected by the company to be completed in 1H13.

"We lower our FY13 net rental income by 1%, after the FY12 actual number missed our forecast by 1%. As a result, FY13F DPU estimate has been cut by 1%," said Nomura, which now has a FY2013 DPU forecast of 0.14 hkd.



Prosperity Real Estate Investment Trust was the first private sector REIT to list on Hong Kong's Main Board with exposure to the Hong Kong office and industrial/office sectors in decentralized business districts. Cheung Kong (Holdings) Ltd together with Hutchison Whampoa Ltd make up the single largest unitholder of Prosperity REIT. Prosperity REIT owns and invests in a diverse, income producing portfolio of commercial properties which enjoys high growth potential. Through Prosperity REIT, investors can have direct exposure to one of the most vibrant real estate markets in Asia today.
The portfolio currently features seven high-quality properties with a total of 1,215,579 square feet. The properties are strategically located with direct access to the mass transportation network of Hong Kong. The properties include The Metropolis Tower, Prosperity Millennia Plaza, Harbourfront Landmark (portion), Prosperity Place, Trendy Centre, Prosperity Center (portion) and New Treasure Centre (portion). Prosperity REIT is managed by ARA Asset Management (Prosperity) Ltd, a highly experienced and visionary management team.


See also:

PROSPERITY REIT: Seeking Right Stuff In Hong Kong