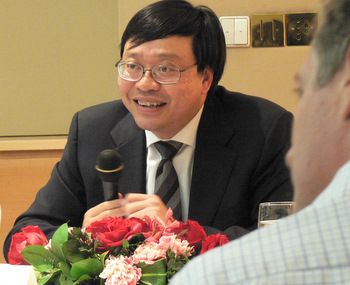 Richard Lo, President & CEO, Techcomp.
NextInsight file photo CPY: Tense Sino-Japanese Ties Affecting TECHCOMP but lower yen has benefits

CORE PACIFIC - YAMAICHI said Techcomp (Holdings) Ltd (HK: 1298; SGX: T43) -- a leading manufacturer and distributor of analytical instruments, life science equipment and laboratory instruments – is being impacted by chilly ties between Beijing and Tokyo.

"Tense Sino-Japan relations are the major risk in FY13F. So far the existing Sino-Japan relations show no sign of easing and this situation may sustain for a certain period of time.

"This implies that Techcomp has to continue to provide some price incentives to PRC clients. We therefore take a more cautious view and valuation on Techcomp," CPY said.

However, the continued depreciation of the Japanese currency is benefiting margins.

The Japanese Yen has depreciated 8.2% versus the US dollar year to date.

"As the Japanese products account for the majority of its distribution business, together with less aggressive pricing strategy, we expect the gross profit margin to rebound by 2.3 pts to 29.7% in FY13F."

The research house also called Techcomp's FY12 results "disappointing," adding that FY13 "will still be tough."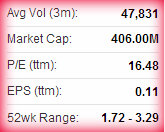 Techcomp recently 1.75 hkdNet profit fell 69.6% y-o-y in FY12 to 2.5 million usd, 45% lower than original estimates.

"Due to tense Sino-Japan relations in 4Q12, the company took a more aggressive price promotion strategy.

"As a result, full-year revenue was better than our estimation by growing 2.3% y-o-y to 157.7 million usd."

To finance acquisitions in 2012 and early 2013, Techcomp raised 12.8 million usd in one to five year bank loans last year lifting the net gearing from 35.5% to 48.2%.

This drove the finance costs to surge 87% y-o-y to 1.3 million usd.

CPY has a "Sell" call on Techcomp with a target price of 1.61 hkd (FY13F PE is 9.8x).


________________________________________________________________________________



Kingston: LENOVO Gets 'Buy' Call

Kingston Securities said it has a "Buy" recommendation on Lenovo Group (HK: 992) – China's top PC play – with a target price of 9.0 hkd (recent share price 8.54).

Lenovo plans to create two new end-to-end business groups: Lenovo Business Group and Think Business Group, and consolidate its North American and Latin American businesses.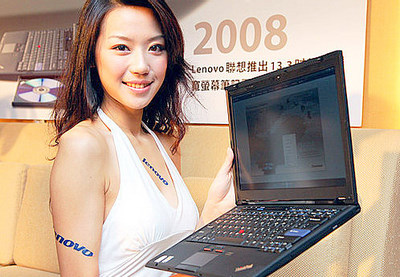 Lenovo is now the world's top PC player Photo: Company"The Group was added into the HSI again, indicating the high-recognition from the market," Kingston said.

For the quarter ended December 2012, the Group achieved y-o-y sales growth of 8% to 1.41 million units, and its worldwide PC market share reached a record high of 15.9%.

Revenue for the first three quarters rose 17.9% y-o-y to 26.04 billion usd, while net profit climbed 25.1% to 509 million.

Sales for Mobile Internet and Digital Home (MIDH) surged 83%, pushing the revenue generated from China up 17% y-o-y, accounting for 43% of total revenue.

"The use of Smartphones is spreading rapidly in China, where the Group's market share is getting closer to Samsung," the research house added.

The Group's Smartphone unit shipments tripled.

The revenue proportion of MIDH increased from 8.3% in Q2 to 11% in Q3.

The Group plans to launch Smartphones in India through cooperating with partner Reliance.

________________________________________________________________________________

See also:

TECHCOMP Boosts Q3 Top Line 12.1%

LENOVO 'Neutral'