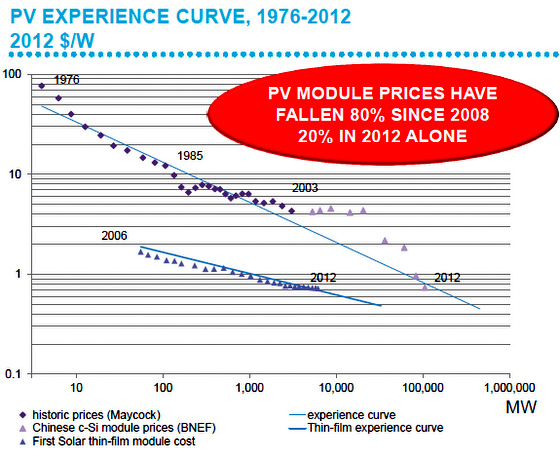 The solar power industry that Anwell Technologies is in is beset by trade disputes and subsidy reductions, but analysts believe that this will accelerate the end of the industry consolidation and the beginning of stable photovoltaic (PV) panel prices. Bloomberg data (Note: Prices inflation indexed to US PPI.)

THE PAST TWO YEARS have not been easy for the solar panel industry as a capacity glut made many manufacturers unprofitable but for Anwell Technologies, it was also a time of extending its market reach.

The industry has no lack of high-profile casualties.

A recent example is the incumbent world no.1 manufacturer Suntech Power, which filed for bankruptcy two months after defaulting on US$541 million of bonds. 

Its collapse follows bankruptcies in Germany of manufacturers such as Q-Cells SE, previously the biggest solar manufacturer.  Japan's Sharp, which led solar cell making until 2006, has been scaling back operations overseas.

And in 2011, Solyndra LLC collapsed in spite of US$535 million of support from the U.S. Energy Department.

SGX-listed Anwell, with Chinese government subsidies of HK$1.7 billion on its books, widened its 1Q2013 net loss attributable to shareholders to HK$117.7 million compared to HK$93.6 million in the corresponding period a year ago.

Anwell's revenue for 1Q2013 declined 22.9% year-on-year to HK$242.6 million due to lower sales for all 3 business segments: solar, optical disc and equipment.
Its gross profit margins dropped by 5.1 percentage points to 11.5% due to a fall in average selling prices for optical disc and solar products.

1Q2013 may have been the perfect storm when demand and prices fell for both solar and optical disc products, but there's good news: While solar panel prices have fallen over 20% last year, industry players and Anwell executive director Ken Wu share the belief that 2013 will likely mark the finale of the solar industry consolidation.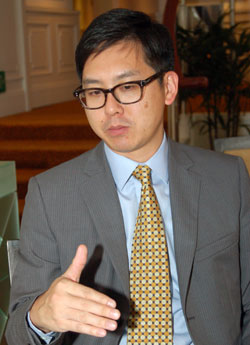 'Optical disc prices have softened. While this affects margins, cashflow is still stable from this segment,' said executive director Ken Wu. NextInsight file photo"Solar panel prices are expected to improve after excess inventory is absorbed over the next two quarters," said Mr Wu during a recent teleconference with Singapore-based analysts.

That's saying a lot, considering that solar panel prices have dropped some 80% over the past 5 years.


Higher efficiency products, more markets

Its upcoming solar panel plant in Dongguan commences operations next month.

This is its second solar panel manufacturing plant, able to produce 1500 MW of high-efficiency low-cost thin film photovoltaic (PV) modules a year.

"The amorphous silicon thin-film solar products from our Henan plant have solar-to-electricity conversion efficiency averaging 9%.  These are lower-cost products that are suitable for utility-scale markets like Thailand and India," said Mr Wu.

"Our Dongguan plant also produces thin-film solar products, but structurally different and with higher energy conversion efficiency of up to 13%.  This is suitable for Australian and European markets, and for the rooftop market.

"Currently, we trade in third-party PV products in Australia and Europe, and this limits our profit margin in these markets to that of a trading business," he said.

"When the Dongguan plant starts operating, we can generate a manufacturer's profit margin from Australia and Europe, which will be better than trading," he added.

Mr Wu hopes to supply the company's higher efficiency products to the Aussie and European rooftop market, where solar panel systems on the rooftops of residential and commercial buildings are connected to a power grid that delivers electricity to end consumers.

The rooftop solar panel market has been fueled by "feed-in-tariffs", a government policy mechanism designed to accelerate investment in renewable energy technologies.

Feed-in-tariffs typically include three key provisions: guaranteed power grid access, long-term contracts for the electricity produced, and purchase prices based on the cost of generation.

Over 50 countries have adopted similar schemes to promote the use of solar energy, whereby eligible homeowners, business owners, farmers, as well as private investors are paid a cost-based price for the renewable electricity they produce.  This arrangement provides payback for those who invest in a PV system.

(Unfortunately, this scheme has yet to be adopted in Singapore.)



Anwell's Dongguan factory starts operating next month. Company photo

Foray into Japanese market

A new market that it is targeting is Japan, where feed-in-tariffs have been fueling a solar power boom.

Last July, the Japanese government began offering generous feed-in tariff incentives to encourage investments in energy sources such as wind and solar.  Renewable energy has become a big thing in Japan as it grappled with power shortage problems after its nuclear power accident two years ago prompted the closure of all but two of its nuclear reactors.
 
The feed-in-tariff scheme was so effective that Japan is expected to become the largest solar market in the world after China this year, boosted by an incentive program that offers one of the best rates in the world for energy from renewable sources.

"There are many power purchase agreements in the Japanese market and many investors are looking for opportunities there.  We are bringing investors from Hong Kong, America and Thailand to invest in solar farms in Japan, where we will be their EPC contractor," said Mr Wu.

"Other than venturing into Japan, we will continue to focus on China and Thailand as markets for solar farm projects in the upcoming quarters. We also have a distribution business in the rooftop markets in Europe, South America and Australia," he added.


Below is a summary of questions raised at the teleconference and Mr Wu's replies.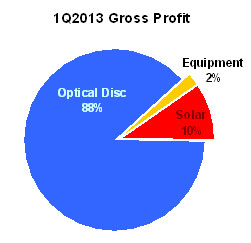 In addition to government support, Anwell's growing solar power business is also funded by stable cash flow from its disc manufacturing business.Q: Are you replicating your Thailand business model for your venture into Japan?

Yes, we are replicating our Thai model in Japan.

We were the EPC contractor for our first project in Thailand.  For our second project there, we extended our capabilities to that of a solar farm developer. This means that in addition to building the farm for our customer, we also acquired the necessary licenses, and lined up the bank financing and investors.

We know many investors in Thai solar farms who are looking for opportunities to invest because of their good experience in this area in the past two years.  However, the Thai authorities have not been issuing any power purchase agreement in the past 6 months.  So, we intend to bring Japanese solar farm projects of comparable IRR to these Thai investors.

Q: How does your selling price change with your new product range of 13% solar-to-electricity efficiency?

The product range from our second factory will be of higher efficiency, and each solar panel can generate a higher electrical voltage. The panels from our Dongguan plant will enhance our product mix.

Q: Will the seasonal weakness for optical discs persist?  What causes it?

We have seen a downward trend for gross profit margin of optical discs for the past 3 quarters.  I believe the current margins will persist into 2Q2013 and rebound thereafter.  Current margins are quite low in the context of the optical disc industry's historical cycles.  I expect improvement in 3Q and 4Q2013.

Q: Your main banker is the Industrial and Commercial Bank of China (ICBC). What do they say when they see your losses?

Bankers in China have mindsets different from those in Singapore or Hong Kong.  They are highly influenced by government policies.  ICBC is partially state-owned.  Up to today, they are still supporting us.  They know our company very well. They even visit our projects in Europe to understand us.  We maintain very good communications with them.  Our losses have not affected the banking terms that they are extending to us.
---

Related stories:

@ ANWELL'S AGM: New Factory To Open Up Solar Markets

ANWELL: Halves FY2012 Net Loss To HK$266.2 Million