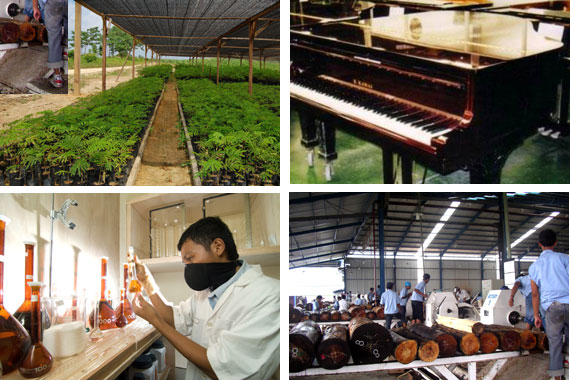 Samko's vertical integration strategy is bearing fruit: Net profit for FY2012 is up 63%.
Company photos


Samko Timber's net profit surges 63%

SAMKO TIMBER, an Indonesian fully integrated timber processing group, has posted a 63% year-on-year increase in FY2012 net profit to Rp83.8 billion (about S$11.1 million).

Earnings per share was 60 Rp, or 0.8 Singapore cent, translating into a PE of 17X based on a recent stock price of 13.8 cents.

Revenue increased 11% y-o-y to Rp2.8 trillion (about S$366.7 million) as both domestic and export sales improved.

The strong local housing and construction projects supported the growth of both domestic sales volume and selling price, contributing to an increase of 10% in domestic sales.

Export sales volume remained close to FY2011 levels, but sales value increased 15% as a result of increased sales of high value products and a more favorable foreign exchange rate.

Gross profit margin increased 1.2 percentage points to 17.5% in FY2012 on higher overall selling price.

"Our FY2012 production volume increased and contributed to higher economies of scale. As a result, a lower average production cost and better margins were achieved," said CEO Aris Sunarko.

"We will seek opportunities to expand upstream for tree planting, expand distribution network and improve product mix by introducing higher value-added products so that we can better manage cost and maintain our margins," he said.

No dividend was proposed for FY2012 (unchanged from FY2011).



Related story:

SAMKO TIMBER: Rolling Out New Growth Strategy



---
Executive chairman Zhang Wei.
NextInsight file photoWeiye's earnings dampened by property curbs

WEIYE HOLDINGS has posted a decline in net profit after tax of 63.5% in FY2012 to Rmb 36.9 million, affected by property market cooling curbs in China.

Group revenue for the leading premium residential and commercial property developer in Henan and Hainan decreased 66.2% year-on-year to Rmb 222.7 million.
The Group's top-line was affected by a 78.8% decline in property sales, amidst China's economic slowdown.

This was not helped by PRC property cooling measures such as restriction on property purchase and bank financing.

This segment contributed 59.2% to Group revenue, while sales of cleanroom equipment contributed the remaining 40.8%.Gross margin was 7.2%, down 39.1 percentage points, affected by higher overhead cost and variation orders of about Rmb 31.9 million incurred in prior years for property projects.
The variation orders arose primarily due to unforeseen rising labor costs and price inflation in main construction materials between 2010 and 2012.


In January, the Group disposed a parcel land of 13,333.3 sqm in Zhengzhou for about Rmb 84.5 million and jointly acquired another land parcel of 42,666.9 sqm in Zhengzhou for a cash consideration of Rmb 120.7 million.

This newly acquired plot of land has been earmarked by local government as the commercial / administrative / school district of the city, and is expected to boost the Group's brandname once developed.
---
Related stories:

WEIYE: Fund Managers Give Thumbs-Up To Its Hainan Homes

WEIYE: To Benefit From Real Estate Boom Triggered By IPhone Production Base