MOST PEOPLE see Kian Ann Engineering as a distributor and marvel at how its net margins have steadily increased from 6.6% in FY2006 to 10.3% in FY2011.

"In reality, we are more like a one-stop 'parts supermarket', rather than a distributor that constantly faces the threat of being by-passed," said its executive director, Mr Loy Soo Chew, during a recent interview with NextInsight.

It has the capacity to distribute to over 50 countries more than 1.3 million item lines covering over 270 brands from 220 principals. As a result, it is one of the world's largest independent distributors of heavy machinery parts and diesel engine components used for excavators, bulldozers, wheel loaders, motor graders, trucks, power generation sets and marine engines.

The brands it supports include Caterpillar, Komatsu, Cummins, Hitachi, Kobelco, Sumitomo, Mercedes Benz, Volvo, Hyundai and Doosan.
One-stop solution

Drawing on the supermarket analogy, continued Mr Loy, "my wife goes to the supermarket to buy groceries because it is a one-stop solution. She is unlikely to go to Coca-cola's factory to buy a carton of drinks, right?"

Kian Ann's main warehouse is in Singapore and most of its regional customers are parts dealers.

"Land prices are high in Singapore but the absence of import duties here makes it an import and export hub," said Mr Loy.

As Mr Loy explained, there are a number of reasons why dealers rely on Kian Ann.

Firstly, going direct to the principal manufacturer requires a minimum order, and most dealers are unwilling to hold such a large inventory risk. Secondly, shipment costs are relatively hefty for loose cargo.

Even if a dealer does venture to enquire at the principal's factory, it may be referred to officially appointed distributors like Kian Ann.

Having been around for more than 45 years helps. Over the years, Kian Ann has accumulated a database of specifications on equipment parts -- this information allows its technicians to short-list the exact component that can be used interchangeably between each vehicle model and brand.
For example, one single model of a particular OEM component may be used on different models of Caterpillar as well as Komatsu equipment.

Not only does such a capability allow Kian Ann to offer customers a choice between using original branded components, cost-effective OEM models and third-party aftermarket substitutes, keeping stock of interchangeable parts applicable to different equipment brands also makes inventory management more efficient.

Having said that, Kian Ann has in recent years set up offices in Shanghai and near Jakarta to sell directly to end-users from the booming mining and forestry industries there.


Demand driven by coal mining and forestry

The Group's 1Q2012 net profit rose 39.5% year-on-year to S$5.4 million, driven by demand from coal mining and forestry activities. Its cash hoard ballooned to S$4.3 million as at 30 Sep.

Excavators, bulldozers and diesel engines used in the mining sector account for a large portion of group sales.

Since coal is a substitute for crude oil, coal mining operations are doing very well because energy prices have been
holding above US$100 a barrel for the larger part of the past two years, according to Mr Loy. He believes demand from coal mining will remain strong as long oil prices are above US$70 per barrel.

Global mining expenditure in 2012 is expected to hit about US$150 billion, up almost 25% from 2010 levels, according to the Raw Materials Group.

Commenting on how uncertain economic outlook affects business, Mr Loy said that sales of spare parts may even increase during recessions.

He explained that when capital expenditure budgets are slashed during recessions, the average life of equipment in use tends to be higher, and older equipment usually require more maintenance and replacement of parts.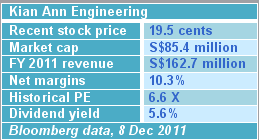 The only risk of a decrease in demand is in the event that the entire mining, logging or infrastructure operation shuts down or drops significantly, as was the case during the recent global financial crisis. Group revenues fell 10.3% in FY2009.

Singapore, Indonesia and Malaysia together accounted for 68.6% of group sales in 1Q2012.

"We want to increase our revenue contribution from Indonesia, as it is a large nation with abundance of mining and forestry activities," said Mr Loy.


Related story: KIAN ANN, CHINA MINZHONG, REITS: What Analysts Now Say...