CHEUNG WOH Technologies met investors yesterday for an update on the realization of its investment in its auto components unit, Suzhou Tysan Precision Engineering.

It had just announced that it is slashing its effective 69.4% stake in Tysan Precision to 33%.

Tysan Precision is China's No.1 supplier of seat track adjusters and seat recliners, and contributed 41% to Cheung Woh's group revenue in FY2011.
"We are selling at a good price - more than enough to recover our cash investment for the 33%," said executive chairman Law Kung Ying.

The divestment will allow Cheung Woh to focus on the HDD segment while remaining exposed to the growth in China's auto market.

Cheung Woh is a key supplier of air combs to Western Digital, and expects to benefit from the acquisition of Hitachi Global Storage Technologies (Hitachi) by Western Digital.

Taiwanese technology consultancy Digitimes Research expects Western Digital's share of the HDD market to rise to 48%, from 31% currently.
The acquisition of Hitachi by Western Digital opens a window for Cheung Woh to supply aluminum air combs to Hitachi, which presently uses plastic air combs for its hard disk drives.


Mr Law also cited a second positive demand trend. He expects the current HDD replacement cycle to peak next year, as cycles have lasted 2 to 3 years for the past 20 years.
The sale and purchase agreement on Tysan Precision is valued at its net tangible asset value of US$25.3 million on 30 June 2011.

In addition, the trailing 12 months earnings of Tysan Precision as at 31 May 2011 was US$2.9 million, reflecting a hypothetical valuation of 8.7 times PE achieved.

Mr Law believes the divestment unlocks value for shareholders as it is above Cheung Woh's current valuation of 0.76 times NTA and 5.16 times trailing price-earnings ratio based on the closing price of S$0.23 on 19 July 2011.
Below is a summary of questions raised at the meeting by investors and the management's replies:

Q: Will your automotive segment grow at a slower pace now that you have a smaller stake?
No, our partner is very aggressive, with very high capital expenditure plans. Had we not sold, our FY2012 capex would have been S$13 million instead of S$4 million. Even though we still hold 33%, there will no longer any capex injection from Cheung Woh.
Q: How will this affect your gearing?

Net gearing will come down to about 15% (from 30%) after the divestment, as most of our debt arose from Tysan Precision.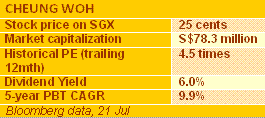 Q: Now that FY2012 capex is estimated to be only S$4m, what do you intend to do with the extra S$9m?

Traditionally, dividend payout is about 30% to 40%. We intend to return the cash to shareholders through dividend payout. We also passed a share buyback mandate during the AGM. We may buy back from the open market the 12 million shares we issued to buy the auto business. We shouldn't keep a lot of cash in the company, as this is unfair to shareholders.
Q: The family already holds over 70%, so how does buying back shares affect the public float?
The company share buyback can be equally distributed between family members and public float.
Q: For your air comb business, what is the market growth?
Last year, market growth was only 13%, versus 28% for us. For VCM, it was 17% versus market growth of about 13%.


Related story: CHEUNG WOH, TIGER AIRWAYS, CHINA STOCKS: What Analysts Now Say...