Swissco's anchor handling tug vessel, Swissco Jade, deployed at the Bien Dong oilfield project off south Vietnam. Company photo

CHINA RONGSHENG'S financial difficulties has dealt a blow to Swissco's ambitions to add oilrigs to its vessel chartering fleet, but the recent share disposal by its major shareholder to Kim Seng Holdings augurs a reprising of its oilrig ambitions.
Last week (on 23 July), Swissco's largest shareholder, Tan Dah Ching, sold 78.715 million shares (18.2%) to his father's investment vehicle, Kim Seng Holdings, via a married deal at 22.5 cents per share.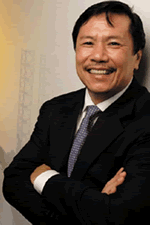 Tan Kim Seng is Swissco's largest shareholder.
Internet photoTan Dah Ching's father is none other than prominent investor Tan Kim Seng.

Tan Kim Seng's total stake in Swissco through Kim Seng Holdings was increased to 18.8% as a result.

The Tan family had acquired 78.715 million shares (26.6% back in 2008) in Swissco through Tan Dah Ching when it ventured into offshore vessel chartering.

Given Tan Kim Seng's professional track record in the offshore industry, getting his active involvement may spell higher chances of success than Swissco's miss with its Chinese funding partner, Zhang Jiping.

For example, in November last year, Kim Seng Holdings announced a joint venture with Ezion that secured contracts worth up to US$298 million to provide two service rigs over a 7 year period to support the oil & gas activities of a national oil major in Central America.

Ezion owns one of the largest and most sophisticated class of jack-up rigs in the world, and has a profit record that any offshore fleet charterer would want to emulate.

Tan Kim Seng and Ezion's track record are a sharp contrast to Swissco's encounter with Mr Zhang.

Earlier this year (on 23 March 2013), Swissco's wholly owned subsidiary, Seawell Drilling, displayed its oilrig ambitions by inking a deal with Mr Zhang's investment vehicle, Golden Arch, to to form a special purpose vehicle (SPV) for engineering, procurement and commissioning contracts for oilrigs.

The SPV was to give Rongsheng Offshore & Marine an EPC contract to build the oilrig.

Rongsheng Offshore & Marine is owned by China Rongsheng, which until last year, had been considered China's largest shipbuilder, with FY2011 revenue of Rmb 15.9 billion and profit attributable to shareholders of Rmb 1.7 billion.

However, at the beginning of this year, China Rongsheng posted FY2012 revenue that halved to Rmb 8.0 billion and losses attributable to shareholders of Rmb 572.6 million.

On 5 July, China Rongsheng, which had been receiving state subsidies since listing in 2010, appealed for government financial support to remain liquid after laying off some 40% of its workforce due to a slump in orders for vessel construction.  It had also called on shareholders for financial help and was in talks with banks to renew existing credit lines.

A week later on 12 July, Swissco announced the lapse of its oilrig joint venture with Golden Arch, which had encountered difficulty raising funds, especially so in China's tough credit financing environment.

Had the vessel been successfully delivered, it would have been Swissco's maiden foray into oilrig chartering.

Tan Kim Seng, on the other hand, had founded KS Energy, which provides drilling equipment and rig management services, capital equipment charter and distributes related components.

Swissco's vessel chartering revenue had increased 9.8% in 1Q2013 to S$9.0 million, and is a business segment that it wants to expand.

It currently has 31 vessels - eight anchor handling tugs, twelve utility tugs, six barges, two accommodation vessels and three crew boats.

Its 1Q2013 ship repair revenue fell 33.3%  to S$1.0 million and maritime services revenue fell 89.0% to S$1.2 million. Group profit after tax fell by 21.0% to S$1.8 million.

'To our knowledge, nothing material has changed for Swissco as yet after Tan Dah Ching's share transfer to Kim Seng Holdings,' said CFO Sam Kwai Hoong when contacted by NextInsight regarding Tan Kim Seng's future involvement.
Swissco's stock price has edged up one cent to 25 cents after Kim Seng Holdings increased its stake by 18%. Bloomberg data


Related story: SINWA Growing Again; SWISSCO Charters Out Boats