David Teo: "We bought the land cheap"


IN APRIL 2007, Super Coffeemix announced that it would take a one-third stake in a joint venture with Super deputy chairman Sam Goi and Singapore property developer Peter Chang in a commercial property development project in Changzhou City in Jiangsu Province in China.

Super received some market feedback that its venture may not be well-advised as it was outside of its core business. Its stock tumbled from 93 cents to as low as 83 cents in the weeks following the company's announcement.
The feedback was negative enough to pressure David to consider selling out of the venture. That was before some Singapore property developers went to China to check out the land. Their verdict? "They love it. They indicated they would pay a premium for our share in the venture," says David.
Subsequently, some big shareholders of Super told David: "We want you to keep the project. We love it." The market too seems to have come around to the same view by mid-June, pushing the stock back up to its pre-announcement level - and beyond.
Sharing insights into the deal, David says: "We bought the land cheap. It's a large site about 2 sq km and it was not easy to get. And when it's developed, it is similar to Monte Carlo, with its surrounding high hills. It also has a lake nearby." Most of the land is for condominium development.

As part of the land sale-and-purchase agreement with the local government, a five-star hotel will be developed, but the Singapore investors have sub-contracted out the task to another company. The investors will take a 25 per cent stake in a theme park as well as holiday resort facilities there.
For Super, this property development project is an opportunity not to be missed. A few years ago, it had been offered a stake in another project in China but turned it down. The buyer went on to make a lot of money. Will Super snap up another property deal in China if one comes along?

"Property investment is about timing. It doesn't mean that the next deal will be just as good. We'll consider it on a case-by-case basis," says David.


David the man: No golf, just walks in the factory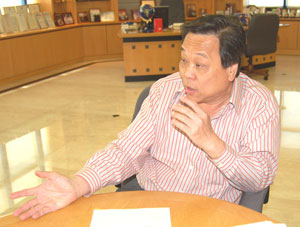 David likes to exchange information with friends over a breakfast of bak kut teh at Sin MingDAVID TEO likes to keep busy with his work and eschews the public limelight. But he is happy to share some insights here on his personal life:
"I like to have a breakfast of bak kut teh in Sin Ming Road with friends – except on public holidays and Sundays. It's our habit for the last 15 or so years.

"They are usually bosses of other listed companies, and we share information and ideas. In business, information is important. I would drive from my home in Bukit Timah to Sin Ming. It used to be more convenient when I lived in Serangoon Gardens. After I moved house, I didn't go to the bak kut teh meetings for a week, and I felt uncomfortable."

You'd be surprised to know that for a successful businessman with many golfing friends, he doesn't play golf.

"Golf is a waste of time. Every day I walk more than 5 km, supervising my factory." Asked what he personally drinks from among Super's products, he says: "It's coffee, of course. Everyday I drink 1 or 2 cups at least. When I'm doing some testing, each day's cupping involves tasting 5-10 coffee variants."

As for his set of wheels, he says: "I don't own a Ferrari myself. Old man how to drive Ferrari. I have one for my son, though. I have a Merc 500 SL and a Bentley. But I like Jaguar the most."

Analysts' Take

In its May 14 '07 report, Phillip Securities maintained its BUY recommendation with fair value of $1.05 based on a conservative 15 times blended FY07/08 EPS. The analyst, Lim Tian Khoon, said $1.05 translates to a FY07 P/E of 17.3x and FY08 P/E of 13.2x. Downside risks include rising raw material costs, ineffective operational costs control, and softer consumer demand.
On the same day, Westcomb Financial Group also maintained its BUY recommendation with a target price of S$1.35 based on 16 times blended FY08 EPS.

Westcomb analyst Johnny Teo likes Super Coffeemix for its leadership position in brand equity in Singapore and Thailand, and the fact that it is one of the top 10 coffee players in Malaysia, China and Vietnam.

At $1 a share, Super's market capitalisation stands at $545 million.