LIAN BENG GROUP'S price earnings ratio remains less than 6 times despite its share price having had a good run-up of more than 20% year-to-date.

Its relatively low PE belies a strong market position and visibility of earnings growth.

Strong market position

It is the largest SGX-listed construction group in terms of construction revenue and scope of construction business.

Its construction revenue was about S$310 million for 9MFY2014, and this contributed 53% of Group revenue.

Property development and sales of ready-mixed concrete (RMC) contributed 30% and 15%, respectively.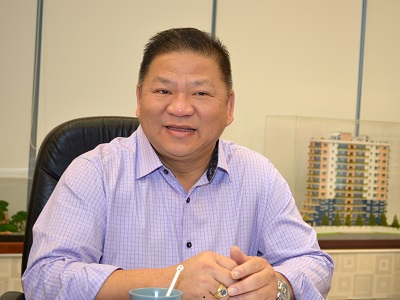 "Even though construction demand for private residential projects have gone down, overall demand has increased. We have many non-residential projects," said executive chairman Ong Pang Aik.
Photo by Sim Kih
Sustainable earnings growth

On 10 April, it announced that its 9MFY2014 net profit attributable to shareholders was up 67% year-on-year at S$50.3 million.

Group revenue was also up 67.0% at S$585.6 million, and exceeded the S$505.6 million it generated in the entire financial year 2013.

Revenue was boosted by the recognition of revenue and profit of its industrial development property project M-Space which attained TOP in Jan 2014.

Its strong construction order book of S$1.1 billion as at 10 April 2014 will sustain earnings through FY2017.

Also, strong cash reserves amounting to S$175 million will help fund its expansion plans, be it joint ventures in property development or other construction-related businesses.

"We intend to start supplying asphalt premix (required for roadworks) from our factory in Jurong by year-end," said executive director Ong Lay Koon at Lian Beng's results briefing on Friday morning.

Below is a summary of questions raised by analysts at the results briefing, and the replies provided by executive chairman Ong Pang Aik and Ms Ong.

Construction demand

Q: BCA has estimated that private residential construction demand is likely to drop from S$10 billion to as low as S$5 billion this year. How does this impact you?

Private residential demand has dropped but overall construction demand has gone up. We have many government projects, hotel projects and industrial developments.





We are tendering for a balanced mix of project types, not just private residential or HDB projects.

Secondly, we have a strong track record of building work for non-residential government projects. We also have some recurring income.

Q: Will your order book decline because of the decline in demand for residential projects?

There are few large construction contractors like Lian Beng with a billion dollar order book.

Tender award is not solely dependent on price. The government wants contractors like us with a good track record because they want timely delivery.

We are now using more system formwork to improve productivity by cutting manpower requirements and workmanship.

"Levies have gone up but we are able to manage our cost well because we have facilities for the production of raw materials," said executive director Ong Lay Koon. Photo by Sim Kih


Raw material supply

Q: How much of your RMC (ready mix concrete) was for internal use?

70% of RMC was sold to external parties. We may buy RMC, depending on the location of the project. We are the 4th largest player for RMC in Singapore.

Q: Do you intend increase your market share for RMC?

There are only 6 to 7 sizeable RMC players in Singapore. We can increase our market share.

Recently, we increased our fleet of RMC trucks by about 20% to about 130 trucks.

In addition to ready-mixed concrete, we intend to provide asphalt premix, aggregates and granite to other construction players.

Tthis will be a new source of recurring income

Q: From where do you source your materials?

We buy cement locally and sand aggregates from Malaysia and Indonesia.


Property development

Q: What developments do you have in China?

We have a mixed residential commercial project in Hebei currently at the planning stage. We plan to launch the project at the end of this year.

Q: Why are you not building more dormitories?

We hope to expand our dormitory business and we will probably do it through joint venture, like what we have done with the Westlite Mandai Dormitory.
Recent story: LIAN BENG -- Target 70 Cents; ADDVALUE To Close Gap To NTA