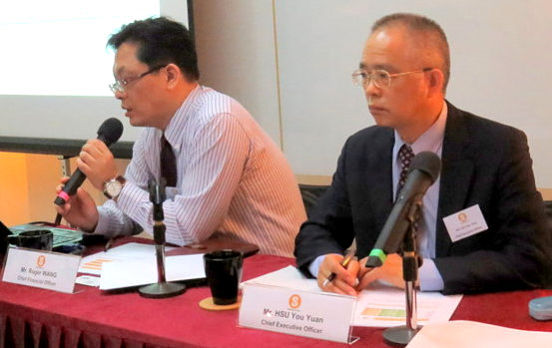 Solargiga CFO Mr. Roger Wang (left) addresses investors in Hong Kong while CEO and Executive Director Mr. Hsu You Yuan listens on.     Photo: Aries Consulting

SOLARGIGA ENERGY Holdings Ltd (HK: 757), a leading solar sector products play, saw its interim revenue skyrocket nearly 70% to 819 million yuan thanks to surging sales to Japan and Taiwan, which helped shrink the bottom line loss by nearly 80% to 136 million.

Executives told investors in Hong Kong that a solar sector recovery was underway.

The leading Chinese maker of monocrystalline silicon solar ingots and wafers swung to a gross profit for the January-June of 18.6 million yuan versus a year-earlier gross loss of 154.7 million.

"After experiencing a bleak period of over-capacity, over-supply and industrial consolidation, there were signs of recovery in the first half of 2013.

"Although the photovoltaic industry in Europe remains pessimistic with a continuous recession on the market, thanks to strong demand in the US market as well as rapid growth of the PV markets in China and Japan, an overall upward trend is seen in the industry, hopefully leading into a stable growth period," said Solargiga CEO and Executive Director Mr. Hsu You Yuan.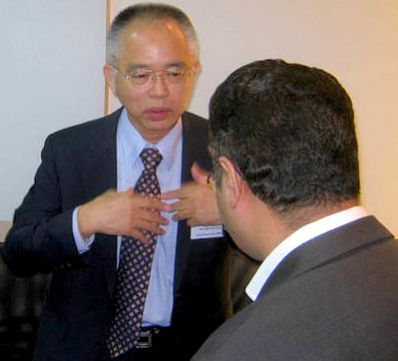 Solargiga CEO and Executive Director Mr. Hsu You Yuan (left) said the photovoltaic industry is showing signs of a turnaround.
Photo: Andrew VanburenInterim basic loss per share decreased by 83% to 5.02 RMB cents.

Solargiga's board does not recommend the distribution of any interim dividend for the six months ended 30 June 2013 (corresponding period in 2012: Nil).

Mr. Hsu said a recent report by industry publication Solarbuzz indicate global demand for PV products in the second half of 2013 is expected to reach 20GW, representing a year-on-year increase of 22%.

"Under strong motivation from both China and Japan markets, the total demand for photovoltaic products in 2013 is expected to hit a record high of 35.1GW, and in the second half of 2013 these two countries will account for more than 45% of the world's demand for the installation of photovoltaic projects.

"However, since the annual growth rate of the whole industry depends on the large-scale PV projects to be carried out in China and Japan, any lower-than-expected performance of these two countries will pose risks to the supply chain at the end of the year."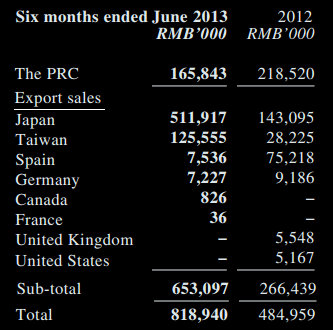 Solargiga's H1 export sales to Japan surged 258% year-on-year to 512 million yuan.    Source: SolargigaJapan a bright spot

Solargiga's export sales to Japan in the first half surged 258% year-on-year to 512 million yuan, thanks in large part to a lucrative, long-term supply contract with Sharp.

"To date, Japan still remains a region with the most favorable subsidies among the world, with the installed solar capacity in Japan on the rise over the past three quarters," said Mr. Hsu.

He said that as a respected supplier of high-end solar products, Solargiga was more bullish on Japan sales going forward.

"EU clients are more price sensitive, while Japanese buyers are more quality conscious."

And as China's solar product makers continue to consolidate and pare down overcapacity and excess inventories, Solargiga will only benefit down the road from such an industry transformation.

"Quality and efficiency will become more and more important when the market matures and the price war phase is over," Mr. Hsu said.

During the 2013 financial year, Sharp will purchase a new type of product from Solargiga -- 370MW of solar module products.

"Having nearly a decade-long purchase and sales relationship, Solargiga has commenced its cooperation with Sharp through the supply of silicon solar ingots, which afterwards will be extended to silicon solar wafers, solar cells and, starting from 2013, the newly added solar modules."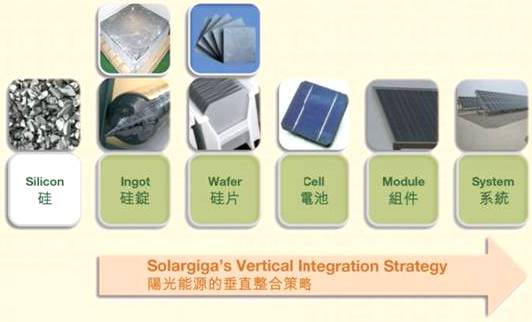 Solargiga's products cover a wide spectrum.    Source: Solargiga

In the first quarter of 2013, newly installed solar capacity in Japan stood at 1.7GW, with total volume expected to approach 5GW yearly, enabling Japan to become the world's second largest photovoltaic application market, second only to China.

Mr. Hsu said Solargiga, with its high performance N-type wafers in particular which boast an enviable conversion efficiency of 22-23%, are in high demand by quality-savvy Japanese end-users.

"Japanese consumers traditionally emphasize high quality, and the country offers considerable subsidies and imposes stringent accreditation barriers which are reasons why Japan has the highest average selling prices for PV products.

"Its products even have 10% room for premium, and it is believed that those Chinese enterprises which are able to extend sales channels in Japan can see an improvement in their profitability."



Solargiga's Hong Kong shares have been relatively stable of late.     Source: Yahoo Finance

In the first half, external shipment volume of N-type silicon ingots represented around 81% of Solargiga's total shipment volume of silicon ingots, with N-type products mainly targeted at the Japanese market.

In Solargiga's home market of China, Mr. Hsu said the PRC in the first half of 2013 exhibited signs of a PV industry recovery after experiencing more than a year of bleak market conditions, with a steady improvement in supply and demand driving a turnaround in the industry.

"It is anticipated that China's PV industry will march toward healthy development in the second half of 2013."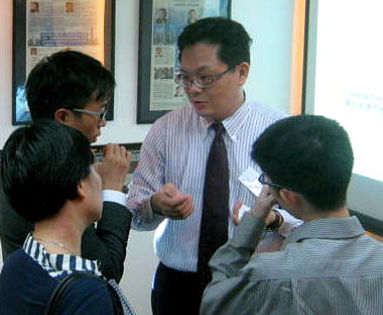 "We anticipate better overall performance in the second half," said Solargiga CFO Mr. Roger Wang.    Photo: Andrew Vanburen'Golden Cup'

Mr. Hsu said Solargiga established an effective and unique vertically-integrated supply chain that resembles an "inverted pyramid," thereby gradually completing its transformation from a solar products materials manufacturer to a one-stop service provider of solar power projects which will operate under "Golden Cup" model.

"Under such a model, individual products including ingots, wafer, cells and modules within the supply chain can also be sold separately to third parties.

"As such, satisfactory operating results have been achieved during the period under review."

Except for supplying production required for downstream wafers of the group, first half external shipment volume of silicon solar ingots rose 16.5% year-on-year to 45.19MW, mainly driven by increasing market demand and business development of major customers.

"Solargiga has secured a leading position in the monocrystalline silicon solar ingot manufacture industry in terms of technology, product quality and quantity.

"We are also constantly striving to reduce the cost of power generation per Watt so as to strengthen our capability of extending our reach into other regions, including emerging markets," Mr. Hsu said.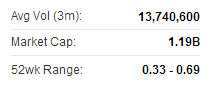 Solargiga recently 0.37 hkdSolargiga CFO Mr. Roger Wang shared Mr. Hsu's optimism on future prospects.

"We expect production costs to remain stable going forward.

"We also anticipate better overall performance in the second half, with Sharp expected to be a major revenue driver for us, and we still expect more business from Japan's Kyocera as we also continue looking to move into more markets other than Japan," Mr. Wang said.

In July, speaking to investors in Shenzhen at the Aries Consulting-organized "Scaling New Heights Investor Conference 2013," Mr. Wang predicted that Solargiga would shift to a positive gross margin, which it did in the first half, with an interim GPM of 2.3% versus a year-earlier gross loss margin of 31.9%. 


---