Main reference: Story in StockNews

LAST YEAR, she appeared on Forbes' list of Asia's most powerful businesswomen to watch.

Now, Liu Chang, at just 33 years of age, has ascended to the post of chairman of a RMB22-billion listed agribusiness, New Hope Liuhe Co.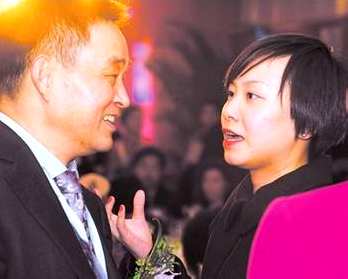 Changing of the Guard: New Hope founder Liu Yonghao (left) with daughter and new Chairman Liu Chang. Photo: KaixianHer father, Liu Yonghao, in 1982 founded New Hope Group -- China's largest private agribusiness play -- whose subsidiary, New Hope Liuhe Co Ltd (SZA: 000876), is listed on the Shenzhen stock exchange.

It is primarily engaged in the manufacturing and distribution of feedstuffs and meat products, and is also involved in the breeding and slaughtering of livestock.
Mr. Liu recently announced he would retire and appointed his daughter Liu Chang as Chairman of the Board and Chen Chunhua, 49, as Co-Chairman and CEO of the company, effective May 22, 2013.

"It is natural for most mainland entrepreneurs to choose their offspring as successors, as the professional executive system is still not very developed here," Forbes Chinese version editor-in-chief Zhou Jiangong said in a separate PRC media piece.

As of March of this year, 62-year old Liu Yonghao was the 14th richest man in China and No.330 globally with a personal net worth of nearly four billion usd.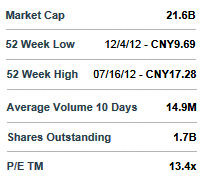 New Hope Liuhe: Recently 12.4 yuanIndustry watchers believe the elder Liu might ponder a political career after he retires, as he was a former member of the eighth to 11th CPPCC National Committees, other reports said.

His daughter Liu Chang's accession to the top of Liuhe comes at a difficult time as the group suffered operational shutdowns earlier this year after being called out for supplying poultry with excessive antibiotics to fast food giant KFC in the PRC.

The firm said it had suffered property losses totaling 25 million yuan in the Sichuan Province earthquake earlier this month.

Company losses included damage to the feed producer's Chengdu headquarters and to properties of over 10 of its units in neighboring areas.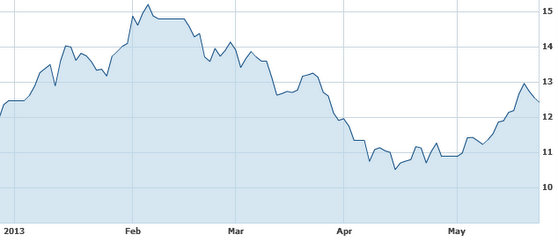 New Hope Liuhe's shares had a rough spring due to a scandal involving KFC.
Source: Yahoo Finance

New Hope is perhaps the hardest hit listco from the 6.6 magnitude temblor that devastated the city of Ya'an in Sichuan.

Nearly 100 other A-share listed enterprises issued disaster-related statements of late, but none have reported as much operational business damage as New Hope.

But Mr. Liu is hoping for a smooth passing of the baton to his highly accomplished daughter.

And he is not completely fading from the scene as he plans to remain a presence on the firm's board.

He has been chairman of New Hope since 1998, and explained his decision thus: "Liu Chang cares very much for New Hope and has been honing her understanding of its several divisions these past several years."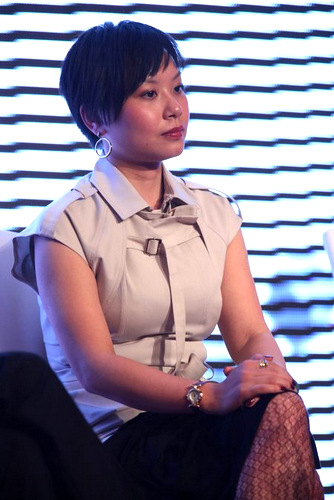 Liu Chang, 33, became president of the dairy business of the New Hope Group at the age of 24. She became a billionaire in her mid-20s. Photo: CFPHer father's ringing endorsement notwithstanding, Liu Chang has certainly been challenged from a young age to excel on the global business battlefield.

At the young age of 16, she was sent on her own to complete her secondary education in the US, and earned her MBA there at just 22 years of age.

But her school days weren't quite over yet

Like a loyal "sea turtle" – the nickname for Chinese who return to their homeland after getting degrees abroad -- she returned to the PRC to pursue a Master's degree at Peking University in industrial management.

Also, since returning to China in 2002, Ms. Liu has been also working in various management capacities at New Hope, being carefully groomed all along by her father.

As such a young top executive for a major listed employer, she will initially be under intense scrutiny by both employees and shareholders in New Hope alike.

But more importantly, she can serve as an inspiration not only for her gender – with China's business community being heavily dominated by males – but also for her up and coming "80s Girl" generation.


For more on Liu Chang's life, read Liu Chang: Adversity amongst Privilege