Bocom: China Retail Sector Downgraded

Bocom International said it is
downgrading China's consumer retail discretionary sector rating to "Market Perform" from "Outperform."

"We remain positive on the sector's long-term prospects in light of the continuing support by government-led growth policies and penetration potential.



"However, we turn less bullish on its near-term earnings outlook as we expect cautious consumer spending to likely be prolonged amid the sustained sluggish market sentiment which is further affected by the impacts of the government's continuing discouragement on high-end consumption (anti-corruption campaign) and bird flu," Bocom said.

The research house added that while the sector has come down to a more undemanding level (PE 14.2x FY13E) after recent consolidation, a major rebound is unlikely in view of the sector's sustained low visibility and rising earnings downside risk, particularly given the current consensus estimate (14%/17% net profit growth) which Bocom said "remains aggressive."

Bocom downgrades Trinity (HK: 891) to "Sell" from "Neutral," and cut its earnings forecasts on 11 stocks (65% of its 17 stocks' coverage) by 2%-19% for FY13E and 2%-21% for FY14E.

"This leaves us with 12 stocks below consensus (by 4%-31%) in FY13E, suggesting the sector negatives have yet to be fully priced in."

Bocom reiterates its key "Buys" on Prada (HK: 1913; top pick), Intime (HK: 1833), Sa Sa (HK: 178), Luk Fook (HK: 590), Springland (HK: 1700), Daphne (HK: 210) and Bosideng (HK: 3998).

Its key "Sells" remain on Golden Eagle (HK: 3308), Parkson (HK: 3368), Trinity and CRE (HK: 291) and it remains cautious on Belle (HK: 1880), Chow Tai Fook (HK: 1929) and Lifestyle (HK: 2628).


Going forward, Bocom said it expects both same store sales growth (SSSG) and margins to come under rising pressure, heightened by sales-deleveraging, store cannibalization and high operating cost bases.

"Coupled with the intense market competition, we believe the sector is set to see continuing de-stocking pressure and aggressive promotional activities.

"While the consensus view for recovery is in 2H13E, we turn less optimistic amid the overhangs and the admittedly low visibility."


---
Credit Suisse: China Consumer Sector 'Overweight'

Credit Suisse said it is maintaining its "Overweight" recommendation on China's consumer retail sector following a tour of two major Chinese cities in which several consumers from various walks of life were surveyed.


"During our China Lifestyle Change Tour in Shanghai and Xi'an April 22-24, we interviewed a researcher from a women's federation, statistics bureau officials, industry experts, professors, operators of department stores, restaurant owners, e-commerce, travel, school and car service companies, and a few villagers," Credit Suisse said.

The research house said its positive findings include: (1) most consumers' consumption desire and positive outlook exceed expectations; (2) rural consumption is growing strongly, and (3) the anti-corruption campaign should promote long-term economic health and consumption.

"Our negative findings include overall consumption sentiment remaining weak with Intime's (HK: 1833) Xi'an same store sales growth just 7% in 1Q13 and 5% in April YTD, and Haier Electronics (HK: 1169) Xi'an targeting flattish sales in 2013."

Credit Suisse also said that brick and mortar retailers were taking a hit from on-line shoppers.

"E-commerce has become a challenge to almost all traditional retailers."

Although Credit Suisse is cautious on the near-term consumption sentiment, it remains positive on the long-term outlook.

Among staples, it likes Tingyi (HK: 322), Hengan (HK: 1044), Vinda (HK: 3331) and Mengniu (HK: 2319) and among discretionary consumer plays it likes Belle (HK: 1880) and Intime.

Aging population

A potential issue that weighs on consumers' minds is the less impulsive and more conservative spending habits of an aging population.

Findings from Credit Suisse's interview with a researcher from a women's federation reveal

that the over-60 population accounted for 24.5% of Shanghai's total in 2011 (versus 7% in 1979) and will increase to 28.5% by 2015.

In Xi'an, the over-65 population accounted for 16.6% in 2011 and will increase to 18.3% by 2015.

Gifting/corporate spending slowing sharply

Credit Suisse said its interviews with industry experts, professors and restaurant operators suggest China's luxury goods sales growth slowed to below 10% in 1Q13, from 10-15% in 2012 and 30% in 2011.

"In particular, overall watch sales declined 10% YoY, luxury watch sales (above 10,000 usd) declined 30% YoY and affordable luxury watch sales (such as Longines and Omega) increased 10%."

Overall, the research house said leather goods sales were also hurt, but brand performance diverged, with LV and Gucci seeing double-digit and single-digit declines, respectively.

"Gifting used to account for 20-25% of luxury goods sales in China's Tier 1/2 cities (versus nearly 8% in Taiwan and 12% in Hong Kong), but now it has dropped to 5%.

"Experts expect it to gradually rebound to 10-15% in the long term."


---

Merrill Lynch: E-commerce a Game Changer

Merrill Lynch said China's top two electronics and home appliance retailers are quickly moving to outdo each other in terms of sweetening deals for online shoppers



"At its recent investor briefing in Nanjing, electronics retailer Suning (SZ: 002024) unveiled two major initiatives to be introduced in May/June -- same price for same products across offline/online channels (
线上线下同价
), and zero commission for its online marketplace vendors (
免费开放平台
)," Merrill Lynch said.

Suning expects at least 30% offline revenue growth, as a result of the new strategy.

It also claims to strive for scale and long-term success at the expense of near-term margins and earnings.

"In the face of the disruptive challenges from e-commerce, both GOME (HK: 493) and Suning have started a paradigm shift.

"Past efforts have been focused on launching their own online ventures and defending their offline businesses by network optimization and merchandising differentiation/enhancement."

However, Merrill Lynch said there is no denying that the online channel still offers more competitive pricing than the offline channel, and the market share shift to e-commerce is inevitable.

"We will watch whether Suning whole-heartedly implements the strategy.

"Major competitors (such as GOME) might follow suit, and the whole industry might face near-term margin pressure, and industry consolidation could accelerate, as weaker players with less financial resources/inadequate back-end support (supply chain, etc) might lose market share quickly."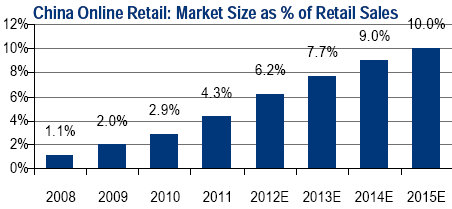 Brick and mortar retailers are seeing business bleeding to online sales. Source: Merrill Lynch

As such, Merrill Lynch said it is retaining its above-consensus estimates for GOME, but trims its price target to 1.1 hkd from 1.2 (recent share price 0.79 hkd).

Expecting solid 1Q13, but May key

China's home appliance market declined 5% in 2012, and fortunately the market has seen some cyclical recovery YTD, and the easy base could also help with the YoY comparison.

"Suning expects around 10% same store sales growth (SSSG) in 1Q13, while we believe GOME's SSSG could be better than Suning given its much weaker base (GOME's SSSG at -34.4% in 1Q12, vs. Suning's -7.2% in 1Q12)."

Merrill Lynch added that it will closely monitor GOME's May Golden Week sales trends as well as the impact from Suning's initiatives to gauge GOME's earnings recovery momentum in 2013.

---

See also:

Chinese Food, Froth And Fashion