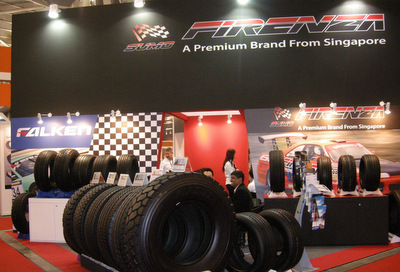 Sumo Firenza is a proprietary brand of Stamford Tyres.
Photo: CompanyIT'S THE SEASON to be charitable -- and Stamford Tyres is doing its part.


It will donate $1 to St Luke's Eldercare for every tyre or rim it sells at any of its retail outlets, and $8 for any tyre package sold. It will also donate $2 and $4 for every standard and major car servicing package sold, respectively.
The charity drive, launched on 1 Nov 2013, will last for 4 months.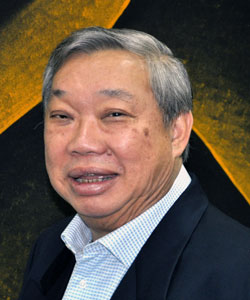 Wee Kok Wah, President of Stamford Tyres. NextInsight file photoMr John Ang, Stamford Tyres' Vice President and Head of Retail Chain (Singapore), said: "This charity drive is close to our hearts as we all have loved ones who are in their old age. We want to be part of the overall efforts to alleviate the challenges faced by Singapore's aging population and therefore, we started this drive to raise funds for our seniors who had helped built the country.

"As we are raising awareness for this donation drive, we hope our customers can drop by our retail outlets in support of this good cause as well."

Dr Kenny Tan, St Luke's Eldercare's Chief Operating Officer,said: "As a voluntary welfare organisation, St Luke's Eldercare is committed to deliver quality eldercare services for the seniors in our organisation. However, we cannot do so without generous support from various individual and corporate donors, including Stamford Tyres."

Previous story: STAMFORD TYRES' Sumo Firenza tyres now selling in UAE


---

Q & M Dental has agreed to sponsor RMB 500,000 per year for 3 years from 2014 for dental undergraduate and dental post-graduate studies in Liaoning Medical University.

The "Q&M Dental Group (Singapore) – Liaoning Medical University President Fund" will support and encourage innovation and research by dental postgraduate students in the university.

The fund will also provide financial support to dental students from low-income families, defray costs of short term study trips to Singapore for outstanding students and for dental students to attend basic skills training.
"We believe that our donation will help needy students and also provide new avenues for dental students to excel in. Q&M will seek to develop new technologies and techniques together with Liaoning Medical University post graduates and elevate the standard of dentistry," said Dr Ng Chin Siau, Group CEO of Q & M.
Previous story: Q & M expands into Medical Healthcare With $22.65m Takeover
---
Property developer
Oxley Holdings
donated S$1 m to the Singapore Red Cross for disaster relief efforts in the Philippines which has been devastated by Typhoon Haiyan.
Oxley had pledged up to $1 m by matching public donations dollar-for-dollar.
"
We are in a position to help, and it is only right that we do so. I hope that Oxley's dollar-for-dollar pledge will inspire other Singaporeans to chip in and relieve the suffering by supporting Singapore Red Cross' urgent work," said Mr Ching Chiat Kwong, Executive Chairman & CEO, Oxley Holdings.