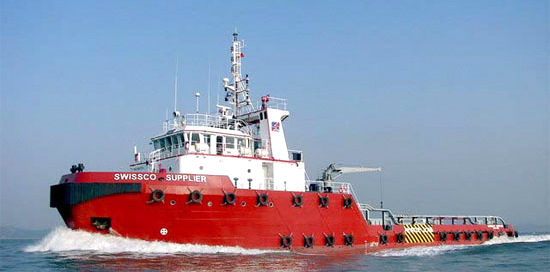 Swissco Holdings is aggressively expanding its offshore support fleet. Above: Swissco Supplier is an AHT vessel in its chartering fleet. Company photo

SWISSCO'S STOCK price jumped by 6.6% overnight to 32.5 cents after it made its second announcement on newbuilding orders in 3 weeks.

From 8 vessels under construction 3 weeks ago, it now has 14 vessels that will be added its existing chartering fleet of 32 offshore support and other vessels.

On 19 November, the vessel charterer announced that it placed orders worth a total of S$35 million at PRC yards for 3 vessels: 2 anchor handling tug and supply ("AHTS") vessels and one multipurpose utility tug.

Then on 4 December, it announced orders for another 3 vessels worth a total of S$42 million comprising two AHTS and a fast utility crew boat with a one plus one option.


CEO Alex Yeo. NextInsight file photoThe 6 newbuilds are scheduled to be delivered in FY2015.

The 8 vessels under construction from its earlier newbuilding orders are: 3 anchor handling / supply vessels, 2 utility vessels, 2 crew boats and one accommodation vessel.

"Expansion and fleet renewal puts us in a better position to tap on the growing demand for offshore support vessels," said CEO Alex Yeo.

Good momentum securing charters for new vessels

On 28 November, it announced that it had secured charter contracts totaling S$27 million for two new vessels.

The two new 60-meters AHTS vessels will be deployed immediately after the Group takes delivery of them in December 2013 and January 2014.

The first AHTS will be deployed for a minimum of 12 months in the Middle East with a sale and purchase option exercisable after the charter period.

The second vessel will be deployed for a total of 27 months in North East Australia.

In October, it also announced that it had secured charter contracts totaling US$7.17 million (about S$9 million) for the deployment of 2 anchor handling tugs in West Africa.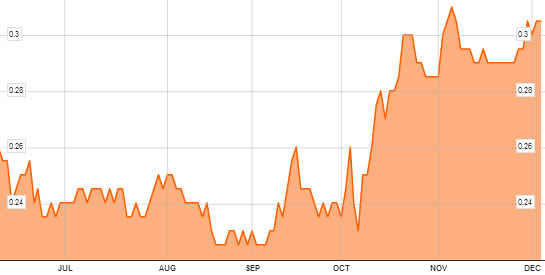 Swissco's share price surged by 20% over the past two months as it announced a spate of charter contracts and newbuilding orders. Bloomberg data

Vessel Chartering is its core business and contributed the lion's share of 89.9% to the Group's 3Q2013 revenue.

In addition to being its core business, Vessel Chartering also generates better margins compared to the provision of maritime services and ship repair.

As a result, higher charter rates booked for this segment during 3Q2013 helped to lift the Group's gross profit margin substantially to 44.3% in 3Q2013 (compared to 29.6% in 3Q2012).

Ship Repair contributed 9.4% to 3Q2013 revenue while Maritime Services contributed 0.7%.

Group revenue for 3Q2013 fell by 45.4% year-on-year to $13.8 million due to lower revenue from its Maritime Service segment.

The good news is: The management expects this segment to improve significantly in 4Q2013 when segment revenue will be recognized for the completion of on-going projects.

Its Maritime Service involves assisting customers in sourcing for marine and offshore equipment as well as supplies and consumables for their offshore projects. It also sources for vessels for sale to its customers.

Other than increased chartering incomes as charter rates remain firm and its fleet grows, there is also the prospect of gain on disposal of older vessels as the Group is committed to maintaining a young and modern fleet.

During 3Q2013, its 50%-owned joint venture, Hadi International Marine Services, posted a gain on disposal of one vessel that added S$19,000 to the Group's pretax profit.

Swissco posted net profit of S$6.4 million in 3Q2013, up 85.2% year-on-year.


Recent story: SWISSCO: 1H Net Profit Down 41% But 2H Looks Stronger