The writer, a shareholder of Sino Grandness, contributed this article to NextInsight

SINO GRANDNESS' sterling 3Q results surprised many, especially its 22.5% net margin on record quarterly sales of RMB746m. Its net margin used to be below 19%.
The performance of Garden Fresh, Sino's wholly-owned beverage arm, is of particular interest to investors.
If Garden Fresh achieves a profit exceeding RMB250m this year and gains a listing on the Hong Kong bourse before Oct 2014, Sino Grandness will give up the minimum 24.7% stake in Garden Fresh to convertible bondholders.
On the other hand, the bondholders will end up owning a whopping 49.9% of Garden Fresh if its profit this year comes in below RMB200m.
All this while, Sino Grandness has declined to disclose the profit of Garden Fresh.

It provided only pre-tax profit in its full-year results. However, in the prospectus relating to the issue of convertible bonds to Goldmans Sach in 2012, it disclosed that Garden Fresh earned RMB86.4m in 2011, or 21.5% on RMB402m sales .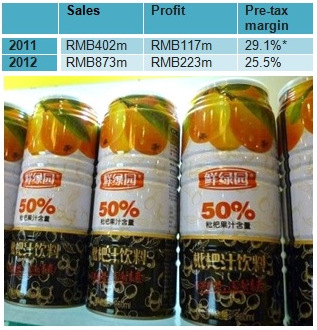 Garden Fresh pre-tax margins in the last two years are shown in the table on the right:
*Applying the 25% tax rate on the 2011 pre-tax margin of 29.1% will give rise to a 21.8% net margin, close to the 21.5% disclosed in the 2012 prospectus.
Applying the tax rate on the 2012 pre-tax margin of 25.5% will yield a net margin of 19.1%.

The lower net margin in 2012 was the result of higher advertsing and promotional (A&P) expenses.
Garden Fresh's profit this year could be....

What was the profit of Garden Fresh in the first 9 months of this year?
In its 15 Nov report, Maybank Kim Eng analyst Wei Bin estimated it to be between RMB190m and RMB200m.
Beverage fetches a higher pre-tax margin.

In 2012, it was 25.5% against 22.9% for the canned food segment of Sino Grandness.
It is therefore reasonable to assume a 3Q2013 net margin of at least 22.5% for Garden Fresh. This translates into a 3Q profit of RMB98m.

If the net margin in the first half year was 19%, then the profit for the first six months would be RMB111m (= RMB585m*19%).

9-month profit therefore was RMB209m (=98+111).

As 3Q2013 beverage sales were not boosted by exceptional developments, Garden Fresh should have little difficulty selling more than RMB400m in 4Q, giving rise to a profit of RMB 76m on 19% net margin with heavier A&P.

A 2013 profit of RMB285m (=209 + 76) for Garden Fresh seems likely.
Why strong 3Q2013 beverage sales?

Sino Grandness had spent a smaller proportion of its revenue in 3Q this year. In that quarter, distribution and selling expenses was 7% of overall sales, down from 9% in 3Q of 2012, and 8% in 2Q 2013.

Why then did sales pick up strongly in 3Q (chart below) without a strong outlay in A&P?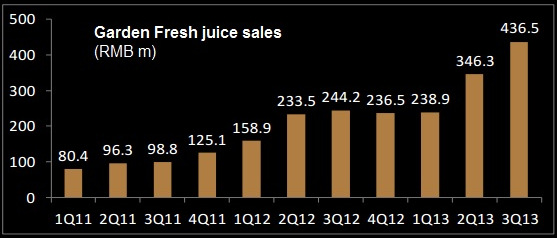 Acccording to the Maybank report, the "good performance was helped by the expansion of sales network into new areas such as central, northwest and northeast China as well as the penetration into new channels such as chain restaurants. Garden Fresh now has a more diversified distribution network, with large supermarkets contributing 25% of total sales from 50% a year ago."
Since 3Q 2013 beverage sales were 79% higher than the corresponding period the year before, sales in supermarkets must have dropped for their share to decrease from 50% to 25%.

OSK-DMG's report dated 25 April 2013 states that 40% of beverage were sold through modern channels such as supermarkets.
It is important to note that Garden Fresh is diversifying its sales channels.

Three years ago, Garden Fresh broke new gound, securing shelf space in foreign-owned supermarket chains such as Walmart and Carrefour.

Last year, 7-Eleven started selling Garden Fresh beverages in its 600 stores in Guangdong.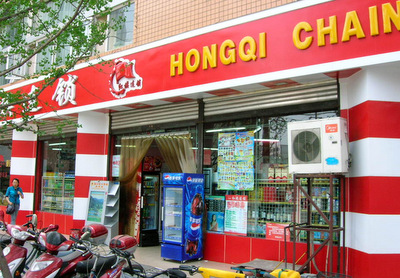 Hongqi is one of the largest convenience store operators in Sichuan Province with more than 1,400 retail points. As Hongqi expands to other provinces, Sino Grandness is hopeful that its products will achieve a wider reach. Photo:www.chengduvip.cnRecently, Hongqi, which operates 1,400 convenience stores in Sichuan, also took on selling Garden Fresh beverage.

Sales from the convenience stores were unlikely to be overwhelming as they are recent additions to the Garden Fresh distribution network.

Instead, contributions from F&B outlets must have been siginficant.

Garden Fresh started with owners that operate steam boat chains. It has now reached more F&B players, in particular high-end restaurant chains such as 俏江南.
I understand that restaurant waitresses are incentivised to serve Garden Fresh beverages.

On the whole, I have become more optimistic that Sino Grandness will achieve a high profit for 2013.

This, and the prospect of decent profit growth beyond 2013, will result in Garden Fresh fetching a good valuation on the Hong Kong bourse, and Sino Grandness' residual stake in Garden Fresh will be worth more.

Recent article by the same writer: SINO GRANDNESS: Will its Garden Fresh IPO be boosted by rival's rising valuation?