INVESTORS OF China New Town Development have sometimes been disappointed with the earnings - the lack of it, and its lumpiness - of the company (see chart), despite it being exposed to the potential benefits of a massive economic trend in China.

The trend is urbanisation.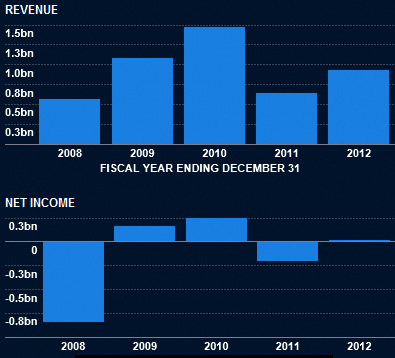 China New Town Development: RMB935 m in revenue in 2012 and RMB14.4 m in net profit (2011: net loss of RMB200.7 m).It has not slowed down in the past three years when the real estate market faced policy curbs to stem price increases.

At the end of last year, 52.6 percent of China's population lived in urban areas, up 1.3% percentage points, according to the National Bureau of Statistics.

Urbanisation will speed up under the Chinese government's policies. Sixty percent of China is expected to be urbanised by 2020, a major driver of domestic demand in China's economy.

The business of China New Town Development is about transforming undeveloped land into new bustling towns but it is a relatively young company with a market capitalistion of about S$470 million.

It was founded in 2002, listed on the Singapore Exchange in 2007 and dual-listed on the Stock Exchange of Hong Kong in 2010.

It faces challenges, among which is the mega bucks required to fund projects. It currently plans and develops large-scale new town projects in the suburbs of three cities -- Shanghai, Wuxi and Shenyang.

The three projects, parts of which have been completed and sold off, cover 36 sq km -- or the equivalent of six Ang Mo Kio towns in Singapore.

The company is set to gain financial heft to do more projects: It signed a MOU on March 18 for the entry, as a controlling shareholder no less, of China Development Bank International Holdings which, indirectly, is wholly-owned by China Development Bank Corporation.

This is as big as it can get.

According to Wikipedia, the China Development Bank was established in March 1994 "to provide development-oriented finance for government projects of national priority. It is under the direct jurisdiction of the State Council or the People's Central Government. The main objective is to support the macroeconomic policies of the central government and to support national economic development and strategic structural changes in the economy."

The bank has already made 6 trillion yuan in loans to finance China's urbanization process.

In 2012, the bank posted net profit of 63.1 billion yuan, a 38.38% increase from the 45.6 billion yuan recorded in 2011.

In a supplemental MOU signed with the company and its controlling shareholder, SREI, on May 16, the bank seeks to subscribe for 5.3 billion new shares, or 51% of the enlarged share capital.

At the same time, Zennon Capital Partners, L.P., a private equity fund, and NWSI, an investment holding company wholly-owned by New World Development Company Limited, will subscribe for shares equivalent to 4.86% and 1.24% stakes, respectively, in China New Town Development. The subscription price is pegged a little higher at HK$0.30 apiece.

The subscription is subject to shareholder approval at an EGM and regulatory approvals.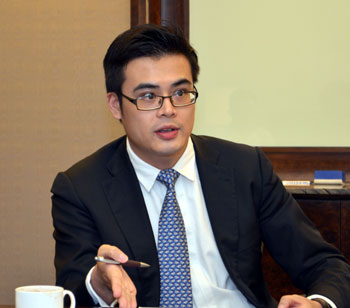 Jimmy Pun, Corporate Finance General Manager. Photo by Sim KihLast Thursday, NextInsight met up with China New Town Development's general manager for corporate finance, Jimmy Pun, and his team, who are based in Hong Kong, to find out more.

Q: Can we you explain the big picture?

Jimmy Pun: CDB is a state-owned player with a very strong financial background and will help transform the company to the next level.

Traditionally, China New Town Development has had two bottlenecks. We are a non-state owned enteprise which deals with land, a very sensitive sector in China. Land belongs to the Land Bureau, which belongs to the state, and this increases the political risk of what we are doing.

The second point concerns the financial capability of our company. Typically, we need to commit 10-20 years to a new town project from start to finish and the total financial commitment is RMB5-6 billion. A company of our size cannot expand too fast to capture opportunities. It would be perfect to have a strategic partner with deep pockets and a state-owned background to do this specialised business.

The CDB values our successful track record and would like to keep the key management to run the business.

Q: Do they have any experience in new town development?

Jimmy Pun: Since 1994, China Development Bank has been a pioneer in investing in infrastructure and urbanisation. But equity investment in new town development is a recent thing -- for the past few years only - and they have been rapidly expanding in this sector.

Q: The bank is getting the placement shares at a big discount to the market price. Why the big discount?

(Note: In the first MOU, the subscription price was set at HK$0.246, a 63% discount to the closing traded price of 11 Singapore cents just prior to the annnouncement. The subscription price was revised to HK$0.27 cents in a supplemental MOU on 16 May)

Jimmy Pun: It's a commercial decision between the negotiating parties. I can't comment too much on that.

Q: The Singapore Exchange has a rule regarding the maximum discount that can be given. It's 10%, I think.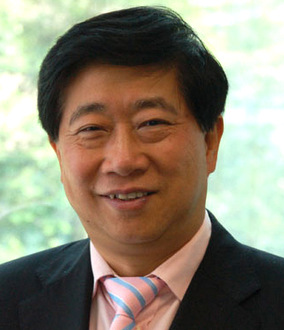 Shi Jian is the chairman of China New Town Development (CNTD). He and his family are the majority owners of SREI, which is the controlling shareholder (32.6%) of CNTD currently.
NextInsight file photo.Jimmy Pun: That doesn't rule out shareholders from voting at an EGM for exceptions. It is the intent of the regulatory body to act in the best interest of shareholders. Interested parties will not be allowed to vote -- so it's fair.

There are two parts that will be subject to voting: the share subscription agreement and the disposal of non-land assets to the current controlling shareholder.

Q: What's the split of shares listed in Singapore and Hong Kong?

Jimmy Pun: The public float is about 67% with a 50-50 split between Singapore and Hong Kong.

Q: China Development Bank raised its intended subscription from 3 billion shares in the first MOU to 5.3 billion shares in the supplemental MOU. Is there a reason for this?

Jimmy Pun: They will take us as a subsidiary now instead of associate company.

Q: What is the possibility of an injection of assets into China New Town Development by the bank?

Jimmy Pun: We haven't come to this yet.

Q: What will the company invest in using the funds raised from the sale of new shares?

Jimmy Pun: Our main targets are projects in the major cities. Because of capital constraints and negotiations with local governments, it has not been easy to get projects in downtown areas of the major cities. That situation will definitely improve in the future with a state-owned bank as our controlling shareholder.

The money will be deployed to grow the company -- through, for example, organic growth, acquisitions of projects, businesses....all will be considered.

Q: Will the company continue to be a primary developer? Will it become a secondary property developer as well?

Jimmy Pun: There is no intention for that. It's a very clearly defined business: We will continue to develop land, carry out resettlement, build infrastructure and get the land ready for sale.

Q: How does the company see itself in the next few years?

Jimmy Pun: The ideal picture is of the company having a stable, balanced portfolio of assets where we can manage quarterly sales of land, and have a clearly visible and credible cashflow stream which analysts can use to assess the company.

Urbanisation is the key thing for the country for the next 20-30 years where China's urbanisation rate goes from the current 52% to 70-80%. Every year, 10 million people move from rural areas to the suburban or urban areas, which will create tremendous business opportunities. China New Town Development has a track record of 10-11 years and has hit some bottlenecks which can be perfectly resolved by a strategic partner which is a state-owned enterprise with deep pockets.


---

Recent stories: