A NUMBER OF property plays are favourites of Sebastian Chong, who spoke about them during a seminar last Saturday (Aug 15) at the HDB Hub.

In this second report on the event, we summarise his comments on three asset plays:

Metro Holding: This is an "undiscovered gem," said Sebastian. The stock price is trading at the 60-cent level but its net asset value is $1.52 per share.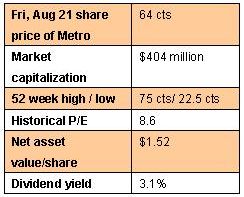 Metro's result for Q1 ended June 30: net profit jumped 135% to $13 million, boosted by a S$7.3 million (unrealised) gain in the fair value of short-term investments. Revenue rose 2.63% to $33.4 million.

Metro is more than just the famous retail store that Singaporeans are familiar with. The group has sizeable investment properties in China – mostly commercial buildings in cities such as Beijing and Shanghai.

It has a new building in 1 Financial Street with a 20% occupancy rate only. "The banks are taking their time to relocate to the financial center. The occupancy rate has scope to move up," said Sebastian.

In its recent results statement, Metro said: "Occupancy of this new office building is expected to continue to rise in a slow progressive manner mainly based on demand from domestic enterprises."

At his website www.shareowl.com, Sebastian has posted: "Just ignore Metro's dept store business which brings in the bulk of the revenues but very little profits. It is the property rental income that brings in the profits. Don't look at group revenues, look at property income and most importantly consider the current net asset value of the group which is driven by the worth of the investment properties."

Metro will be completing two more investment buildings in Beijing around September 2009 - EC Mall and Metropolis Tower.

"The rental prospects are challenging in the short term but think medium and long term and you have a strong winner since the net financing gearing is about zero even after completing these two projects.

"Many investors are also not aware that Metro owns nearly 2% of large cap Hong Kong-listed Shui On Land as an investment. In short, the market is dumb in pricing a $1.52 stock at 62 cents," said Sebastian.


Ascendas India Trust: Its income has kept rising despite the recession, noted Sebastian. For Q1 ended June 30, net property income was S$18.3 million or 15% higher.

There's a shortage of good warehouses and industrial buildings in India, noted Sebastian.

The trust's distribution per unit (DPU) for Q1 was 2.06 Singapore cents, up 25% over the same quarter last year. This represents an annualised yield of 9.7% based on a recent unit price of 77.5 cents.

"The stock hit 90 cents a few weeks ago before pulling back to 75 cents now. It presents a good buying opportunity, which is why I have just gone into the stock yesterday," said Sebastian.


GuocoLeisure: The executive chairman of this hotel chain is Quek Leng Chan, cousin of Kwek Leng Beng. Its key investment is the Thistle Hotels Group which owns, leases or manages 38 hotels (8,300 rooms) in UK.

"GuocoLeisure is ridiculously priced - the NTA is 63.6 US cents but the recent stock price was 42.5 Singapore cents," said Sebastian

The hotel chain's outlook should improve with better occupancy rates and room rates next year, he reckoned.

In Q3 ended March 31 this year, it suffered a loss of US$3.4 million, compared to a US$9.9 million net profit in Q3 of 2008. Revenue plunged 40.2% in Q3 this year to US$65.4 million.

At his website, Sebastian has posted: "As a long term investment, so long as the UK hospitality industry recovers in 2010, then investors should be OK. UK economy still weak in 2009 and that is why the share price is well below half of the NTA. There is no free lunch.


"But knowing London and the rest of the UK, their hotel rates and occupancy rates always go up considerably when the UK economy goes back to normal. I feel very comfortable sitting on this kind of boutique hotel chain type of stock with very high NTA, compared to sitting on, say, China Hongxing, Synear, or even Cacola.

"In other words, small manufacturing stocks are less predictable than hotel chains managed by Quek Leng Chan. I don't mind waiting for the good times to return to London and rest of UK. In actual fact, the hospitality industry is picking up in the UK."

GuocoLeisure also owns an oil and gas concession near Melbourne. The exploration and production of oil and gas is carried out by the lessee, which paid US$6.4 million (down 51.9%) in Q3 as royalty.

"When the price of oil goes up in the next few years, the royalty income will rise because it depends on the output of the oil and gas and the price."

Part 1: SEBASTIAN CHONG'S picks: Jardine C&C, Sinotel, Guthrie .....