Innotek Ltd (S$0.435, unchanged): We see value emerging in Innotek's shares and reiterate an "Accumulate" for the following reasons after yesterday's virtual meeting with the management team:

• The worst of the tough operating condition is over for the company, with management expecting a strong rebound in 2H'22 and 2023 from 1H'22 loss of $1.6million, thanks to the easing of China's tough Covid-19 lockdowns and the reversal of the negative impact from the rising raw material costs such as steel and aluminum.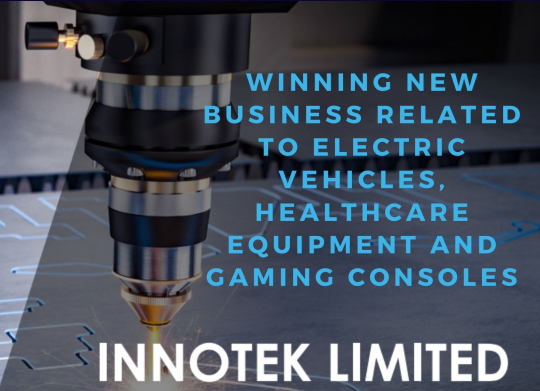 • After a "flattish" 1H22 sales performance, management is expecting an acceleration in 2H22 sales performance with growth expected to rebound strongly to around 15-20% yoy in 2H22 and between 10-20% yoy in 2023, thanks to the resumption of their automotive businesses (which were impacted by supply chain disruptions in 1H22 and also by Covid-19 lockdowns).


• Stock price: 47.5 cents
• Market cap: S$110 m
• Net cash (end-June 2022): S$77 m
• Expected final dividend: 2 cents/share
• TV and Office automation businesses are expected to recover gradually, thanks to down-stream integration with Innotek also performing sub-assembly services on top of the production of components and modules as well as the easing of supply chain disruptions thanks to the easing of Covid-19 restrictions.

• Management guided for profit margins to normalize starting 2H22 (15%-20% range) from 1H22 (13%) depressed levels thanks to the easing of raw material costs such as steel and aluminum coupled with the ramp up in machine utilization rates to the optimal levels, which will help with positive operating leverage as fixed costs are rapidly covered and the incremental sales flows rapidly down to its bottom-line, reflecting economies of scale.

• Management guided for a strong recovery and turnaround in 2H22, thus more than sufficient to turnaround 1H22's loss position of $1.6 million to put full year 2022 in the black. We estimate 2H22 profit of $5.6 million, putting full year 2022 profit at $4 million.

• Management expects 2023 to be a year of "significant" growth, underpinned by maiden contributions from new/fast growing business segments such as (1) 5G infrastructure, (2) Gaming devices, (3) Electric Vehicles, (4) Medical components and modules and (5) Semiconductor components and modules coupled with the recovery of the their core businesses such as automotive, TV and office automati on, thanks to the easing of Covid-19 lockdowns and raw material costs.

• As the new business segments are fast growing and provides higher profit margins, we expect 2023 net profit to triple to $12 million.

• While 1H22 saw its net cash position decline from $90 million to $77 million, management explained that its cash was consumed by the higher inventory levels as the supply chain disruptions and Covid-19 lockdowns prevented them to delivering the inventories to their customers, but this situation has rapidly reversed starting from July'22 onwards as their inventory levels were rapidly reduced as the strong rebound in demand saw customers pulling the inventories thus allowing their cash
position to build up again to the $80-90million level.

• Finally, management assured that notwithstanding the lower level of profits in 2022, their strong financial position would allow them to keep their 2 cents normal dividends stable and sustainable. Amounting to $4.6 million, this would marginally surpass our 2022F net profit of $4million.


Risk Factors
• Raw material costs such as steel and aluminum has started to ease off recently, but these could rise again if geo-political tensions between China and Taiwan were to escalate.

• While the Covid-19 lockdowns have eased recently, they could quickly reverse if the Covid-19 variants were to cause another rise in the pandemic wave in China. In response, management has started to diversify their production bases from just China to include Vietnam and Thailand starting 2H22.

• There exists execution risks for their new product segments, but management assured that these are executed within their core operating expertise of metal stamping and machining capabilities and are not much different from what is required in the production of automotive, TV, office automation etc component and modules.

At $0.435, market cap of Innotek is S$100.8mln, FY22F P/E is 25.2x and FY23F P/E is 8.4x P/E. Meanwhile, Innotek's current book value per share is S$0.788 and its P/B is 0.55x.

Additionally, dividend yield at 4.6% and FY22F ex-cash P/E at 6.0x are both attractive while its current net cash position of S$77mln equates to 76% of present market cap.