Golden Energy & Resources' (GEAR) record 1H2022 profit (see table) came about from a jump in the selling prices of the two types of coal its subsidiaries produce -- thermal coal and metallurgical coal.


| | | | |
| --- | --- | --- | --- |
| US$'000 | 1H22 | 1H21 | Change % |
| Revenue | 2,431,639 | 806,713 | 201 |
| Gross profit | 1,084,224 | 333,696 | 225 |
| Gross Profit Margin | 44.6% | 41.4% | 3ppts |
| EBITDA | 866,035 | 189,031 | 358 |
| Net profit | 502,985 | 80,232 | 527 |
| Profit attributable to owners | 278,987 | 29,089 | 859 |
| Basic EPS (US cents) | 11.00 | 1.24 | 787 |
After touching lofty levels, coal prices have recently weakened a little.

But coal futures, though not always reliable indicators of future pricing, are not coming back down to earth with a big thud.

If this climate holds, GEAR should have another half-year that will be even bigger. It's interesting to try to peer into that future.

For where the action is shaping up, look away from Indonesia (where GEAR's thermal coal mines are) to Australia.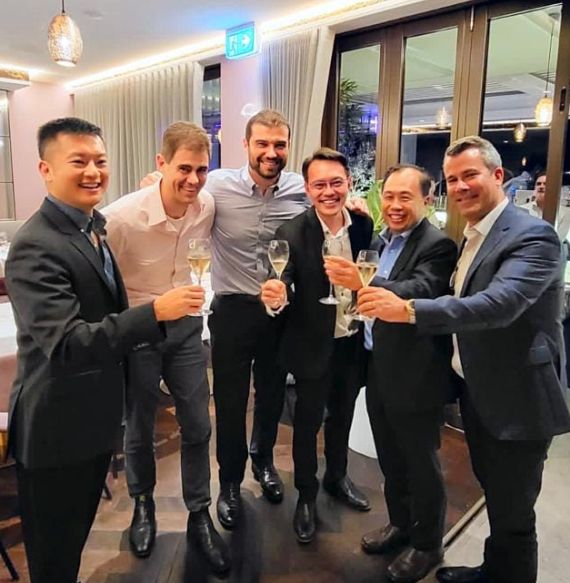 Celebrating the completion of SMC acquisition (L-R): Fuganto Widjaja (Executive Chairman, GEAR), Tim Peirce (M Resources), Shane Young (Stanmore CFO), Mark Zhou (Executive Director/Chief Investment Officer, GEAR), Dwi Prasetyo Suseno (CEO, GEAR), Marcelo Matos (Stanmore CEO). Photo: Company
GEAR stock price

50 c

52-week range

26 – 82 c

Market cap

S$1.3 b

PE

2.5

Dividend yield

--

1-year return

77%

Shares outstanding

2.64 b

Price/Book

1.7

Source: Bloomberg
Down Under, GEAR owns 64% of Stanmore Resources (SMR) which is listed on the Australian Exchange.

A producer of coking coal used in steel production, Stanmore delivered 1.1 million tonnes of coal in 1H2022 from its Isaac Downs mine.

A big boost to Stanmore came from its newly acquired asset -- Stanmore SMC (fka BHP Mitsui Coal) -- delivering 1.7 million tonnes.

The 1.7 million tonnes was recognised for the 2 months -- ie May and June -- after the completion of the SMC acquisition.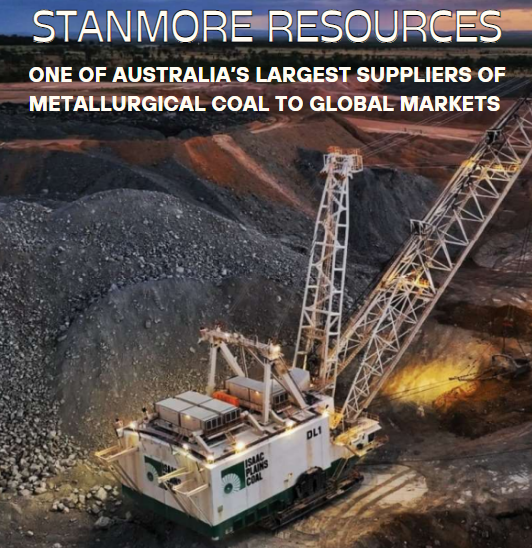 How impactful was SMC?

In the 2 months, it contributed US$753.0 million of revenue and US$78 million of net profit after tax. (For more info, visit stanmore.net.au)

Stanmore has guided for SMC to produce 4.7-5.2 million tonnes in July-Dec this year while Isaac Downs 1.3-1.4 million tonnes.

That is how Stanmore is on track to have a very big 2H2022 -- if selling prices do not tumble and operating costs do not go out of whack.

Stanmore's 1H2022 financial statement (page 12) provided a look-back (perhaps wistfully): Had the SMC acquisition been completed at the start of 2022, Stanmore group would have achieved US$2.4 billion revenue and US$809 million net profit in 1H2022.

The disproportionate profit is due to extraordinary coal prices in 1Q, which have since moderated as depicted in the chart below: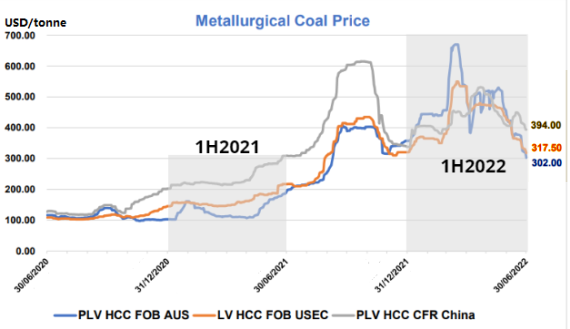 Source: S&P Global Platts

To backtrack a bit, Stanmore was transformed into a big-cap company (market cap: A$2 billion) following itsUS$1.35 billion acquisition of an 80% interest in SMC on 3 May 2022.

Sometime in 4Q2022, Stanmore will top up its interest to 100% for US$380 million cash, which will be funded from internal resources.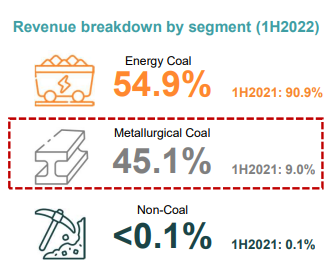 Met coal: From 9% in 1H2021 to 45% of GEAR's revenue in 1H2022. The figure is expected to surge in 2H2022.And then that extra stake will add further value to GEAR.

So Stanmore, which GEAR acquired an initial 25.5% stake in Jan 2019, has been a successful acquisition for GEAR, transforming it from being purely a thermal coal play (see chart).

Less publicised, also in Australia, there is the Ravenswood gold asset that GEAR is a 50% owner of since early 2020. Many millions have been poured into expanding its infrastructure and ramping up production.

In 1H2022, it was still loss-making but it's probably another good story for 2023.

The GEAR transformation is anything but over. Signals from the company suggest that it continues to be on the prowl for acquisitions.


For GEAR's 1H2022 presentation deck, click here.