A ground-breaking Singapore Covid-19 test kit using saliva -- which is easier to self-administer than the nasal swab -- has been approved by European Union authorities for sale in the bloc.

Its Singapore distributor expects to start sales there soon in a few months' time.

The EU approval comes ahead of an expected approval by the H

ealth Sciences Authority of Singapore. A

clinical validation study is being conducted to seek the authority's approval and ISO certification for the kit.

The product is the brainwave of scientists at

two top Singapore institutions --

SingHealth Duke-NUS Academic Medical Centre and the National University of Singapore.





To commercialise the invention, Singapore-based Digital Life Line (DLL) secured the rights to manufacture and distribute the kits.





DLL is 40%-owned by Disa Digital Safety, which in turn is wholly owned by Singapore-listed DISA Limited.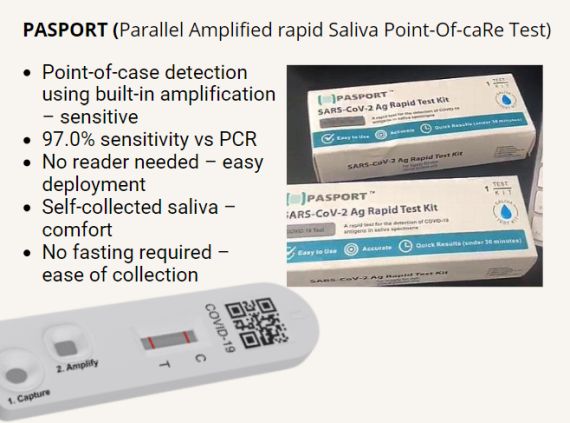 Digital Life Line has received CE-IVD (In-Vitro Diagnostic) mark for its PASPORT™ GOLD SARS-CoV-2 ART kit under the IVD Directive (98/79/EC) on 19 May 2022.

The CE-IVD mark is a quality certification indicating that the in-vitro diagnostic medical device complies with the current European In-Vitro Diagnostic Devices Directive (IVDD 98/79/EC) and may be legally commercialized in the European Union (EU).


"We are proud to deploy this unique technology, developed in Singapore that can track existing and future variants and does not require additional equipment or skilled personnel for the testing process. I believe this will become a critical tool in our ongoing fight to stop the pandemic."
-- Prof

Soo Khee Chee, Chairman of the Board of DLL
Professor Soo Khee Chee, Chairman of the Board of DLL, and Inaugural Benjamin Sheares, Professor in Academic Medicine at Duke-NUS Medical School, said: "The PASPORT™ GOLD SARS-CoV-2 ART Kit is the first point-of-care rapid antigen diagnostic kit with a proprietary on-kit signal amplification technique to enhance detection sensitivity to that of the current PCR gold standard."

Aside from DISA's 40% stake, the bulk of the rest of the DLL shareholding is held by Professor Soo Khee Chee (43%), Dr Melvin Chua (4%) and Dr Guy Heathers (1%). See details here.

Mr. Eddie Chng, the Managing Director and CEO of DISA Limited added: "Saliva-based testing allows for wider adoption of an affordable and convenient sampling method to encourage more frequent testing for early diagnosis and reduce the burden at the hospitals.

"Receiving the CE-IVD mark is a major commercialisation milestone for DLL and with that we are looking to launching PASPORT ART kit in the EU in the third quarter of this year."


DLL will be using the DiSa Serialization technology to tag the test kits for track and trace purposes making it impossible for the user to tamper the test result.

This technology has been used in the US retail industry -- principally throughout Walmart stores -- since 2017 to authenticate legitimate product returns.

• For more info, see https://digital-lifeline.com/