Roaring thermal coal prices delivered record profits in 2021 for Golden Energy and Resources (GEAR) but it dismayed shareholders by not delivering dividends.

Instead the Singapore-listed mining group with coal operations in Indonesia is deploying the cash -- and even tapping the capital markets -- to help fund a transformative acquisition of a coking coal mine in Australia (more on this below).

For patient shareholders, it will, hopefully, work magic in due course.

The purchase consideration of up to US$1.35 billion is an attractive 2X EBITDA based on the 3Q2021 figure on an annualised basis.

Given that coking coal prices have since risen strongly, the acquisition of the mine with an expected production lifespan of more than 25 years is looking even more compelling.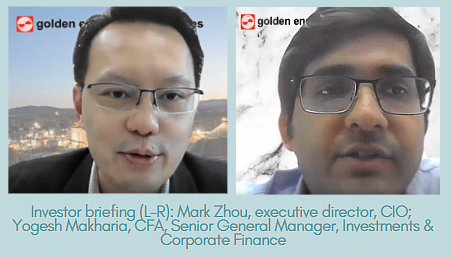 First things first: FY2021 performance of GEAR:

• Group EBITDA was US$503.3 million and Group net profit, US$251.3 million.


•

Net profit attributable to shareholders: US$112.3 million.
This chart, with explanatory notes below, illustrates the impact of thermal coal last year and recently on profitability: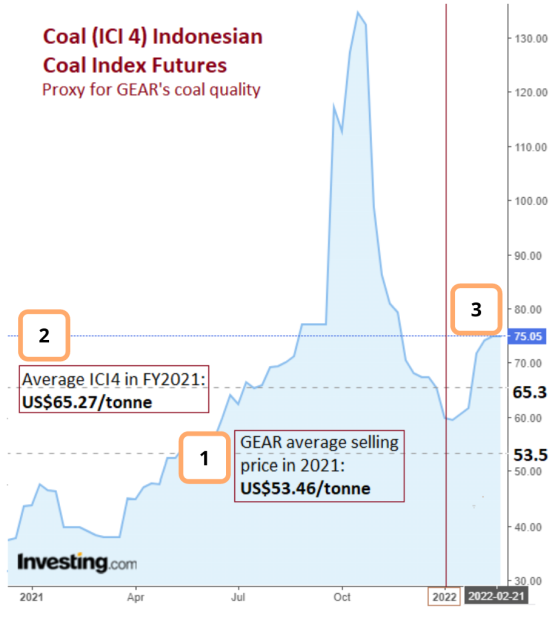 1. GEAR's energy coal segment enjoyed a 72.3% surge in ASP from US$31.03 per tonne in FY2020 to US$53.46 per tonne in FY2021.

2. The ASP was a discount to the average ICI4 in FY2021 of US$65.27 per tonne (FY2020: US$29.43 per tonne) due to the Indonesian government's domestic sales obligations on coal miners. They are required to supply 25% of their annual production locally at a capped price.

3. Last week, the ICI4 index hovered at US$75/tonne level. This is well above the average ICI4 index for the entire year of 2021, pointing to a sustained high profitability outlook.


Meanwhile, over in Australia ....
Meanwhile, another boom period was experienced in the coking coal sector in 2021, which benefitted ASX-listed Stanmore Resources, an Australian indirect subsidiary of GEAR.

From 60%, GEAR had upped its stake in Stanmore to 75% towards the end of 2021.

Stanmore produces coking coal (also known as metallurgical coal) which is used in the production of steel.

After a slow 1H2021, Stanmore's production ramped up in 2H2021 to a sustainable level.

For full-year 2021, Stanmore's net profit came up to A$10.4 million, a turnaround from a A$8.1 million loss in 2020.


Key points of chart:

• Stanmore's ASP in FY2021 was US$132.78 per tonne (FY2020: US$80.50). It's way below current market prices, which points to exceptional profits to come.



• Coking

coal prices (Platts Premium LV) surged from an average of US$208 per tonne in 2021 to hit a record high of US$430+ per tonne in January and February 2022.

Reasons for surge: Concerns over La Nina, rebounding global industrial production and continued supply tightness in various producing countries.

GEAR has another exposure in Australia -- to unlisted goal miner Ravenswood Gold through a 50-50 JV, which is expected to contribute improved performance in 2H2022 after its current expansion works are completed.

The Group's share of loss of joint ventures (net of tax) increased from US$4.90 million in FY2020 to US$22.66 million in FY2021. Of this loss, US$20.85 million was attributable to Ravenswood Gold.

The near-term transformation of the profile of Stanmore and, by extension, GEAR is illustrated below: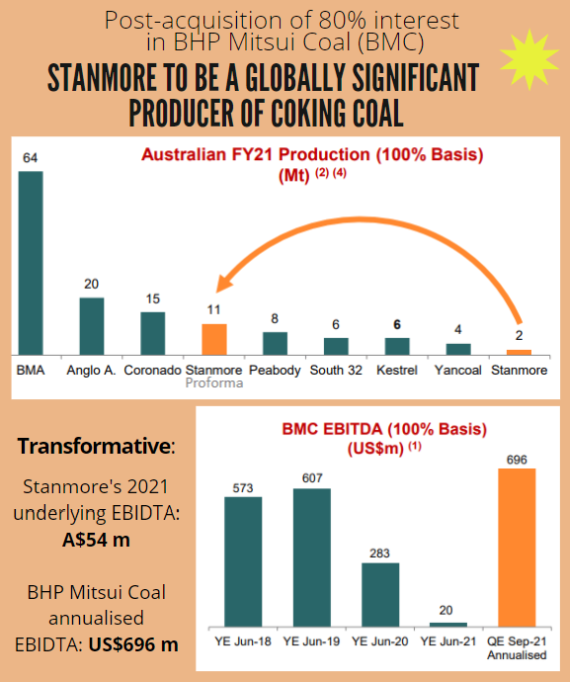 Completion of the transaction is expected to occur in mid-2022.

Stanmore plans to fund up to US$600 million of the US$1.35 billion purchase price via a rights issue whose details are yet to be finalised.

GEAR has committed to subscribe, through its 100% owned Golden Investments, for up to US$300 million of its entitlements but reserves the right to subscribe up to its full entitlement.

GEAR, which had US$379 million in cash on a group basis as at end-2021, is seeking to top that up through a proposed share placement.

Last week it announced a placement of 285,000,000 new ordinary shares at an issue price of S$0.305 each. The aggregate funds to be raised: S$86,925,000.

Such figures may look imposing but there is substantial cashflow and quick returns to come for Stanmore from a deal where the seller's (BHP) intent is to pivot away from fossil fuels.


For more info, see GEAR's presentation deck here.