UOB KAYHIAN

CGS CIMB

Keppel REIT (KREIT SP)

9M21: The Hunter Or The Hunted?

KREIT's 9M21 business update was in line with our expectations. Rental reversion weakened to just +1% in 3Q21 but committed occupancy edged higher by 0.4ppt qoq to 97.1%. We postulate that SPH REIT could be the acquirer and KREIT the acquiree in the merger between the two S-REITs to prevent conflict of interest. SPH REIT has a larger debt head room of S$667m based on aggregate leverage at 40% and lower cost of debt at 1.84%. Maintain BUY with a lower target price of S$1.25.



ARA LOGOS Logistics Trust

Riding on firm demand

■ 3QFY21 DPU (-9% yoy) came in line, at 77% of our full-year forecast.

■ ALOG delivered stronger portfolio rental reversion and stable occupancy.

■ Reiterate Add. Strong demand will support rental reversion.

CGS CIMB

MAYBANK KIM ENG

Consumer Staples - Overall

3Q21F results preview

■ Consumer staple companies likely hurt by tightened mobility restrictions in 3Q21F; we only expect SSG and DELFI to show profit growth on a yoy basis.

■ Consumer brands, including THBEV and DELFI, are our top sector picks; we like them as recovery plays beyond 3Q21F, as we believe the worst is over.

■ Sector valuation attractive at 1.3 s.d. below 5-year mean, but we recommend investors to be selective as outlooks diverge. Reiterate sector Neutral.

Keppel REIT (KREIT SP)

Leasing Up

Stronger leasing, slower DPU growth

KREIT's distributable income jumped 20.8% YoY in 9M21, and 44.0% YoY in 3Q21, with contributions from Victoria Police Centre (in Melbourne), Pinnacle Office Park (Sydney) and Keppel Bay Tower (Singapore). The performance was in line with our estimates and the street. Portfolio occupancy rose to 97.1% (from 96.7% in 2Q21), helped by an improvement at OFC, ORQ, Keppel Tower and its Australian properties. Office demand tailwinds have strengthened KREIT's fundamentals, but DPU growth remains unexciting versus peers. Maintain HOLD with SGD1.00 DDM-based TP (COE: 7.0%, LTG: 1.0%). We prefer CICT (CICT SP, BUY, TP SGD2.55), with catalysts from DPU recovery in 2021, and redevelopment upside.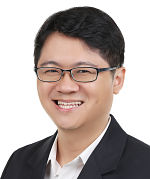 Check out our compilation of Target Prices