Telemedicine consults by Covid-positive people have quite suddenly made the news in Singapore.

That's arising mainly from home recovery having become, since Sept 18, the default care management approach for fully-vaccinated Covid residents, a government policy to free

hospital beds for serious cases

.

(See Straits Times article: Telemedicine providers stretched thin as more people go into home recovery for Covid-19)




Metal Components Engineering's (MCE)

healthcare business has a direct exposure to this new phenomenon following its recent acquisition of 85.07% of Gainhealth Pte Ltd.
The Singapore-listed engineering company

couldn't have timed its diversification into digital health better.
MCE stock price

4.2 c

52-week range

2 - 10.4 c

PE

-

Market cap

S$18.4 m

Shares outstanding

437.6 m

Dividend
yield

-

1-year return

74%

Source: Yahoo!
MCE obtained shareholder approval at an EGM on 8 July 2021 to diversify its business.

It has since announced corporate moves in digital health covering not just Singapore but also Malaysia and Indonesia. (See: METAL COMPONENT ENGINEERING: Exploring digital health opportunities in Indonesia).

Its digital health business comes under 5Digital Pte Ltd, a fully owned subsidiary. Website: https://5digital.ventures/

In Singapore, this is how 5Digital and its GP partners manage hundreds of patients -- and their families:
• Covid patients teleconsult with GPs. Any medical prescription is fulfilled by 5Digital which delivers the medicine to the patients.

• As a follow-up, 5Digital sends nurses on prescribed days to carry out PCR tests on patients.

• For non-Covid patients, ie those with chronic diseases, 5Digital supplies wearables that can monitor their data such as blood pressure and blood sugar (see graphic below). The data is transmitted to their primary healthcare providers.

• 5Digital's services are integrated with partners that provide medical transport and home nursing services with a common call center.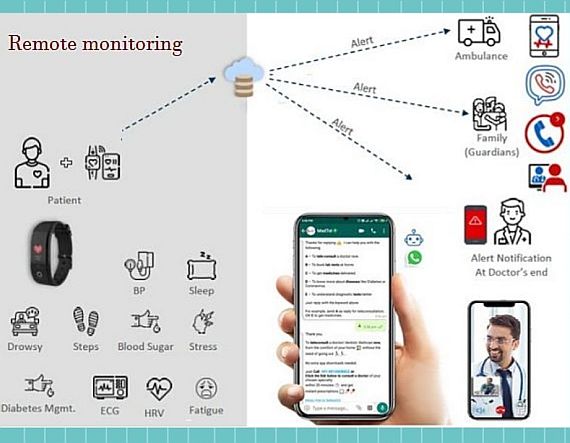 The Internet of Medical Things. Graphic: 5Digital

As 5Digital's business scales up, it will not require substantial capex.

"Our telemedicine and ePharmacy business will remain light on assets and will drive our earnings in Singapore and Malaysia.

"For Indonesia, we will add a focus on Hospital based Software-as-a-Service (SaaS) revenue in their digital transformation," according to its 29 Sept 2021 presentation slides.

The deck yields insights into 5Digital's plan and model for Indonesia and Malaysia, which are different in some respects from Singapore. (For more, click here).

In addition, 5Digital recently entered into a term sheet to take a stake of up to 10% in MedTel Healthcare of India, a provider of Internet of Medical Things devices.