For furniture industry veteran James Koh, just like English poet John Keats, "a thing of beauty is a joy forever."
The 64-year-old Executive Chairman and Chief Executive Officer of SGX-listed, home-grown furniture specialist Koda Ltd is passionate about crafting aesthetically pleasing designs for customers to enjoy for generations to come.
"Many have called the furniture industry a sunset industry, but until the day comes that we don't need a table to eat from, or a chair to sit on, there will always be a demand for home furnishings," Koh pointed out.
"What we have done successfully, and will continue to do, is to be innovative - both from a product design as well as manufacturing standpoint. We're constantly inspired to create well-designed and well-made products that can enhance relationships between people."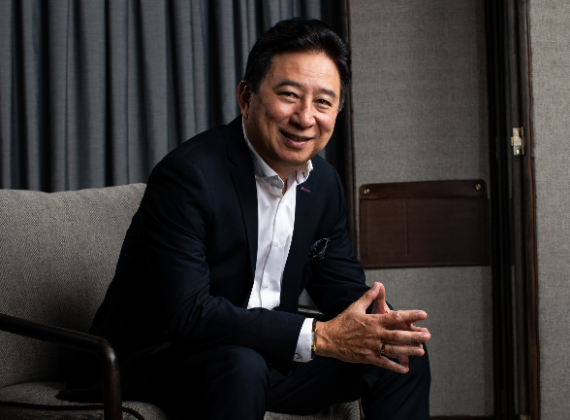 Koda was founded in 1972 by Koh's father, Koh Teng Kwee, as a small workshop in Geylang producing wooden cabinets. With just a handful of workers and after several gruelling years, the senior Koh and his wife were able to expand the company's product range, export markets and factory capacity, gradually growing it into one of the largest dining-room furniture makers in Southeast Asia.

Koda, which listed on the then-Sesdaq board in January 2002, was migrated to SGX Mainboard in May 2005.

Today, the Group is a leading original design manufacturer (ODM) of furniture, specialising in affordable, ready-to-assemble, wood-based home furniture for the living, dining and bedroom. Koda's customers are located in some 30 countries comprising wholesalers, distributors and major retailers.

The Commune, which was established in 2011 as an in-house, lifestyle brand focusing on the mid-market segment, has a presence in Singapore, Malaysia, China, Philippines and Hong Kong.

Koh's two older sons - Joshua and Julian, both in their 30s - hold senior roles in the Group's subsidiary, Commune. Joshua is the Chief Executive Officer, while Julian is Head of Design and Chief Design Officer.

Three-Generation Setup

"I feel very proud to manage something that was started by my father close to 50 years ago. My brother and sister have also worked hard together with me to build on the legacy for Koda to be a design-driven and trustworthy manufacturer for the global market," Koh said.

"I'm also really happy we've managed to structure our business such that next-generation family members are able to contribute to the growth of Koda via a new business model - Commune. We hope this will propel the Group to new heights."

Koda was recognised by Forbes Asia as part of "Asia's 200 Best Under a Billion" list of companies in 2006, and profiled by CSIL Milano in its Top World Furniture Manufacturers Report 2006 as one of the top 200 major furniture manufacturers worldwide.

"Koda is focused on delivering exceptional customer experiences, and has established its reputation as a style leader in the industry. High-quality design, good taste, excellent value and clear functionality are now synonymous with our brand," Koh pointed out.

"We distil, through the meticulous processes of drawing and making, a multitude of ideas, references and varied international cultures into simple, elegant furniture profiles that remain beautiful and eye-catching for years to come."

Looking ahead, Koda will focus on its retail brand (Commune) operations and expanding its traditional ODM business. For Commune, the Group intends to aggressively broaden its brand presence, not only regionally but also internationally.

"We will continue to target China as our main market due to its high growth rates and sheer size. We plan to open a flagship store in Shanghai in the near term, which will hopefully boost our sales in the country," he added.

The Group will also push ahead with ALT.O by Commune - a higher end sister brand launched in 2019. "This brand serves a different demographic, and the customer response so far has been promising, with more than 10 stores already in operation."

"For our manufacturing business, to continue to fulfil strong orders from our clients, we acquired a land use right and factory building in Vietnam in March this year to increase our production capacity," Koh pointed out.

Driving Sustainability

In addition, Environmental, Social and Corporate Governance (ESG) priorities remain high on Koda's agenda. "Sustainability is very important in today's context, and we've seen many consumers demanding sustainably made products," Koh said.

"We ensure our materials are sourced from traceable timber sources, as timber is one of the more sensitive materials we work with. We're also taking steps to reduce our carbon emissions by looking at using solar energy to power our plants."

In the meantime, competition remains a bugbear. "There will always be stiff price competition from our rivals, as barriers to entry are relatively low compared to other industries," Koh admitted.

"But what has made us successful to-date is our ability to provide value to customers - the best value doesn't mean the lowest price, as we differentiate ourselves by our design and product development capabilities. This ensures our product quality is worth every cent that we charge."

Similarly, robust cost management and controls are de rigueur. "We've always sought ways in which to keep costs down, not only in terms of production, but also other operational aspects as well."


And while the Group is fortunate that COVID-19 has been more of a boon than a bane, the pandemic remains a worry that keeps Koh up at night.
"Due to the current work-from-home phenomenon, our business has been doing very well - there's high demand from clients who desire to upgrade their home furnishings, since they've been spending a lot of time at home," he said.
"But the pandemic has very far-reaching consequences that affect us on multiple fronts. We constantly monitor the health of our workers as an outbreak can result in shutdowns that will cripple our supply chain. The recent resurgence of infections have also led to a shortage of containers, which in turn have pushed up shipping costs, and created shipment delays across several industries."
But regardless of the concerns at hand, Koh makes it a point to schedule some downtime. When he is not involved in the Group's day-to-day operations, he can be found on the golf course or with his four grandchildren.
"I've always shared the principles of passion and hard work with my kids and grandkids. Success is never an accident - it comes from persistence, perseverance and most of all, the love of what you do."



Koda Ltd

Founded in 1972, home-grown furniture design company Koda was listed on the then-Sesdaq board in January 2002, and migrated to SGX Mainboard in May 2005. Today, with three generations of the Koh family running its operations, the Group is a leading original design manufacturer (ODM) of furniture, specialising in affordable, ready-to-assemble, wood-based home decor. It also produces other household items such as bedroom, lounge and outdoor/garden furniture. Koda's customers - located in over 50 countries - comprise wholesalers, distributors and major retailers, while its production-direct-to-retail marketing model in the UK sells directly to specialist and smaller retailers. The Group, which established Commune in 2011 as an in-house, lifestyle brand focusing on the mid-market segment, has a presence in Singapore, Malaysia, China and Vietnam.

The company website is: www.kodaonline.com

Click here for the company's StockFacts page.

For the half year ended 31 December 2020 financial results, click here.


About kopi-C: the Company brew
Text: Jennifer Tan-Stanisic
Photo: Company file

This article was originally published in kopi-C, a regular column on the SGX Research website that features C-level executives of leading companies listed on Singapore Exchange. These interviews are profiles of senior management aimed at helping investors better understand the individuals who run these corporations.

For previous editions of kopi-C: the Company brew, please click here.