Excerpts from Phillip Securities report

Analyst: Paul Chew
 Potential application of Wafermine has extended further, from treatment of acute pain to depression and now to Complex Regional Pain Syndrome (CRPS).


iX Biopharma

Share price:
24 c

Target:
44.5 c
 Wafer capacity expansion in Australia is on track to commence in July 2021. It will cater to demand for Entity nutraceuticals in China and Xativa medicinal cannabis in Australia.

 IXBIO announced a rights issue at S$0.20 per share at 7 rights for every 100 shares held. The TERP is S$0.237. Funds are for manufacturing and marketing activities.

 Our BUY recommendation and DCF (WACC 10%) TP of S$0.445 are unchanged. Expanding the use of core WaferiX drug delivery technology and capacity ramp-up to meet rising demand for its products are expected to provide stock catalysts.

The news
1. On 17 May, IXBIO said the US FDA has granted the company an orphan drug designation for the treatment of patients with CRPS with ketamine.

2. On 2 June, IXBIO further announced that it is set to expand its wafer production capacity at its Australian facility by six times. Commercial production will commence in July 2021.

3. On 8 June, IXBIO announced a 7 for 100 rights issue of 48.81mn at S$0.20 per share to raise S$9.56mn. The funds are for the manufacturing and marketing activities of the company.

What this means
1) CRPS is a chronic pain usually triggered by surgery or traumatic injury. There is no approved drug for its treatment currently, which in severe cases can result in chronic and profound disability.

The FDA grants special orphan status to support the development of medicines for rare diseases that affect fewer than 200,000 people in the US. Because the medical conditions are so rare, orphan drugs would not be profitable to produce without government assistance. Benefits of orphan status include a shorter timeframe for drug approval, tax credits and research grants.

IXBIO can undertake a pilot study and immediately move onto Phase 3 trials. Reviews by the authorities are faster and fewer clinical-trial subjects are required. Once approved, IXBIO can enjoy 7-year market exclusivity and possibly higher drug pricing. To recap, ketamine is a drug used since 1970 as an anaesthetic for pain relief. It is administered intravenously.

In contrast, Wafermine releases ketamine sublingually or below the tongue. Sublingual medicines are easier to administer and avail a high bioavailability of the drug. With this announcement, the potential application of Wafermine can widen further from the treatment of acute pain to depression and now CRPS.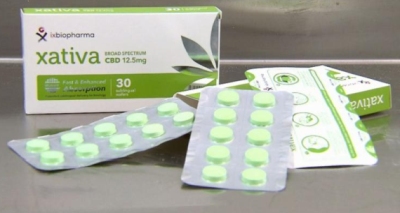 2) Once the equipment is installed at its facility in Australia, a few batches would need to be produced for validation and Good Manufacturing Practice certification.

The new capacity has been factored into our forecasts. It is earmarked to meet rising demand for Entity and Xativa products. Entity is gaining traction in China from platforms such as Tmall Global and JD Worldwide.

Xativa is the world's first freeze-dried sublingual medicinal cannabis wafer. Xativa has been approved as a prescription medicine under Australia's Special Access Scheme and Authorised Prescriber Scheme. Doctors prescribe it for pain relief, inflammation and improving sleep quality.


Recommendation
Maintain BUY with an unchanged DCF TP of S$0.445 (before rights) or S$0.428 (post rights).

Catalysts include any out-licensing deal for Wafermine Phase 3 clinical trials, revenue contributions from Entity and Xativa and the commercialisation of Wafersil for the treatment of male erectile dysfunction in China.

Full report here.