Note: NutryFarm has entered into placement agreements dated 4 June 2021 with 11 investors who will subscribe to a total of 22,000,000 new shares at the issue price of S$0.29.


Cheng Meng's life-long passion for durian - renowned for its spiky husk, buttery yellow flesh and bitter-sweet taste - should not be sniffed at. The engineer by training gave up a well-paying job in project management at the age of 26 - all for this pungent, tropical fruit.
"My family business is in the fresh fruit produce industry, and having had my first taste of durians growing up, I fell in love with the fruit - with its aroma, velvety texture and unique taste," recalled the Chief Executive Officer of SGX-listed NutryFarm International Ltd.
After obtaining his Bachelor of Automotive Engineering degree from Shanghai University in 2013, Cheng began his career as a project manager overseeing major construction projects in Thailand for China's Shandong Electric Power Construction No.3 Engineering Company.
The Thai durian industry is the largest supplier of durians to China, and exports close to 800,000 tonnes of durians per year, while Malaysia's durian production is estimated at 300,000 tonnes annually.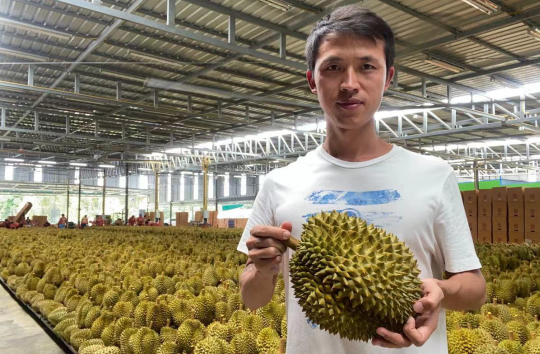 Intrigued by the Thai durian industry, Cheng started dabbling in the trading and distribution of the fruit. Within six months, however, his inexperience and lack of knowledge led to him losing millions of renminbi.

"Customers rejected my durians as they were of an inconsistent quality, and the fruit wasn't properly cleaned or disinfected prior to delivery, among many other issues," he said.

While this initial foray had drained a significant portion of his financial resources, it also taught Cheng many important lessons, and allowed him to build up a more comprehensive understanding of the trade.

"I was undaunted. I told myself that given more time and experience, I would be able to make a name for myself in this durian trade that I am deeply passionate about," he added.

"So against my family's wishes, in 2015, I quit my well-paid job as project manager and switched careers to the durian industry."

In 2016, Cheng founded the One Family (Thai) Company Ltd in Thailand, which is in the business of planting, trading and processing of durians. For the 32-year-old, it was an entrepreneurial journey marked by continual learning.

"As we are dealing with fresh produce, technical knowledge is vital and serves as a key entry barrier to this industry," he noted.

"Not only does it takes time to accumulate know-how and skills, we also need to be constantly on the ground, building on our agricultural expertise and expanding our networks with the farmers and plantations."

Over the course of this journey, a feather in his cap was chalking up sales of US$200 million in fresh Thai durians, the majority of which was exported to China.

China only permits the import of fresh Thai durians, while Malaysian durians are exported to China as frozen whole durians, frozen durian pulp and paste.

Building Momentum

Late last year, Cheng bought a significant stake in Mainboard-listed NutryFarm through a share placement exercise. He was subsequently appointed Non-Executive Director in November 2020, before being re-designated Executive Director and CEO in January 2021. He is also the Executive Vice President of the Thailand-Anhui Business Council.

NutryFarm, through its wholly owned subsidiary Nutryfarm Biomedicine International Ltd (NFB), produces high quality nutrition and health food products for consumers in China. These products are formulated mainly from natural as well as traditional medicinal herbs from the Americas, China, Europe and New Zealand.

Based in its 34,165 square-metre facility in Sichuan province, the Group is involved in the research and development, manufacturing, sales and marketing of more than 40 proprietary brands, catering to the diverse nutritional needs of the China market.

Another wholly owned subsidiary, Global Agricapital Holdings (GAH), is engaged in the wholesale trading and distribution of fruits, particularly durians.

Since December 2020, NutryFarm has inked various agreements to sell 1,480 containers of fresh durians from Thailand to major Chinese fruit importers. The total contract value of these agreements is estimated at approximately RMB962.0 million as at 13 February 2021.

Despite the COVID-19 pandemic, China's demand for durians remains robust.

In 2020, the country imported 575,000 tons of durians worth RMB14.7 billion (US$2.3 billion) from Thailand, up 78% year-on-year, according to data from the Ministry of Agriculture and Cooperatives of Thailand.

In March, NutryFarm announced that GAH had entered into two new purchase contracts for 570 containers of fresh durians from Thailand. Shipments have started since 20 February 2021 and will continue through the year.

"We're looking to build on the momentum of our durian trading and distribution business, which has garnered strong traction," Cheng noted.

"To-date, we have completed one of the contracts for 200 containers of fresh durians, and are working to fulfil the other sales contracts. At the same time, we're in discussions to secure new orders."

For the three months ended 31 March 2021, NutryFarm's fruit business contributed HK$27.9 million in sales, representing more than half the quarter's total revenue of HK$41.0 million. This also helped the Group return to the black in the quarter from the year-ago's net loss.

Last month, the Group announced plans to expand its durian business in Singapore with local e-commerce partner EBuy Pte Ltd. Ebuy will import pre-packaged durians from Malaysia and Thailand on behalf of GAH and its suppliers, and distribute them in Singapore. The first shipment is expected by 1 June 2021.

"As part of our continuous efforts to be a preferred partner, we aim to utilise our specialised industry knowledge and access to various supply origins in Thailand to expand our business presence in Asia," Cheng said.

And in view of the Group's intention to build up capabilities in the wholesale trading of fruits, NutryFarm will seek shareholder approval for the proposed diversification of its core business.

"The Group has submitted the circular for SGX approval and will call for an EGM once that approval is obtained," he added.


Cutting-Edge Tech
To spur sales further, NutryFarm will capitalise on technological innovation. "Sophisticated tools such as robots, temperature and moisture sensors, aerial imaging, and GPS technology will allow upstream suppliers - the farmers - of durians to be more profitable, safe, accountable and environmentally friendly," Cheng said.
"At the same time, these technologies can be used to increase transparency and enhance food safety, as the data collected can educate and inform consumers of the origins of their durians and other relevant details."
Cheng hopes such features will enhance the value chain. "These advancements belong to the future of agriculture, and they will boost the viability and efficiency of the entire durian trade, thereby benefiting all stakeholders."
Not surprisingly, quality assurance is an issue that keeps him up at night. "This is one of my key priorities because it forms the cornerstone of our business, particularly in the case of fresh produce," he said.
"Our customers are dependent on us, and it takes years to build trust. If we do not deliver the quality that is promised, it takes just minutes to break that trust and undo all our efforts."
As a result, Cheng has little time to spare outside of work. "Durians are 24/7 for me," he admitted with a grin.
"There are more than 200 types of durian varieties in Thailand, and with the increased use of cutting-edge innovation in agriculture, there are plenty of things to learn, understand and experience in this industry."
And without this level of passion, success would be impossible, he added.
"I believe that if we combine humility, integrity and passion in our professional careers and personal lives, we can overcome almost all challenges, and at the same time, the force of our convictions will also motivate others to help us achieve our goals."


NutryFarm International Ltd

NutryFarm, through its wholly owned subsidiary Nutryfarm Biomedicine International (NFB), produces high quality nutrition and health food products formulated mainly from natural traditional medicinal herbs from the Americas as well as China, Europe and New Zealand for consumers in the People's Republic of China. While Nutryfarm is in the business of manufacturing, sales and distribution of nutritional and health food business, the trading and distribution of fresh fruits to China is an extension of its business model as it capitalises on the Group's understanding of food certifications and connections in the country. Global Agricapital Holdings Pte Ltd, a wholly owned subsidiary, is engaged in the wholesale trading and distribution of fruits, particularly durians.
The company website is: www.nutryfarm.com
Click here for the company's StockFacts page.

For the second quarter ended 31 March 2021 financial results, click here.

About kopi-C: the Company brew
Text: Jennifer Tan-Stanisic
Photo: Company file

This article was originally published on kopi-C, a regular column on the SGX Research website that features C-level executives of leading companies listed on Singapore Exchange. These interviews are profiles of senior management aimed at helping investors better understand the individuals who run these corporations.

For previous editions of kopi-C: the Company brew, please click here.