UOB KAYHIAN

UOB KAYHIAN

First Resources (FR SP)

3Q20: Results Within Expectations

FR reported 9M20 net profit of US$80m, or about 60% of our full-year estimate. Earnings are within our expectations as we see a better 4Q20 performance, supported by higher ASP and sales volume. FR's downstream capacity is about the same as its CPO production, which means FR is likely to be less affected by the revision of export levy in Indonesia. The incremental in levy for refined products is smaller than that for crude products. Maintain BUY. Target price: S$1.75.

Genting Singapore (GENS SP)

3Q20: At The Forefront Of Reopening-Theme Play

GENS' quarterly business overview for 3Q20 revealed significant earnings beat as the quarterly recoveries of gaming revenue and EBITDA were better than expected, and well ahead that of rival Marina Bay Sands' (MBS). The likelihood of vaccine(s) being approved (eg Pfizer-BioMTech's vaccine) suggests market outperformance for GENS through 2021. More glimmers of hope are appearing as the government mulls over border relaxation. Upgrade to BUY with higher target price of S$0.98.

MAYBANK KIM ENG

CGS CIMB

Sasseur REIT (SASSR SP)

China Retail Recovery Play

Strong 3Q20, raised DPUs and TP We raised FY20-21 DPUs by 3-5%, on the back of better-than-expected 3Q20 performance. 9M20 is at 77% of our full-year estimate, driven by a strong rebound in shopper traffic and a 33% QoQ jump in portfolio sales. We see the strong sales momentum extending into 4Q20 and FY21 due to improving occupancies as a result of its AEIs, and catalysts from betterthan-expected portfolio sales growth and contributions from potential acquisitions, backed by a strong balance sheet and visible pipeline. Our new DDM-based SGD1.00 TP (COE: 9.4%, LTG: 3.0%) implies 34% total return. BUY.

UMS Holdings Ltd

Diversification efforts intensify

■ UMS's 3Q20 net profit beat expectations at 29% of our/consensus full-year forecast. 9M20 net profit was above at 79% of our FY20F.

■ The outperformance was due to higher revenue in the semicon segment (+39% yoy in 3Q20) and wider gross material margin (cost efficiencies).

■ With a strong FY21F outlook, we lift our FY20-22F EPS forecasts and upgrade UMS from Hold to Add.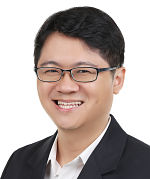 Check out our compilation of Target Prices