Today, Phillip Securities upgraded its target price for UG Healthcare to $1.35 but CGS-CIMB has raised its target to $1.70 on account of its higher revenue and profit forecasts.


Excerpts from CGS-CIMB report

Analyst: Ong Khang Chuen, CFA
A strong start to the year
■ 1QFY6/21 net profit of S$22.7m (74-fold increase yoy) was c.45% above our expectations, due to stronger-than-expected ASP increase.


UG Healthcare

Share price:
96.5 c

Target:
$1.70
■ Global glove shortage remains acute amid worsening pandemic crisis, and we expect UGHC to be able to raise prices by 10-15% monthly in 2QFY21.

■ Reiterate Add with higher TP of S$1.70. UGHC is trading at an undemanding valuation of 7.5x CY22F P/E (65% discount to Malaysian peers).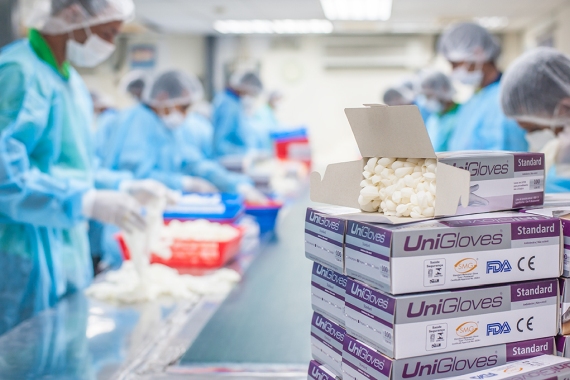 1QFY6/21 results above expectations
UGHC's 1QFY21 net profit of S$22.7m (74-fold increase yoy) was above expectations, as we had forecast S$15.7m net profit for the quarter (1Q was 32.2% of our FY21F).

Key surprise was stronger-than-expected ASP hike, which led 1Q topline to rise 170% yoy and GPM to expand by 41.7% pts yoy to 60.6%.

Glove shortage remains acute
We believe global glove shortage remains acute given the worsening pandemic crisis.

UGHC said its distribution companies' inventory levels remain low, and have to be managed on a very tight schedule based on just-in-time delivery.


"We estimate UGHC could further hike its ASPs by 10-15% monthly between Oct and Dec, and think that prices can continue to trend higher in 3QFY21."

We forecast UGHC to record blended ASP growth of +131% yoy in FY21F, boosting its topline to S$364.4m (+153% yoy).

Rising raw material costs not a major concern
Due to supply shortages, we understand that raw material prices have been rising in recent months.

According to the management, nitrile butadiene (NBR) prices have seen c.10-15% increase monthly in 2QFY21, while latex prices have also inched up slightly.

Nevertheless, we continue to expect margin expansion in 2QFY21 as we believe the ASP hikes will be more than sufficient to offset the higher raw material prices.

We forecast UGHC to record EBITDA margins of 54.2%/50.3% in 2Q/FY21F respectively.

Management is also actively engaging its suppliers, and has secured additional supply commitments for its upcoming 500m pcs/annum capacity expansion in Mar 2021.


Reiterate Add with higher TP of S$1.70
On the back of higher ASPs, we lift our FY20-22F EPS forecasts by 46%-82%.

Reiterate Add with a higher TP of S$1.70 (13.2x CY22F P/E, based on 40% discount to peers) as we roll over our valuation to end-CY22F.


"UGHC remains our preferred pick among Singapore-listed rubber glove companies, due to its undemanding valuation (a 65% discount to the Malaysia-listed glove sector average CY22F P/E of 22.0x) and OBM business model, which allows it to garner stronger ASP upside potential vs. its peers."

Potential re-rating catalysts include stronger-than-expected increase in selling prices; downside risks include earlier-than-expected widespread vaccine availability for Covid-19.

Full report here