Excerpts from CGS-CIMB report

Analysts: ONG Khang Chuen, CFA, William Tng, CFA
& NGOH Yi Sin

Diagnostic testing, medical supplies play big role in reopening
Even as nations emerge from lockdown, demand for testing kits and personal protective equipment (PPE) remains strong, in our view.

To ensure a safe reopening, there is a need for reliable data to show that the rate of infection is decreasing to manageable levels, and also to ensure that there is sufficient capacity to avoid future infection peaks overwhelming healthcare capacity.

In Singapore alone, we estimate the addressable market potential across the value chain of diagnostic testing to be between S$1.4bn and S$3.9bn (Fig.23- 24).

Meanwhile, Malaysian Rubber Glove Manufacturers Association (MARGMA) estimates global demand for rubber gloves to reach 345bn gloves in 2020F (+16% yoy).

Singapore names that can potentially benefit
Direct proxies that we cover are UG Healthcare and Riverstone.

Other beneficiaries under our coverage include IHH Healthcare, Raffles Medical and Venture Corp.

Our preferred pick is UG Healthcare, given its undemanding valuation (8.7x CY21F P/E) and manufacturing-cum-distribution model, which allows it to garner stronger ASP upside potential vs. peers given the current strong surge in glove demand.

Downside risks include earlier-than-expected mass production of Covid-19 vaccine.

Other Singapore listed companies within the value chain of medical testing and PPE include Biolidics, Q&M Dental, Medtecs and Sri Trang.


Proxies to diagnostic testing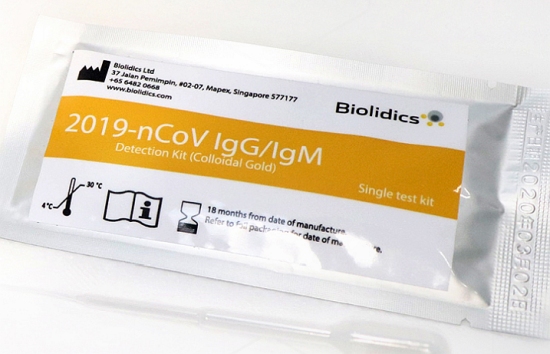 Similar to many nations, the majority of testing for Covid-19 in Singapore is handled by government hospitals. But there are also opportunities for the private sector across the entire value chain of diagnostic testing. We identify three sources of revenue for diagnostic testing, mainly from:-

• Sale of diagnostic test kits. Examples of such test kits which have received provisional authorisation by Singapore's Health Sciences Authority (HSA) include:

-- the Acu-Corona 2.0 Diagnostic Test (to be jointly commercialised by Q&M Dental Group [QNM SP, Not rated] and Acumen Research Laboratories [Unlisted]),

-- the 2019-nCov IgG/IgM detection kit under Biolidics (BLD SP, Not rated), as well as

-- A-star Fortitute test kits, which was co-developed by the Agency for Science, Technology and Research (A*STAR, Unlisted) and Tan Tock Seng Hospital (Unlisted).

The full list of approved Covid-19 diagnostic tests in Singapore can be found on HSA website.

• Fees for swabbing administered at clinics and hospitals. The availability of swab tests has been extended from public and private hospitals to all polyclinics, several general practitioner (GP) clinics and potentially dental clinics.


Pre-departure testing under the fast lane arrangements is currently only offered at selected Raffles Medical clinics
(RFMD SP, Add, TP: S$0.98, CP: S$0.89).
• Charges for lab processing services. Apart from government-related labs, IHH's ParkwayHealth lab (IHH MK, Add, TP: RM6.25, CP: RM5.40), is the first private facility accredited by the Ministry of Health (MOH) in Singapore to process such swab tests.

The lab has processed more than 1,000 tests since 3 Mar after receiving MOH approval and also offers other pre-qualifying and diagnostic testing services.

• Venture Corporation Ltd (VMS SP, Add, TP S$16.78, CP S$16.16) is also likely to see some benefits from Covid-19 diagnostic testing. On 9 Jun 2020, Illumina Inc (ILMN US, Not Rated), a key customer of Venture Corp announced that the US Food and Drug Administration (FDA) has issued an Emergency Use Authorization (EUA) for the Illumina COVIDSeq™ Test, a high-throughput, sequencing-based, in vitro diagnostic (IVD) workflow enabling the detection of SARS-CoV-2.

The end-to-end workflow extends the options available for labs to scale diagnostic testing. llumina announced that COVIDSeq is currently available to a limited number of early access sites but is expected to be more broadly available this summer.


Covid-19 has also boosted demand for PPEs
Demand for PPEs has also reached unprecedented levels as Covid-19 has spread globally and governments have sought to prepare and respond. National stockpiling strategies by affected countries have further driven up demand.

During 1Q20, the United Nations delivered over 6.4m gloves, 1.8m surgical masks, and 1.0m protective gowns to countries around the world.

According to another industry forecaster, Grand View Research, the global personal protective equipment (PPE) market size (by value) is expected to reach US$84.7bn by 2027F, growing at a compounded annual growth rate of 6.7% over the forecast period of 2020-27F.

The increasing need for respiratory equipment in mining, emergency response, military and law enforcement, healthcare, and fire services and rising instances of injuries at the workplace, is anticipated to propel the market over the coming years, in Grand View Research's view.

Medtecs International
Medtecs (MED SP, Not Rated) manufactures a wide range of medical consumables, including patients' apparels, disposable surgical masks, boot covers and surgical gowns, underpads, adult diapers, crochet blankets, bed linens and medical bandages.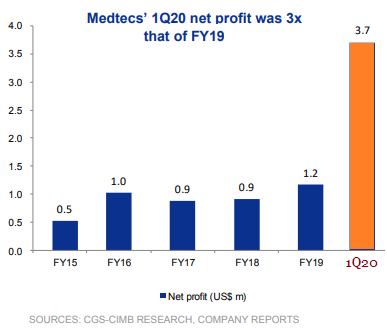 In 1Q20, Medtecs' 1Q20 revenue represented 58% of its FY19 revenue, while its 1Q20 net profit was 3x that of what the group achieved in FY19.
These medical consumables are supplied to large medical multinational corporation distributors, pharmaceutical companies and hospital groups in the US and Europe.



According to management, driven by strong demand for PPE and disposable surgical masks, 1Q20 revenue grew 138% yoy while net profit grew 1,518% yoy.

Medtecs has announced via SGX that it expects its 2Q20F performance to be better than 1Q20.

The company has also announced via SGX that it has expanded production capacity for face masks and personal protective equipment due to strong demand for such products.

Full report here.