Excerpts from UOB KH report
Alpha Picks: Outperformance Led By Small/Mid Caps


Our portfolio rose 1.4% mom in May, significantly outperforming the FSSTI's decline of 4.3% mom.

For June, we add CapitaMall Trust, ComfortDelGro, Riverstone and CSE, and remove Koufu, Propnex and Yangzijiang.

WHAT'S NEW
• Reviewing our picks in May. Our portfolio outperformed the broader market with an increase of 1.4% mom vs the FSSTI's retracement of 4.3% mom.

Portfolio performance was mixed with gains in our small-mid cap picks (Japfa: 18.8% mom, Propnex: 8.4% mom, Koufu: 5.7% mom) and Mapletree Industrial (6.7% mom) offsetting the declines from the other picks.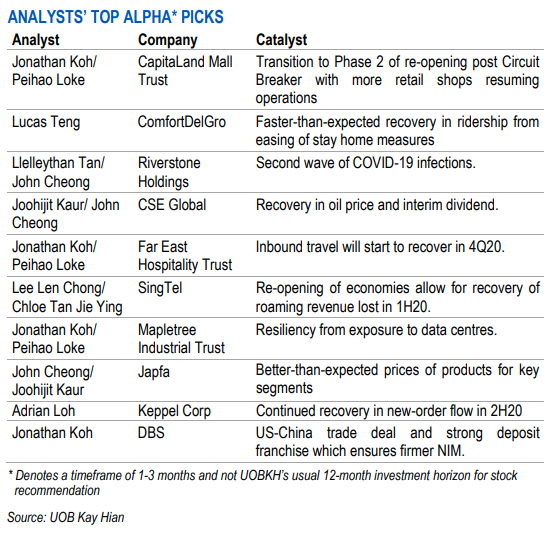 ACTION
• For large caps, we remove Yangzijiang (YZJ) and add CapitaMall Trust (CMT) and ComfortDelGro (CD) as post-COVID-19 recovery plays.

Our removal of YZJ is predicated on our view that it lacks catalysts in the near term and thus we favour CMT's better earnings visibility from the phased re-opening of the Singapore economy post the "circuit-breaker" measures.

In addition, we recently upgraded the stock to a BUY and we view CMT's 2021 distribution yield of 5.8% as attractive given its size and scale.

For CD, its share price appears to have largely priced in the weakness in transportation services due to stay-home measures and the worst may be over for ridership as land transport activities are likely to recover through the gradual return of workplaces.


• For mid-caps, we switch out Koufu and Propnex for CSE Global and newly-initiated Riverstone.

We highlight that CSE is in a stronger place now than it was in past crises, given its stronger orderbook, increasingly diversified business and larger portion of flow-business revenue.

Additionally, the stock offers a generous dividend yield of 5.8% and its share price should mirror the potential oil price recovery in our view.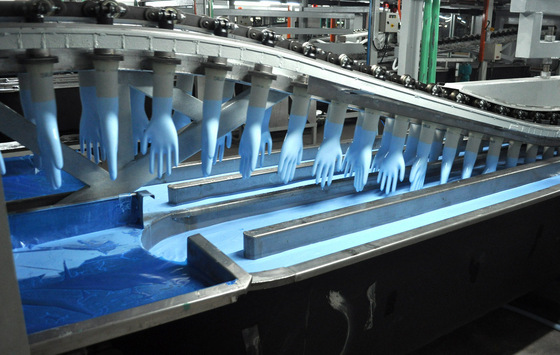 We also add in newly-initiated Riverstone given the robust demand for healthcare gloves and also ample room for ASP hikes in the coming quarters.

Similarly, cleanroom gloves are enjoying healthy demand, with a surprise ASP hike in Jun 20.

As such, we estimate net profit growth of 92% yoy for 2020F which should continue to support share price performance, in our view.

Full report here.