The share price of Singapore-listed specialty pharmaceutical company iX Biopharma jumped as much as 35% to touch 27 cents this morning after it announced a licensing deal in China. (Update: The stock closed today +64% at 32.5 cents).


RMB700-800m sales?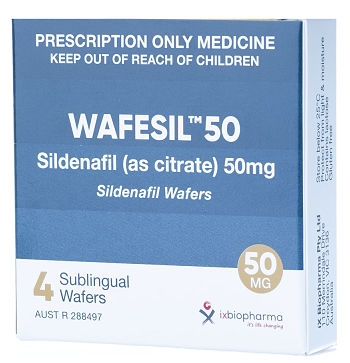 "Due to its novel and superior dosage form, Yiling estimates the first five years of sales in China for Wafesil™ to be around RMB 700 to 800 million."

-- iX Biopharma
The agreement with Yiling Pharmaceutical Ltd is for the licensing, supply and distribution of Wafesil™, a sublingual sildenafil wafer for the treatment of male erectile dysfunction, in China.

Yiling, with reported revenue of RMB 4.81 billion in 2018, is a subsidiary of Shijiazhuang Yiling Pharmaceutical Co. Ltd., a public company listed on the Shenzhen Stock Exchange.

Shijiazhuang Yiling Pharmaceutical has been designated a national key high-tech enterprise in the top 20 China pharma list.


Yiling will be granted an exclusive license to market and distribute Wafesil™ in China after it obtains marketing authorisation in the name of iX Biopharma in China.

iX Biopharma will manufacture and supply Wafesil™ to Yiling at a supply price agreed between the parties.

The initial term of the agreement is 10 years.


iX Biopharma stock price

26 c

52-week range

13 – 29 c

Market cap

S$169 m

PE (ttm)

-

Dividend yield

-

1-year return

-2%

Shares outstanding

649 m

Source: Bloomberg
Yiling will pay to iX Biopharma an upfront and certain milestone payments prior to the commercialisation of Wafesil™.

The milestone payments will be made upon the completion of bioequivalence studies and on the first commercial supply of wafers by iX Biopharma to Yiling.

In addition, Yiling has agreed to fund any bioequivalence studies and regulatory submissions necessary for the registration of the product in China.

By partnering with Yiling, iX Biopharma will be able to access the market through Yiling's sales and distribution network covering 100,000 medical and health institutions and over 300,000 pharmacies in China.

Wafesil™ is a new dose form of sildenafil, formulated using iX Biopharma's patented sublingual drug delivery technology, WaferiX®.

It is a registered pharmaceutical medicine in Australia and an application has been made to the European Medicines Agency for marketing authorisation in Europe.

Mr Zhao Shaohua, President of Yiling Pharmaceutical Ltd, said: "There is a significant and growing market for sildenafil in China. We see huge potential in Wafesil™, a quality drug imported from Australia. This is because Wafesil™ is patented with a novel sublingual delivery, and has the potential for better absorption and faster onset of therapeutic action."


(photo) said: "We are delighted that in Yiling, we have a strong partner for our inaugural entry into the China pharmaceutical drug market. We have confidence in Yiling's regulatory expertise to successfully register Wafesil™ in China, after which we will be able to leverage on their established sales distribution network covering hospitals and pharmacies across all of China. Like Yiling, we are excited about the sales potential of Wafesil™ in the Chinese market due to its novel, superior dosage form achieved using the WaferiX delivery technology."
Ms Eva Tan, Director of Corporate and Commercial Strategy of iX Biopharma

Wafesil™ is the first drug of iX Biopharma's drug pipeline to be out-licensed.

In addition to Wafesil™, iX Biopharma said it has a rich pipeline of other drugs formulated with the WaferiX® drug delivery platform technology that have the potential to be partnered for global markets.