Golden Energy & Resources (GEAR) accelerated its c

oal mining sharply in 4Q2019.

GEAR delivered a whopping 10.1 million tonnes to push its total production for the year to a record 30.8 million tonnes.

That was a 36.1% growth year-on-year, which helped to offset a decline in average selling prices (ASP).



Full-year ASP was US$34.99/mt versus US$41.39/mt in FY2018

Thus, 2019 revenue came in at US$1.12 billion, a 6.9% rise y-o-y.

However, net profit for GEAR, which is part of Indonesian conglomerate Sinar Mas, fell 55.3% y-o-y to US$32.9 million.

Net profit attributable to GEAR shareholders was US$9.94 million, down 74.7%.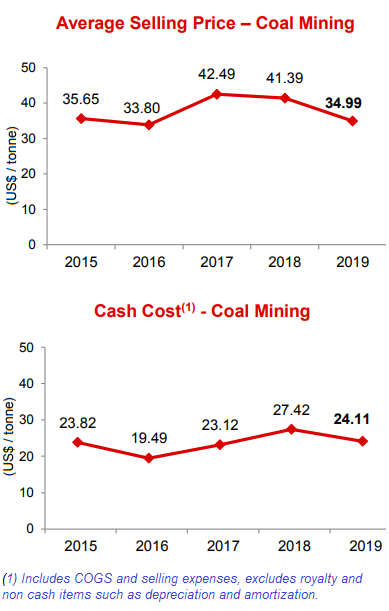 Cash cost from coal mining has been reined in by lower fuel rates, lower strip ratios and contractor rates. Source: GEAR• 2020 production: GEAR's target is to achieve 31 million tonnes of production in 2020.

GEAR said it would continue to focus on maintaining profitability at current prices.

As in the past, production targets are subject to approval of quota by the Indonesian government.

(GEAR's target production at the start of 2019 was 25 million tonnes.)

If past patterns repeat, GEAR can be expected to be approved to produce significantly beyond 31 million tonnes this year.

• Cash rising: GEAR's cash position increased to US$177.8 million at the end-2019 from US$113.1m as at end-Dec 2018.

However, it didn't propose a dividend in 2019 (2018: 1 Singapore cent per share).

• Diversification: Even as near-term demand for coal continues to be robust, GEAR continues to seek to diversify.

It has made its second investment in Australia's gold mining sector by partnering specialist mining private equity manager, EMR Capital.

The 50-50 joint venture is acquiring Ravenswood Gold Mine and completion is expected at the end of March 2020. (See GOLDEN ENERGY & RESOURCES: In Aussie deal to acquire Ravenswood gold mine).


"The acquisition provides us with an opportunity to own an established gold producing asset with great potential in scalability, exploration and aggregation upside. As part of our business strategy to enhance our overall portfolio and geographical presence, we will continue to explore strategic investments to expand our coal mining operations and diversify our product suite."



-- Fuganto Widjaja (photo),




Executive Director and Group CEO of GEAR

GEAR's other investments are equity stakes in Stanmore Coal and Westgold Resources.


GEAR
stock price

15 c

52-week range

15–24 c

PE (ttm)

25

Market cap

S$353 m

Shares outstanding

2.35 b

Dividend
yield (ttm)

--

1-year return

-41%

Source: Bloomberg
Their marked-to-market values are captured in the Group's "other comprehensive income" which went from a net loss of US$30.11 million in FY2018 to a net gain of US$34.40 million in FY2019.

The main driver was an increase in the share price of Westgold from A$0.88 as at 31 December 2018 to A$2.29 as at 31 December 20.

Locking in some profits, on 27 Feb 2020, GEAR sold 7.0 million shares of Westgold for A$16.8 million, or an average of A$2.40 per share.

The company recorded a gain of A$3.6 million, or 27.32% based on the selling price of A$2.40 per share over the initial cost of investment of A$1.885 per share.

GEAR still holds 29.0 million shares of Westgold, or a 7.25% stake.


The 4Q19 Powerpoint presentation material is here.