CGS CIMB

UOB KAYHIAN

REIT

Hospitality: Tourist arrivals to drop in 2020F

■ STB projects a 25-30% drop in visitor arrivals this year, steeper than the 19% drop during the SARS outbreak.

■ We project a 15-20% decline in industry RevPAR in 2020F.

■ Hospitality REITs' FY20-22F DPU cut by 2-17%. Downgrade CDLHT from Hold to Add; maintain Hold on FEHT and OUECT.

Koufu Group (KOUFU SP)

Novel Coronavirus To Weigh On Earnings

Koufu faces a challenging business environment amid the growing number of confirmed novel coronavirus cases. This comes as its Macau operations at Cotai Central and Macau University are impacted by the temporary shutdown of casino operations and higher education institutes. We are also cautious on its Singapore operations due to lower tourist arrivals. Maintain BUY at a 13% lower PE-based target price of S$0.83 as we cut our FY20-21 EPS forecasts by 14% and 9%.

DBS VICKERS

DBS VICKERS

LendLease Global Commercial REIT

313@somerset in a landlords' market

BUY, TP of S$1.05.

Lendlease Global Commercial REIT (LLCGR)'s first set of results exceeded IPO forecasts. We remain positive on the dominant characteristics of both 313@somerset and Sky Complex. While Orchard retail malls had been in troubled waters recently given the coronavirus outbreak, 313@somerset remains resilient as it diversified away from the reliance on tourist receipts. With just 25 leases remaining across the portfolio, representing 3% of portfolio NLA and a high retention ratio, we remain confident of its ability to churn resilient cashflows in the medium term.

NetLink NBN Trust

5% yield still attractive

5% yield still attractive amid weaker market sentiment.

NetLink NBN Trust (NLT) is trading at c.5.0% FY20F yield, versus an average yield of 4.8 % offered by large-cap industrial S-REITs. We argue that NLT should trade at a lower yield than S-REITs as (1) NLT's asset life is much longer than S-REITS as it incurs annual capex of >S$55m-60m to replenish its regulated asset base (RAB); (2) NLT's gearing is less than half of S-REITs' with an ample debt headroom to fund future growth; and (3) NLT's distributions are largely independent of the economic cycle due to the regulated nature of its business.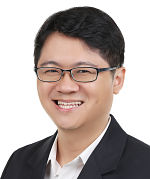 Check out our compilation of Target Prices