Singapore-listed iX Biopharma looks to be at an inflexion point with potential new streams of revenue -- and a potential outlicensing drug agreement worth hundreds of millions of dollars, if not more.


To begin with, it is ready to launch a medicinal cannabis product in Australia in 2Q of this year, eventually entering the booming markets of US and Europe as well.



Branded as Xativa, it will be available on prescription by doctors in Australia initially for treating conditions such as anxiety, chronic inflammation and pain, cancer symptoms and essential tremors.



iX Biopharma did a corporate presentation at Phillip Securities last Friday (30 Jan), and its Powerpoint material is available on the SGX website.

What's novel about Xativa is that the

cannabidiol (CBD)

drug is delivered through iX Biopharma's proprietary wafer system.

The wafer quickly dissolves under the tongue, and the CBD enters the blood vessels.

The company says sublingual delivery of CBD is a superior method because of, among other things, its high

bioavailability compared to oral ingestion.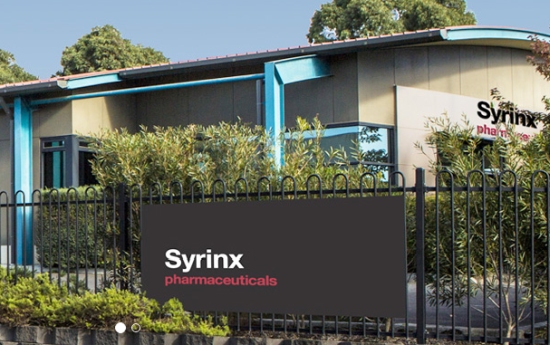 iX Biopharma's iX Syrinx manufacturing facility in Victoria, Australia, produces novel sublingual wafers which delivers drugs under the tongue. Photo: Company
iX Biopharma has been granted a slew of licences by the Australian authorities, culminating in a cannabis manufacturing licence.

This most prized licence was awarded in Dec 2019 which was about 18 months after application.

The company's manufacturing facility in Australia has a TGA GMP manufacturing licence as well as import and export licences and a controlled substance licence.
(TGA stands for Therapeutic Goods Administration; GMP: Good Manufacturing Practice)

Thus, iX Biopharma has all licences in place for the cannabis business in Australia and worldwide. And Xativa is the first of a line of cannabis products it will produce.


China market: Nutraceuticals + ED medication


The company has 14 nutraceuticals listed with the Australian Register of Therapeutic Goods and are available at 215 pharmacies and health goods stores in Australia.

The nutraceuticals range include those that help manage blood sugar levels and improve cellular health (visit www.entity-health.com)

China is also the target market for iX

Biopharma

to outlicense, in the near future, its wafer-based sildenafil, which addresses male erectile dysfunction (ED) and will be commercialised in Australia soon.Aside from the medicinal cannabis product, iX Biopharma is preparing to market its nutraceuticals to the mainland Chinese market via T-mall (formerly, Taobao Mall) and JD.com.

The biggest prize iX Biopharma is working towards is the outlicensing of its wafer technology for producing WafermineTM, the world's first ketamine product delivered sublingually, ie by placing it under the tongue.

Stock price

21c

52-week range

19 – 29 c

Market cap

S$133 m

PE (ttm)

-

Dividend yield

-

Year-to-date
return

14%

Shares outstanding

649 m

Source: Bloomberg
It's been about half a year since iX Biopharma started seeking an outlicensing partner. Optimistically, an outlicensing agreement could be achieved this year, or next.

An outlicensing agreement typically would stipulate a host of payments: upfront payment on contract signing, payments on achievement of milestones in the Phase 3 clinical trial, and as the product achieves revenue targets.

The outlicensing effort comes hot on the heels of the completion of Phase 2b clinical trial of Wafermine, which treats acute moderate to severe pain.

Since then, iX Biopharma has achieved a significant milestone: Its proposal for Phase 3 of a clinical trial of Wafermine has obtained the green light of the US Federal Drug and Administration.

So, some 5 years after its IPO in 2015, iX Biopharma is transitioning from investing some S$57 million (accumulated losses on its book) in product development to reaping revenue for its products.