Two Christmases ago in 2017, the HK-listed stock of Leoch International -- China's No.1 supplier of lead-acid batteries to the country's telco industry -- was sitting on a precipice.

Then it fell throughout 2018 because of the US tariff war against China, which raised the selling prices of Leoch's exports of batteries to the US.

The tariff war had large ripple effects globally: Orders for Leoch's batteries weakened as both domestic and international clients turned cautious about the economic outlook, and delayed their expenditure on new or replacement equipment.


As though that wasn't enough to dampen business, China imposed stricter regulations that hit the recycling segment of Leoch's business and other battery recyclers.

They had to shut down their plant for a few months to bolster their anti-pollution equipment and measures.

And the shortage of recycled lead led to do a jump in PRC prices of lead, the main raw material.

That ate into the profit margin of its business of manufacturing new batteries.

Leoch's 2018 net profit dropped 56% to RMB106.4 million on RMB9.5 billion of sales.

Stock price

0.58 HKD

52-week range

0.53 – 0.81 HKD

Market cap

HKD787 m

PE (ttm)

6.4

Dividend yield

3.4%

P/B

0.2

Year-to-date
return

-11%

Shares outstanding

1.36 b

Source: Company, Yahoo!
Not surprisingly, the stock price went deep south, from HK$1.40 level in Dec 2017 to around HK$0.60 by end-2018.

Since then, it has bobbed up and down a bit.

This puts the historical PE ratio at around 6 and price-to-book ratio at 0.2.

While Chairman Dong Li has not prioritised investor relations much in the past, he decided a couple of months ago to hire an investor relations director who also wears the hat of head of capital markets.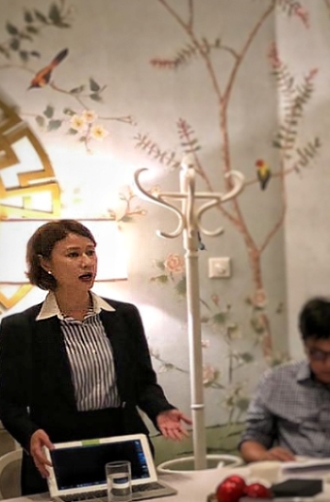 Pacita Sze, IR director of Leoch, speaking with Singapore investors. Photo by Romil Singh.As part of an international outreach, she travelled from HK to Singapore recently to tell the Leoch story to investors, and that's how we met Pacita Sze.

It's not only that Leoch trades at cheap valuations. Business growth has come back, in part because clients had to, finally, proceed with purchases they had held back on.

"Growth momentum for the Telecom and Data Center business has picked up since June thanks to increasing client demands from the PRC and overseas markets," said the company in its 2019 interim report released in Sept.

Telcos and data centres are key clients, accounting for 42.8% of total sales in 1H2019. And the business is largely in China, where sales accounted for 60% of Leoch's total revenue.

The price of lead in China has normalised and the following investments in 2018 are expected to bear fruit from 2020:

• Production volume of recycled lead will double, with annual sales

potentially

reaching RMB4 billion. The expanded plant becomes fully operational in 4Q19.

• Two new factories in Vietnam will produce lead-acid batteries at lower costs, and account for 10% of Leoch's total production capacity.

These factories can serve export markets without being impacted by US tariffs on China-made batteries.



• A

new RMB1.2 billion lithium-ion battery factory in Anhui, the PRC, will open a new revenue stream -- and no, it is not going to cannibalise its lead-acid battery business.

Partly, it is because lithium-ion batteries are more expensive, so telecom customers will not have the budget to totally switch over to lithium-ion batteries, especially not when the 5G expansion will be capex-intensive.
5G ROLLOUT TO BENEFIT LEOCH


This would "definitely bring the Group new growth opportunities in the near to medium term."

The 5G rollout will translate into strong demand for backup power solutions in 5G base stations/small cells and data centres:

The rollout of 5G in China, where 5G licenses for commercial use were issued by the government in June 2019, will trigger investments by telcos, the company said in its 2019 interim report.
• 5G requires far more base stations -- it is expected that 4.9 million 5G base stations will be set up, or 1.3 times that of 4G, by 2030. Also, 12 million small cells in China.



• B

ecause the power consumption of a 5G base station is 3X that of a 4G station, the backup power solutions market in China and elsewhere will boom.



•

The 5G rollout will boost also the demand from a growing number of data centres, which Leoch already provides backup power solutions to in China and globally.

Discussion on Concerns:

1. Current liability: Leoch had approximately RMB880 million cash and cash equivalents as at end-June 2019.

This looks inadequate relative to its RMB2.4 billion of bank borrowings due within a year and classified under "current liability".

The borrowings rose over the past three years to fund investments in new warehouses and factories in, and outside of, China.

(For example, the new Anhui and Vietnam plants cost RMB1.5 billion and RMB274 m, respectively).

We were given to understand that the borrowings are typically rolled over from year to year.

Liabilities total RMB5.5 billion versus total assets of RMB8.8 billion.

2. Group gross margins: These are thin (about 12%) at the group level, partly reflecting the mature technology that lead-acid batteries are.

But the gross margin figure is a blended figure, with the margin for recycled lead being just above break even.

The margins for the batteries for automotive and motive power are not as great as for network power (ie, selling direct to telcos, which accounts for about half of the total revenue).

Now, that implies the margin for network power batteries is decent at several percentage points higher than the group blended margin.