A-Smart Holdings is making a move into real estate development by targeting a shortage of quality residential and commercial properties in emerging market Timor Leste.

Its first plum project to take off is sited on the seafront, facing Port Dili, along with prominent institutions such as the headquarters of the World Bank, foreign embassies and the Timor government offices.

A-Smart will soon start marketing the project to investors in Singapore, Taiwan and China.

Its 69% owned Timor-Leste incorporated subsidiary, Timor Marina Square S.A. ("TMSS"), after a tender process, has awarded the Design & Build Contract for the construction of a mixed use development at Bidau, Dili, TimorLeste.


• One of the two buildings in the project is a 20-storey luxury residential apartment block.

• The other is a 20-storey retail and office tower that can be partially converted into serviced apartments.
A-Smart, formerly known as Xpress Holdings, awarded the

US$24 million (approximately S$33.3million)

contract to Vico Construction Pte Ltd ("VCPL").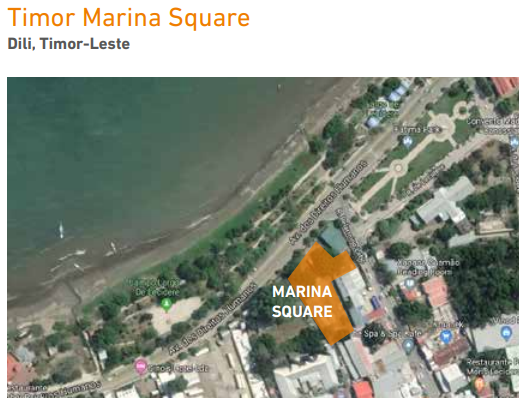 The contract covers the construction for the two blocks of building including a multi-storey carpark, amenities deck and retail podium, professional and project management fees, fixtures and fittings as well as electrical appliances.

Commencement date shall be 1 Dec 2019 and completion is scheduled for not later than 30 months from the commencement date.

VCPL shall appoint the architect and mechanical and electrical contractors whilst the quantity surveyor for the Project was appointed by TMSS.

In tandem with the commencement of construction, TMSS is planning a groundbreaking ceremony which will be graced by top Timor-Leste government officials.

Sales and marketing of the properties is currently under preparation and will be held soon in Singapore, China and Taiwan.


Financing: 3 Ways
Stock price

31.5 c

52-week range

27 – 52.5 c

Market cap

S$41 m

PE (ttm)

18

Dividend yield

--

Year-to-date
return

-43%

Shares outstanding

128.7 m

Source: Yahoo!
A-Smart intends to fund the Project through internal resources.

The Company's major shareholder -- Ma Wei Dong, who owns a 41% stake and is the executive chairman of A-Smart -- will be fully exercising his outstanding warrants to provide additional working capital for the project.

Whenever necessary, the Group will also draw down on bank facilities to bridge any shortfall in the project's cash flows.

The above transaction is not expected to have any material impact on the Group's net tangible assets per share or earnings per share for the financial year ending 31 July 2020.