CGS CIMB

RHB

Wilmar International

One step closer to listing its China business

■ Application to list subsidiary YKA on the Shenzhen stock exchange accepted.

■ We are positive on this as the group appears on track to list YKA by 4Q19F.

■ We see potential upside to our TP to S$5.54, if YKA list at 23x P/E.

Keppel REIT(KREIT SP)

A Mixed Bag; Stay NEUTRAL

 Maintain NEUTRAL, TP revised to SGD1.20 from SGD1.12, 5% downside. Keppel REIT's (KREIT) 2Q19 results are in line. Key positives ahead are strong rental growth potential and acquisition contributions, offset by downtime from tenant movements and absence of rental support. Valuations are fair, with FY19F yield of 4.4% (P/BV of 0.9x). We cut COE by 20bps to 7% to better reflect the prolonged low interest rate environment – which resulted in our higher TP.

DBS VICKERS

MAYBANK KIM ENG

Keppel Infrastructure Trust



Ability to raise capital a plus

Fund raising successful; maintain BUY. Keppel Infrastructure Trust (KIT) maintained its record of steady DPU of 0.93 Scts in 2Q19, as expected, on the back of healthy distributable cash flows for the quarter. KIT has recently completed the acquisition of Australian chemical distributor Ixom, and subsequent rounds of equity fund raising (EFR) exercise of around S$500m and perpetual securities issue worth S$300m to fund the acquisition has been well accepted by investors. This is significant in securing long term visibility of distributions for KIT. To recap, many of KIT's assets derive revenue from availability-based payments, independent of actual offtake. Hence, cash flows are predictable and not significantly exposed to economic cycles.

Sheng Siong Group (SSG SP)

The selective consumers

Ready-meal sales soar while retail sales fall; maintain SELL

May's retail sales continued to disappoint for the fourth consecutive month, down 2.1% YoY. This contrasted with F&B sales growth of 2.0% YoY. Bright spots included a slight rebound in supermarket sales, of 0.6% YoY. Still, we think it is too early to call for a recovery in demand for supermarket goods. Reiterate SELL on SSG SP, with an unchanged DCFbased TP of SGD0.95 (7.8% WACC, 1% LTG). Risks to our view include higher-than-expected new stores & SSS contributions and any improved consumer sentiment.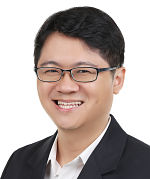 Check out our compilation of Target Prices