Company Overview
Stock price

61.5 c

52-week range

43 - 68.5 c

Market cap

S$887.6m

PE (ttm)

7.7x

Dividend yield

-

P/B (ttm)

0.8

Shares outstanding

1443.2 m

Float

29.8%

12m Ave Daily Trading Vol

$95,113

Source: Bloomberg (5 July 2019)
Established in 1998, China Jinjiang Environment Holding Company Limited was the first and is a leading private Waste-To-Energy (WTE) operator in China in terms of waste treatment capacity. The Group focuses on the planning, development, construction, operation and management of WTE facilities. It operates 20 WTE facilities in China and has a presence in India, Brazil, Singapore, Indonesia and Germany.
Link to StockFacts company page.


1. What are some of China Jinjiang Environment's main business segments and growth drivers?

• We have 2 main business segments

• Waste-to-Energy (WTE) (81% of FY18 revenue) – Mainly income from the sales of electricity, waste treatment fees and steam supply revenue. The company's main earnings from its WTE facilities operate under the build-own-operate (BOO) and build-operate-transfer (BOT) models (with BOO as the main adopted structure).

• Project technical and management services and Energy Management Contracting (EMC) business (19% of FY18 revenue) – Mainly income from provision of technical, management and consultation services and EMC projects.

• We think government support such as China's focus on stricter environmental protection standards are favourable for our growth prospects. The implementation of China's 13th Five-Year Plan is also expected to be a period of great development for the WTE industry.

• We also see the potential of overseas markets (such as South Asia, Southeast Asia and South America), which are developing economies where our technology may be suitably applied.

2. How does China Jinjiang Environment maintain its current position with increasing competition in this industry?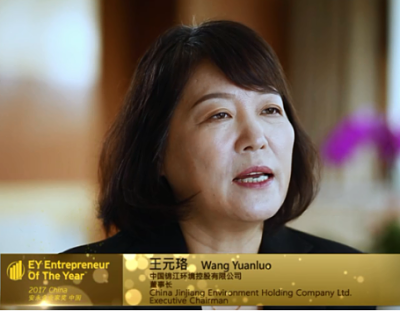 Previously CEO for 13 years, Wang Yuanluo is currently Non-Executive, Non-Independent Chairman of China Jinjiang Environment. She was the winner of the EY Entrepreneur Of The Year China 2017 award in the cleantech category.• As the first private enterprise in China's WTE industry, our advantages include having a mature operation system to maintain a leading market position, an experienced R&D team to provide more specialised services to customers, an experienced and strong management team, with a clear long-term business vision, close relationships with local governments and greater familiarity with local markets.

• We also continually invest in new technology and expertise to improve operational efficiency of our power plants. We intend to leverage on expanding into new overseas markets, collaborate with government agencies and institutions, and are committed to expand the waste disposal business to other areas such as waste resource centres, sludge treatment centres and kitchen waste centres.

3. How important is research and development (R&D) to China Jinjiang Environment? How do you determine which patents or technology to develop on your own or to purchase?

• We believe our strong R&D capabilities will enable us to customise specialised solutions for our customers, adapt to ever-changing regulations and develop new growth avenues.

• In 2017, we co-constructed the only government-approved "National Engineering Laboratory of Waste Incineration Technology & Equipment". In Mar 2019, our wholly-owned subsidiary Hangzhou Kesheng Technology Co. Ltd. was awarded the prestigious title of "National High-Tech Enterprise" from three Zhejiang Provincial Departments.

• Today, we continue to invest in R&D and develop our own patents. However, if a third party has high-standard patents and technologies, we may negotiate with them to purchase relevant intellectual property rights.

4. Given the increasing emphasis on environmental protection in China, how does China Jinjiang Environment intend to leverage on this to expand its business?

• We maintain our leading position in the industry by improving our waste disposal capacity of existing facilities and through continuous technological upgrading (such as the use of advanced European technologies) combined with R&D to improve efficiencies and reduce emissions. In the third quarter of 2017, we began to increase the capacity of 8 WTE facilities with longer operation time and more waste increment by 5,000 tons/day.

• We are also diversifying along the WTE value chain to related fields such as sludge treatment. We are also steadily expanding overseas by bidding for project opportunities under the Belt & Road Initiative focusing on Southeast Asia, South America and other developing countries. We also conduct public environmental education to increase public understanding in the WTE industry.

5. We note that China Jinjiang Environment is also pursuing overseas projects. Where are some of your opportunities overseas?

• With more than 20 years of historical achievements, we have a good reputation and rich experience in the industry. We also have particular advantages in planning, development, construction, operation and management.

• Many developing countries have a similar waste composition to China, in terms of waste components as well as the increasing demand for waste management and energy/electricity. Having these favourable overseas policies is always a good sign for greater opportunities.

• We currently have 3 projects in India; in the second quarter of 2018, we entered the South American market and continued to lay out the groundwork for our Southeast Asian market. We signed the first refuse incineration power generation project in Brazil, Sao Paulo Barueri refuse power generation project; and acquired the franchise of Palembang City refuse power generation project, the largest port and Trade Centre in southern Sumatra, Indonesia

6. What is China Jinjiang Environment's mergers & acquisitions (M&A) strategy?

• We are always on the lookout for synergistic partners that can strengthen our existing operations and performance. We will consider and perform due diligence to assess these opportunities.

• We intend to acquire underperforming waste incineration power plants which have high economic and business potential. We may also acquire waste incineration power plants with a high waste treatment capacity or which have an existing foothold in a developing market which we have strategically planned to enter.

• Our criteria for choosing potential overseas facilities is to focus on the expected internal rate of return (IRR) of 10% - 12%; while our domestic project target IRR is 8%.

7. Given the large amount of funds required to develop new projects, how does China Jinjiang Environment manage its liabilities and credit risks? Are there any plans in place to lower or to maintain a certain level of leverage?

• The Group adopts a flexible financing policy – typically a 30:70 equity to debt ratio in financing our projects. Going forward, we intend to diversify our sources of financing by further tapping on the capital markets and/or issuing new shares.

• Overall, our aim is to keep the leverage ratio within a target range of between 60% to 65%, a range we will adhere to when deciding the mode of financing. 8. What are some key challenges for the WTE industry and how does China Jinjiang Environment tackle these challenges?

• The regulatory environment for the WTE industry has become increasingly stringent. We are conscious of the negative public perceptions stemming from the concerns on the adverse environmental impact of WTE projects. However, given our positive 20-year operational track record and R&D initiatives, we are confident that we can operate sustainably in China's increasingly stringent regulatory environment.

• Another challenge is the high capital investment that is required to develop new projects. To mitigate this, we intend to adjust and pace our projects more carefully and achieve overall growth in a more prudent manner.

9. With your subsidiary Hangzhou Kesheng Energy Technology Co., Ltd., receiving certification as a high-tech enterprise, there will be a tax benefit to the Group? Will other subsidiaries be able qualify for this tax benefit?

• With this certification, Hangzhou Kesheng will enjoy a preferential tax rate for its income tax during the three-year period from 1 January 2018 to 31 December 2020, this will effectively reduce the company's tax burden and will increase our revenue.

• More importantly, this reflects our advanced technology, strong R&D influence and market advantages that we have attained, as well as the local government's support and recognition.

• Apart from Hangzhou Kesheng, our other subsidiaries also enjoy other tax preferential policies issued by the Chinese government for the WTE industry.


10. What is China Jinjiang Environment's value proposition to its shareholders and potential investors?

• We are committed to maximising long-term benefits to our shareholders and potential investors, and being transparent in information sharing.

• Since our listing in Aug 2016, the Group has held regular meetings with investors, and intends to further increase the frequency of such meetings to provide answers to investors' questions in order to enhance the public's understanding of our business activities and plans.

• Being a leader in the WTE industry, China Jinjiang Environment at present has 20 waste incineration power plants in operation and we are always open to receive company site visits from all stakeholders.


First published on SGX website
10 in 10 – 10 Questions in 10 Minutes with SGX-listed companies
Designed to be a short read, 10 in 10 provides insights into SGX-listed companies through a series of 10 Q&As with management. Through these Q&As, management will discuss current business objectives, key revenue drivers as well as the industry landscape. Expect to find wide-ranging topics that go beyond usual company financials. This report contains factual commentary from the company's management and is based on publicly announced information from the company.
For more, visit sgx.com/research
For company information, visit http://en.jinjiang-env.com/
Click here for FY2019 1st Quarter Earnings Announcements