Company Overview
Stock price

50 c

52-week range

49.5 - 66.4 c

Market cap

S$59.6m

PE (ttm)

5.7x

Dividend yield

6.0%

P/B (ttm)

0.6

Shares outstanding

119.3 m

Float

38.7%

12mAve Daily Trading Vol

$14,430

Source: Bloomberg (18 June 2019)
Established in 1987, Excelpoint Technology is one of the leading regional business-to-business ("B2B") platforms providing quality electronic components, engineering design services and supply chain management to original equipment manufacturers ("OEMs"), original design manufacturers ("ODMs") and electronics manufacturing services ("EMS") in the Asia Pacific region. Excelpoint's business presence spans over 40 cities in more than 10 countries with a workforce of more than 750 people. Link to StockFacts company page.

1. What are some notable developments that Excelpoint's shareholders can look forward to?

Nurture our technical capabilities

• In 2018, we set up an Internet of Things ("IoT") demonstration facility at our Singapore headquarters, featuring our technical capabilities alongside our principals' cutting-edge technologies in three promising IoT areas – Smart Buildings, Smart Agriculture and Smart Infrastructure. The facility aims to showcase our ability to develop advanced and applicable solutions for our partners. Moving forward, we will continue to place emphasis on the three IoT areas with strong focus on sustainability, and also upgrade the facility to introduce more innovations.

• We will continue to focus on nurturing our technical capabilities in other areas, such as Artificial Intelligence ("AI"), Automation, and Electric Vehicles ("EV") while growing our footprints in emerging markets such as India and Vietnam, where we see growing demand for electronics and technology solutions.


Invest in and collaborate on new innovations through PlanetSpark

• PlanetSpark Pte. Ltd (our strategic investment arm established in 2018) made its first investment in a Singaporebased chip design firm, CLOP Technologies Pte. Ltd, specialising in semiconductor chip designs (which we believe is complementary to our segments: Communications and IoT).

• We will continue to invest in and collaborate with more innovative hardware start-ups (with good technologies and unique market positioning within the IoT ecosystem) that require our help to scale up and cater to their target market segments by adapting their products with practical design improvements.

2. Who are your peers in the industry?

• Our peers are mostly fellow electronics components distributors with product lines, components and customer bases that may differ from us.


3. What are your competitive strengths, and how do you maintain this edge against your peers?

• For the past 30 years, we have been focusing our efforts to be a one-stop solutions provider, offering valueadded services to our stakeholders through

• Quality electronic components from our strong and diversified portfolio of product lines

• Hardware expertise with integrated and innovative research & development (R&D) capabilities and solutions

• Strong technical support and professional supply chain management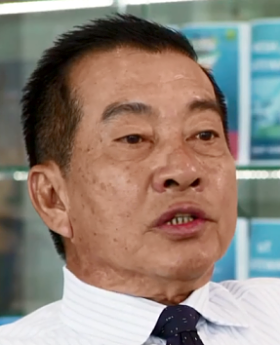 Albert Phuay, founder, Chairman and CEO of Excelpoint.
Screenshot from YouTube video• Apart from playing the hardware role in the global electronics technology value chain, we also create new value propositions through our R&D capabilities that combine our principals' technologies into advanced and useful reference designs and solutions, modules and applications for our customers.

This increases operational efficiency and cost competitiveness for our customers, and reduces time-to-market for our principals. We strongly believe in maintaining a beneficial and sustainable multilateral working relationship with all our stakeholders.

• Additionally, our footprint spanning over 40 cities in more than 10 countries allows us to have deep roots in these markets. Our strong relationships with our principals and customers are also built based on a solid foundation of integrity and trust over the years.

4. How has the electronic components distribution industry changed over the years and how does Excelpoint remain competitive in the space?

• With the advent of Industry 4.0 and new technologies such as IoT, we see proliferating demand for electronic components and reference design solutions that form the foundation of such advanced technologies. We believe this creates new opportunities for the electronic components distribution industry.

• Apart from our quality electronic components, professional supply chain management and strong networks, our technical teams (R&D, Field Applications Engineering and Applications Engineering – accounting for over 25% of our workforce) can provide customers with innovative reference designs and solutions and strong technical expertise to ensure high product quality and faster time-to-market. This is how we add value to our customers, many of whom have become our long-term customers.

• The industry has also been transforming, embracing digitalisation and e-commerce to reach out to stakeholders. At Excelpoint, we have set up an online buying website in China to reach out to new customers and provide better services to them. Through our e-commerce platform, customers can purchase components at smaller volumes and seek technical support from our staff regarding their design requirements. Internally, we have been setting up systems to digitalise our work processes, in-line with our company's direction.

5. Where do you think the electronics cycle is at now, and how will it trend over the next 12 months?

• With the emergence of new and innovative technologies such as IoT, AI, 5G deployment and Electric Vehicles, the outlook for the electronics supply chain has been positive over the past five years. For us, these new technologies have given rise to new business opportunities in our key segments and expanded the range of applications, which have increased the demand for our value-added design solutions and services.

• Currently, these technologies are still new, and require more in-depth R&D to create more value-added solutions for stakeholders. We believe there are still a lot more developments, and many factors will play a part for them to be successful.

• We believe that the electronics cycle is still ascending and will continue to progress with more countries and companies hopping on the IoT bandwagon and adopting new technologies in different industries such as manufacturing, infrastructure and agriculture. These factors will lead to an increased demand for electronic components and reference design solutions, which are needed to drive the technologies.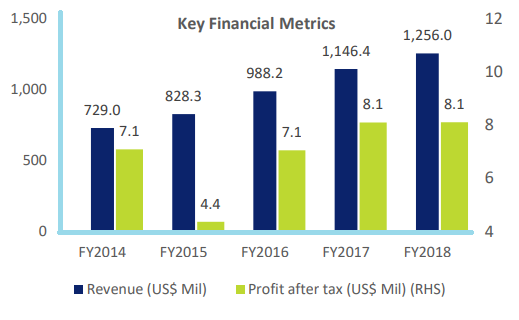 6. What are some of your key business segments and drivers?

• Our key segment drivers are Mobile and Computing, Industrial and Instrumentation, Consumer and Communications, with a new key driver – IoT. In addition, our strength in sensors, wireless communications and gateway modules have also contributed to our growth.

7. Which region or markets are you focused on?

• We focus mainly on the Asia Pacific region, which includes China, Southeast Asia, India, Australia and New Zealand.

8. Can you provide more details on the growth prospects in the IoT areas that you have identified?

• Smart Buildings: In the consumer and industrial segments, we see increasing demand for automation, quality, convenience and efficiency in homes, office buildings and factories. Together with our partners, we are working towards creating sustainable solutions to make life easier, smarter and more efficient for all stakeholders.

• Smart Agriculture: We believe this is one of the high-potential segments in China, Southeast Asia and India, with a strong focus on food sustainability. We are leveraging on our R&D capabilities and collaborating with our partners to develop value-added solutions to address food sustainability issues.

• Smart Infrastructure: Include infrastructure development initiatives in China (e.g. Belt and Road Initiative, Made in China 2025), India (e.g. Make in India, Digital India, Smart Cities, and Startup India), and other emerging markets that are increasingly embracing technology. Vietnam, for example, is focusing on infrastructural and digital changes. We believe such initiatives require huge consumption of electronic components, modules, solutions and applications, as advanced technologies play crucial roles, particularly in building a country's infrastructure and communications. We see viable business and collaboration opportunities in this IoT area.

9. Do you have a dividend payout policy for shareholders?

• We do not have a dividend payout policy for shareholders. However, depending upon our operating results, financial conditions, other cash requirements including capital expenditure, terms of borrowing arrangements and other factors deemed relevant by our Directors, we do consider positively the payment of annual dividend. Any dividend payments are clearly communicated to shareholders via announcements on SGXNet.

• We have been paying dividends for nine consecutive years, with dividend distribution averaging approximately 50% of our profits.


10. What is Excelpoint's value proposition and what do you think investors may have overlooked about your business?

• Our differentiating factor is value creation. We position ourselves to be a value-added partner of choice to our principals and customers, beyond being just a hardware distributor of electronic components.

• We have a strong and stable platform that allows for collaborative partnerships. Our R&D team can create technology solutions and reference designs that are very close to what end-consumer products need. All our customers need to do will be to go into production and market the final products. We also have strong footprints in the countries where we operate, giving us sustained growth. We believe we are a technology enabler, and this takes years of nurturing and a lot of hard work to achieve, in our view.

• In our view, hardware companies are often overshadowed by software companies, which have a higher visibility in comparison. However, we believe hardware still plays a fundamental role in powering new technologies. Without hardware forming the foundation, software cannot be developed subsequently. Hence, we believe investors can consider focusing on hardware enabler companies like us.

First published on SGX website
10 in 10 – 10 Questions in 10 Minutes with SGX-listed companies
Designed to be a short read, 10 in 10 provides insights into SGX-listed companies through a series of 10 Q&As with management. Through these Q&As, management will discuss current business objectives, key revenue drivers as well as the industry landscape. Expect to find wide-ranging topics that go beyond usual company financials. This report contains factual commentary from the company's management and is based on publicly announced information from the company.
For more, visit sgx.com/research
For company information, visit www.excelpoint.com
Click here for FY2019 1st Quarter Earnings Announcements